China tells Donald Trump there is an 'international responsibility' to act over climate change
'Fighting climate change is a global consensus, it's not invented by China'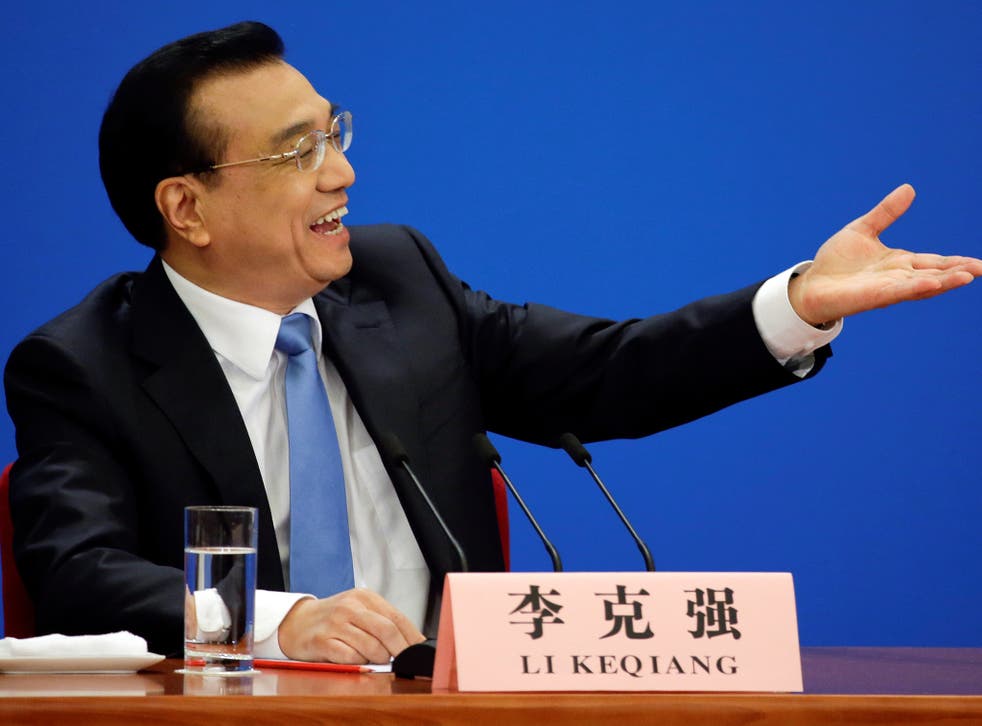 There is an "international responsibility" to fight climate change, China's Premier Li Keqiang has said in a clear message to Donald Trump ahead of his expected announcement that the US will withdraw from the historic Paris Agreement.
Despite widespread reports of the US's imminent departure, Mr Li insisted there was a "global consensus" on the issue.
In contrast, Theresa May was decidedly low-key about the prospect of the US quitting the accord, saying it was "up to the President of the United States" and refusing to agree it would be a "blow" to the supposed special relationship between the US and UK.
Mr Li did not mention the US or Donald Trump, but his comments were obviously addressed to Washington.
He said China had "in recent years has stayed true to its commitment" to address the issue – a hint that the US would pay a diplomatic price for signing up to an international agreement, then abandoning it.
Beijing had also been "actively promoting the Paris Agreement and we were one of the first countries to ratify the Paris agreement", Mr Li added.
He appeared to reference a past claim by Mr Trump that climate change was a "hoax" perpetrated by China.
The biggest names involved in the Trump-Russia investigation

Show all 17
"Fighting climate change is a global consensus, it's not invented by China... and we realise that this is a global consensus agreement and that as a big developing nation we should shoulder our international responsibility," he said.
The Chinese Premier was meeting with senior European Union officials at a summit in Brussels.
The European Union and China plan to issue a joint statement – the first time this has happened – pledging to fully implementation of the Paris Agreement.
It commits them to cutting back on fossil fuels, developing more green technology and helping raise billions of pounds to help poorer countries cut emissions.
"The EU and China consider climate action and the clean energy transition an imperative more important than ever," the statement, by European Council President Donald Tusk, European Commission President Jean-Claude Juncker and China's Li, will say.
"The increasing impacts of climate change require a decisive response."
Miguel Arias Canete, the European commissioner who has led climate talks with Beijing, said of the Paris accord: "No one should be left behind, but the EU and China have decided to move forward."
Donald Trump doesn't believe in climate change
Like Mr Li, he contrasted China's constancy on climate change with the apparent change of heart by the US.
"I have lots of trust in the Chinese. They are very tough negotiators but they are very consistent with what they negotiate," Mr Canete said.
"At a moment in which the United States have doubts about the benefits of remaining in the Paris agreement ... two major players [the EU and China] in the climate arena declare that they are committed to the Paris agreement."
Reuters and the Associated Press contributed to this report
Join our new commenting forum
Join thought-provoking conversations, follow other Independent readers and see their replies