China banning ivory trade in 2017 in 'game changer' move for Africa's elephant
70 per cent of the globe's ivory is bought by the population of the Asian country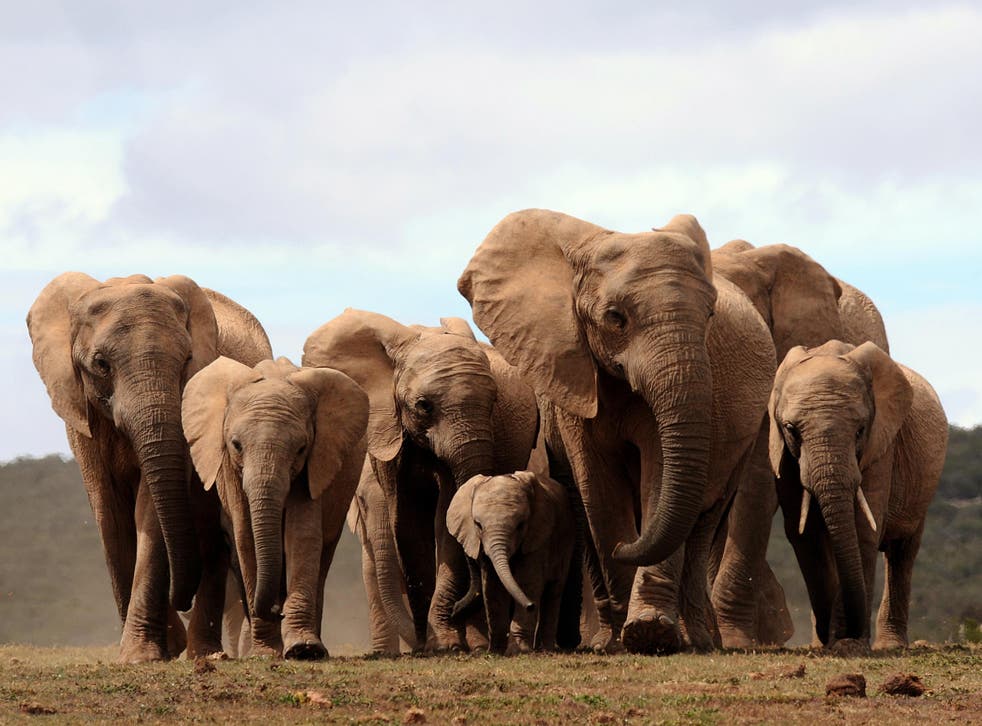 China has announced a ban on ivory in what is being hailed as a "game changer" for Africa's endangered elephant.
Beijing says ivory trading and processing, other than the auctions of "legitimately" sourced antiques, will be outlawed by the end of March 2017.
Conservationists say the move against the Chinese market, which is estimated to buy 70 per cent of the world's ivory, also puts pressure on neighbouring Hong Kong and Britain to remove loopholes.
"This is great news that will shut down the world's largest market for elephant ivory," said Wildlife Conservation Society Asia director Aili King.
"This is a game-changer for Africa's elephants. We call on all other countries with legal domestic ivory markets to follow China's lead and close their markets as well."
WWF-China chief executive Lo Sze Ping added: "Closing the world's largest legal ivory market will deter people in China and beyond from buying ivory, and make it harder for ivory traffickers to sell their illegal stocks."
China's State Council said African ivory, a status symbol priced at around $1,100 (£891) per kilo, will be phased out from 31 March.
"To better protect elephants and better tackle the illegal trade … China will gradually stop the processing and sale of ivory for commercial purposes," it said in a statement.
The state-owned Xinhua news agency says the ban will affect 34 processing enterprises and 143 designated trading venues.
The move follows a promise by Beijing to widen the ban of imports brought in before 1975, but the exemption on antique auctions, which will be allowed to continue under "strict supervision", leaves a potentially gaping loophole.
In pictures: Kenya stages largest ivory burn in history

Show all 15
Between 800 and 900 cases of ivory smuggling are uncovered in mainland China each year, according to customs figures, and more than half of the legitimate ivory business is linked to illegal trade.
Over the past decade, an estimated 100,000 elephants were lost to poaching, and Africa's elephant population has dropped by an estimated 111,000 down to 415,000.
A campaign to actually legalise international ivory trade, believing that such a move could actually help save Africa's elephant, was voted away earlier this year.
WWF-UK wildlife charity acting chief executive Glyn Davies, who says an elephant is poached every 15 minutes, told The Times: "China has shown good leadership and we are now looking to other markets to close legal trade and implement stricter enforcement measures."
The last Conservative Party manifesto promised to outlaw all ivory trading, but Environment Secretary Andrea Leadsom's recent ban allowed for sales of pre-1947 antiques.
Charlie Mayhew, chief executive of African wildlife charity Tusk, which has Prince William as patron, said: "It emphasises the need for the UK to move swiftly and follow suit."
The Duke of Cambridge has accused world governments of generally giving out "mixed messages" on the subject and called for a total ivory ban in Britain.
A sceptical Professor Stuart Bearhop, of the Centre for Ecology and Conservation at University of Exeter, told The Independent: "I think this [the China proposal] will make a difference and it is hugely encouraging for elephant populations and conservation in general. The increase in elephant poaching has almost certainly been driven by increasing affluence in China and other parts of Southeast Asia.
"I think ivory will never become worthless, there will doubtless still be a large black market for it within China. For example, while some east African countries have been very vocal about clamping down on poaching, the illegal trade flourishes in other countries in Southeast Asia where ivory is banned.
"The likelihood is that demand for ivory will go down and this should reduce the extent of elephant poaching. But these are slow reproducing and long-lived animals, and so it will be a number of years before we see any signs of recovery."
Register for free to continue reading
Registration is a free and easy way to support our truly independent journalism
By registering, you will also enjoy limited access to Premium articles, exclusive newsletters, commenting, and virtual events with our leading journalists
Already have an account? sign in
Register for free to continue reading
Registration is a free and easy way to support our truly independent journalism
By registering, you will also enjoy limited access to Premium articles, exclusive newsletters, commenting, and virtual events with our leading journalists
Already have an account? sign in
Join our new commenting forum
Join thought-provoking conversations, follow other Independent readers and see their replies