The families going present-free at Christmas to cut down on waste
'People look miserable before Christmas. It saddens me more than anything – they're either drunk or stressed to hell'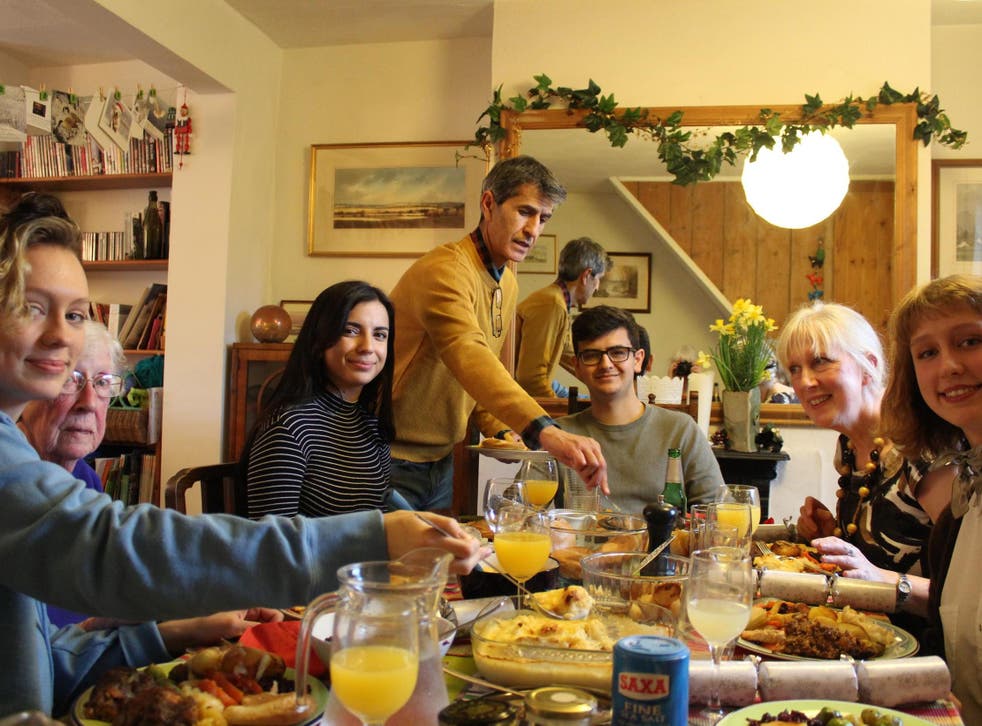 For many, Christmas is the most wonderful time of year – but it is also the most wasteful. Two million turkeys, 100 sq km of wrapping paper and more than 100,000 tonnes of plastic packaging will be binned on Christmas Day, while more than a few unwanted gifts will be packed away in cupboards, never to be seen again.
But some families are trying to combat the clutter and make festivities less stressful by cutting out presents – instead opting for homemade baking, virtual gifts or even just forgetting about it all and going on a long walk with the dog instead.
According to Richard Clapham, who works on campaigns on the Waste and Resource Action Programme (WRAP), the younger generation is having an "awakening" in how they think about the planet and shifting away from conventional gifts.
He says: "They're increasingly looking for experiences rather than 'stuff'. I think this is partly driven by their concern for the planet but also because they already have so much stuff."
Alexia Tibbs, 35, who lives in Frome with her husband Jonathan and two children, three-year-old Lyra and eight-month-old Reuben, gave up presents last year after being overwhelmed by the number of plastic toys given to her children.
"Some of the presents I got I used to hide in the cupboard and not even give them to the kids. They get so much," she says.
Plastic pollution in UK rivers: In pictures

Show all 10
"My daughter Lyra was excited about Christmas but didn't really understand it and completely lost interest in her presents. It was quite embarrassing because there were a few presents she didn't even bother opening. She liked the wrapping paper more.
"Our family gets bigger and bigger each year and I hate to waste money on presents no one wants," says Alexia, who added that she used to "panic buy" and spend far too much.
Now she donates chickens to a community in rural Africa through the Send a Cow charity on behalf of her family. A chicken costs £8 and a cockerel is £5. Last year she sponsored a fence post and a duck at Bath City farm, where she works.
She will also bake gingerbread and may give her children, nieces and nephews secondhand books.
"I love Christmas and it's still really fun. This year we're going to do up the shed like Santa's grotto. He's not going to be giving out Christmas crap but it'll be fun, we'll see friends and I'll still have my Christmas playlist.
"My mum has such fond memories of Christmas. She was from a poor family and would get a tangerine, an orange, or a bag of nuts at Christmas and she has the most wonderful memories of those tiny little things at this time of year. I know society has completely moved on but I would like my kids to have an element of that – that Christmas is a treat."
Alexia says she is part of a local community of mums starting to do things differently in a bid to stop Christmas being so consumerist. "For my extended family I think not giving presents is a bit of a relief. We can just enjoy spending time together," she says.
Others gave up on Christmas presents decades before the issue of plastic pollution or climate change made headlines. David March, 59, who lives in Great Broughton near the North York Moors, stopped giving and receiving Christmas gifts 25 years ago.
"People look miserable before Christmas. People feel obliged to act in a certain way and it saddens me more than anything – they're either drunk or stressed to hell," he says.
"I have seven siblings and I remember when we were growing up the presents under the tree took up a quarter of the room. When I started working in 1977 I brought presents for all my nephews and nieces and it cost me a whole week's wages.
"I used to be the same as anyone else. When I heard people talking about the environment, I thought they were just bloody hippies. But then in 1985 I heard about global warming and knew we were in trouble."
For years, David would see his family on Christmas Day and then have friends over in the evening. Each year he would welcome half a dozen "Christmas refugees" who had spent all day with their families and had had enough.
However, in 2003, David – who works in a local community centre and has no children himself – decided he'd rather spend the day walking his little brown and black terrier Natty Dread.
"I decided I didn't want to go along with this Christmas madness and the crap that comes along with it and I've never looked back," he says.
"Since Christmas Day 2003 every year Natty Dread and me did a 20-mile walk from Tadcaster to York that took us all day. I packed cheese and pickle sandwiches, a couple of chocolate bars and a packet of sherbet lemons, which I could share with Natty Dread. I also used to give him a disgusting thing – a dried pig's ear – as a once-a-year treat.
"When I first did it I never saw anybody but over the years I saw more and more people doing the same thing as me, I think they'd just had enough of Christmas."
Natty Dread died two weeks ago, so David thinks he will volunteer to walk a dog at the local RSPCA centre this year.
Scientists say that people are most likely to have heart attacks during the Christmas period because of increased emotional stress.
Someone (often mothers) has to put in the legwork to make sure everyone enjoys the day – including decorating the house, buying and cooking all the food and dishing out presents.
Jane Ruessmann, 58, a translator from Stony Stratford near Milton Keynes, banned presents to try to alleviate some of the strain.
"The whole of December becomes a flurry of stress and activity. Then one year, I just thought, shall we not do this anymore?" she says.
Jane spends Christmas with her mother, her sister's family and her two daughters, Paula, 21, and Jo, 23. In the past few years she has given her daughters a WWF elephant sponsorship, an orangutan sanctuary donation and a virtual voucher for a trip to the sea.
On Christmas Day everyone gets a homemade paper hat. She says her daughters are completely happy without the present fuss.
"God I sound like a right old hippie, don't I? Getting together at Christmas was initially a bit of a nightmare as we all felt that we should bring along a present for all those who were coming. It was nice but pretty stressful and we would end up spending a lot of money and going home with an awful lot of stuff that we generally didn't need at all and didn't know what to do with," she says.
"It's so over the top and then two days later it's gone. I am quite concerned about climate change and I think it's all part of the same thinking – we've got to take a few steps back and live more simply.
"I sound like a real old lady now but kids get so much stuff. It makes them happy for half an hour but I think it would do good to give children a bit less. Things have got so much more relaxed since we banned presents."
Sea creatures seen tangled in plastic

Show all 8
For people who want to reduce festive waste, the government's waste reduction advisory body WRAP says tying presents with ribbon or coloured string – instead of using sticky tape – means the paper can still be recycled.
A staggering 300,000 tonnes of card is used in UK households during the festive season but much of that can be recycled (provided it's not covered in food, paint or glitter).
The "scrunch test" will tell if something can be recycled. If a piece of paper unfolds when your hand opens it cannot be recycled. Paper that stays in a ball is fine to go in the recycling.
Richard Clapham says: "We all like to show our appreciation of friends and relatives by finding them the perfect gift – but remember that presents don't have to be 'things'.
"With a bit of imagination, you can create a gift that will be valued for the thought that has gone into it as well as the enjoyment it brings – and it won't end up gathering dust."
Register for free to continue reading
Registration is a free and easy way to support our truly independent journalism
By registering, you will also enjoy limited access to Premium articles, exclusive newsletters, commenting, and virtual events with our leading journalists
Already have an account? sign in
Register for free to continue reading
Registration is a free and easy way to support our truly independent journalism
By registering, you will also enjoy limited access to Premium articles, exclusive newsletters, commenting, and virtual events with our leading journalists
Already have an account? sign in
Join our new commenting forum
Join thought-provoking conversations, follow other Independent readers and see their replies