Christmas tree growers urgently prepare for climate change after summer heatwaves wipe out a third of new crop
'I'm in the height of tree-cutting season at the moment but in the back of my mind is global warming'
Josh Gabbatiss
Science Correspondent
Saturday 01 December 2018 17:21 Comments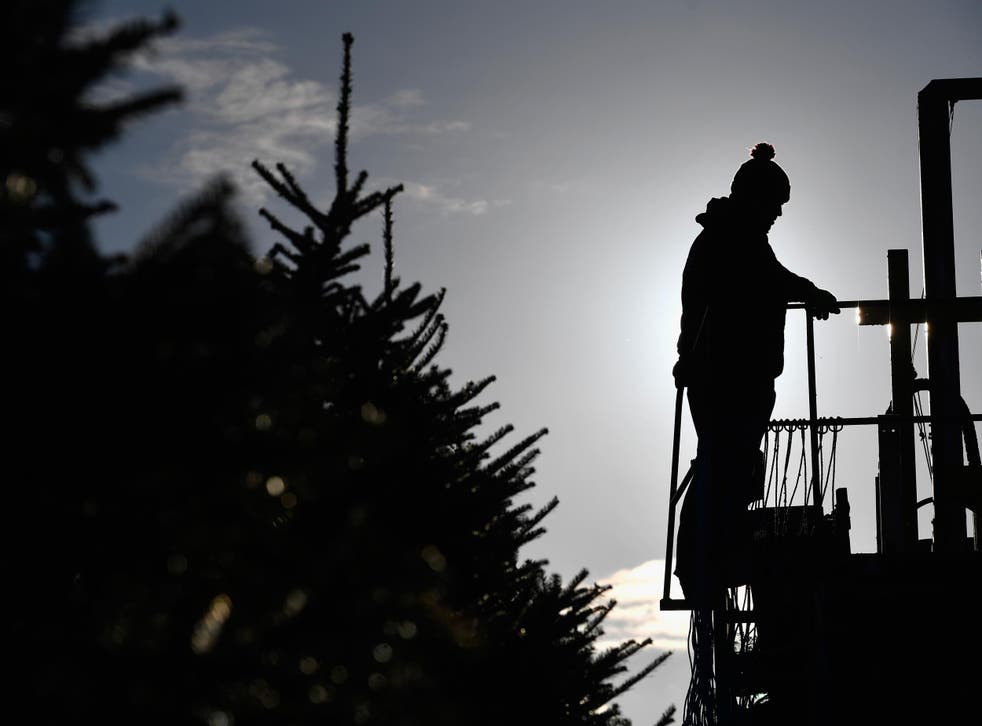 Freshly planted Christmas trees across Britain were wiped out this year after soaring temperatures scorched the landscape.
Young trees struggled to cope in the heatwave conditions that struck over summer, and growers estimate around a third of their new crop perished.
Though customers are unlikely to be left without a tree for Christmas, farmers say they must adapt to a future of extreme conditions in order to protect future supplies.
Met Office scientists have announced heatwaves will soon become the norm in Britain, with summer temperatures shooting up by over 5C within decades.
Farmers of all stripes were hit hard by this year's unpredictable weather, with reports of arable crops ripening early and warnings of lettuce and broccoli shortages.
Among Christmas trees, recently planted saplings with smaller roots were left unable to suck up enough water from the parched ground.
"Trees planted in the last two years have suffered significant losses … because the weather was unseasonably dry and hot," said Adrian Morgan from the British Christmas Tree Growers Association.
Extinction rebellion: Climate change protesters block London bridges

Show all 25
Across Europe, he said, up to 70 per cent of trees planted in the spring perished in the heat, which approached record-breaking levels in parts of the continent.
This is cause for concern as the UK sources up to a fifth of its Christmas trees from European nations, particularly Denmark.
"In the UK, with its slightly more maritime climate and somewhat heavier soil … the figure would be somewhat less, but nevertheless around 30-40 per cent of trees planted," said Mr Morgan.
Rob Morgan, owner of Gower Fresh Christmas Trees near Swansea, reported losses of around 10,000 trees in the sweltering heat in July, and said while he is sure his operation will bounce back, climate change is a real concern.
"I'm in the height of tree-cutting season at the moment but in the back of my mind is global warming," he said.
Among Rob Morgan's crop are Fraser firs, a niche variety which are particularly susceptible to the heat even when fully grown. But even the more hardy northern firs that form the bulk of Britain's trees are likely to struggle during their early stages as conditions become more extreme.
Dr Nicola Cannon, from the Royal Agricultural University, said this summer showed there was a need for farmers across the country to urgently prepare as traditional systems are thrown into disarray by the changing climate.
"We're seeing a lack of predictability in when we can sow crops due to extreme weather events, such as in 2018 the late Beast from the East meant farmers couldn't plant spring crops until much later, and then they were immediately hit by the dry weather in the summer," she said.
Support free-thinking journalism and attend Independent events
One tactic that Adrian Morgan says will be crucial for growers to ensure future harvests will be to begin planting trees in autumn, a move that will prove difficult for many.
"It's a leap of faith in a way, because a lot of people growing Christmas trees in England and Wales are also arable farmers, and there's a significant amount of pressure on them to get their harvest in," he said.
Due to the decade-long growing time of Christmas trees, the effects of the recent extreme weather will not be fully felt for several years, but the growers already seem to be accepting the need to change.
In his role as a supplier of young trees, Adrian Morgan said he had already seen a surge in demand in September as farmers responded to the changing conditions.
"We'll adapt – it's all part of reducing risk," he said.
Register for free to continue reading
Registration is a free and easy way to support our truly independent journalism
By registering, you will also enjoy limited access to Premium articles, exclusive newsletters, commenting, and virtual events with our leading journalists
Already have an account? sign in
Join our new commenting forum
Join thought-provoking conversations, follow other Independent readers and see their replies