Climate change to expose half of world's population to disease-spreading mosquitoes by 2050, study finds
'Pockets of habitat will open up across many urban areas with vast amounts of individuals susceptible to infection'
Harry Cockburn
Wednesday 06 March 2019 14:27 Comments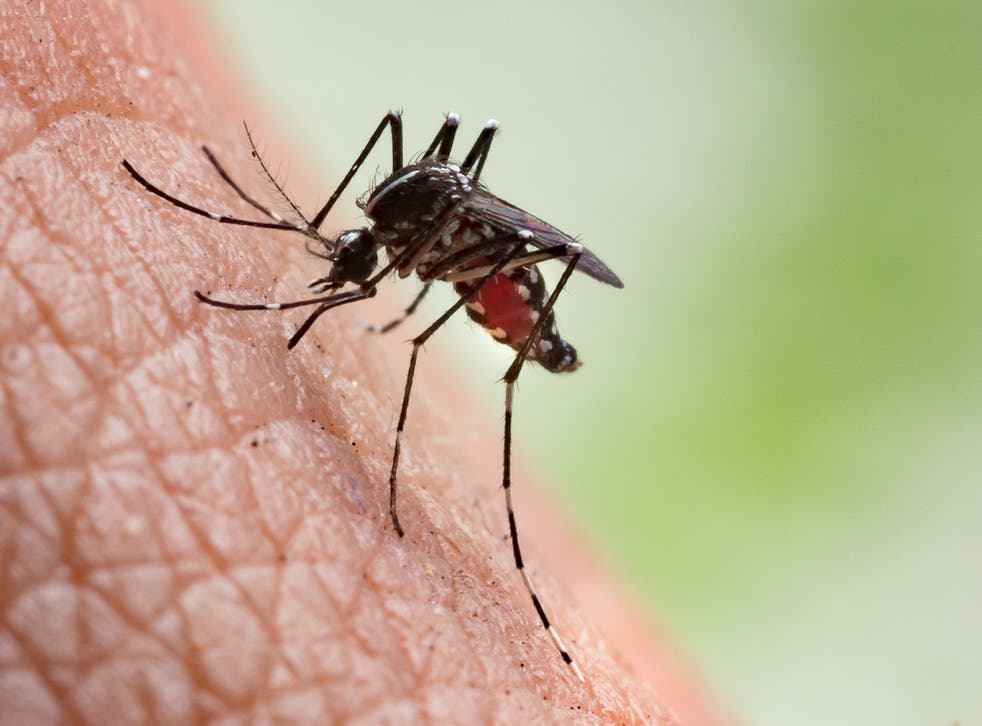 Over the next 30 years, mosquito-borne diseases such as dengue, yellow fever and the Zika virus are on course to spread – posing a risk to half the world's population, new research has revealed.
Two of the main disease-spreading mosquitoes – Aedes aegypti and Aedes albopictus – are forecast to significantly expand their range due to warming temperatures.
The models predict that by 2050, 49 per cent of the world's population will live in places where these species are established if greenhouse gas emissions continue at current rates, and if they are not curbed, even greater areas will be at risk.
"If no action is taken to reduce the current rate at which the climate is warming, pockets of habitat will open up across many urban areas with vast amounts of individuals susceptible to infection," said Moritz Kraemer, an infectious disease scientist at Boston Children's Hospital and the University of Oxford who co-authored the new research, published in the journal Nature Microbiology.
Zika virus is considered a risk for pregnant women as it can cause birth defects in babies. After it was first identified in the 1950s, it remained present only in a narrow equatorial band in Africa and Asia. But in the 21st century the band widened and it also spread to the Americas. High rates of microcephaly were reported in parts of Brazil following the first South American Zika outbreak in 2015.
Mothers of babies afflicted by Zika fight poverty in Brazil

Show all 16
Yellow fever can cause liver damage, pain, fatigue, nausea and can result in jaundice. It is deadly in 5 per cent of cases. Since the 1980s, the number of cases of yellow fever has been increasing, while it is believed immunity has fallen. Between 6 January and 4 May 2017, Brazil reported 1,392 cases of yellow fever, with a case-fatality rate of 34.2 per cent among confirmed cases, according to the European Centre for Disease Prevention and Control.
Dengue causes flu-like symptoms, affects most Asian and Latin American countries and has become "a leading cause of hospitalisation and death among children and adults", according to the World Health Organisation (WHO). It is difficult to gain accurate infection rates due to frequent misdiagnosis and under-reporting.
Before 1970, only nine countries had experienced severe dengue epidemics. The disease is now endemic in more than 100 countries in parts of Africa, the Americas, the eastern Mediterranean, southeast Asia and the western Pacific, according to the WHO.
The mosquitoes' rapid regional expansion has been aided by modern human transport and trade, which will continue to facilitate their spread, the research team said.
"While their short flight ranges limit self-powered dispersal, a century of rapid human population growth and international trade has enabled their global spread," the paper said.
"Trade in items such as tyres and potted plants have provided potential larval development habitats and have led to the intercontinental dissemination of the [mosquitoes eggs]."
The team gathered historic data on the distributions of A aegypti and A albopictus in more than 3,000 locations across Europe and the US going back as far as the 1970s and 1980s.
They also mapped the locations based on their present-day suitability as mosquito habitats, then projected their suitability in 2020, 2050 and 2080 using climate models and projections of urban growth. They also included human migration and travel patterns, using data from census and mobile phone records.
In recent years they found A aegypti has tended to spread over long distances, while A albopictus's spread has been more localised.
Within the US, A aegypti spread north at a relatively constant rate, about 150 miles a year. A albopictus spread most quickly between 1990 and 1995. Its advance has since slowed to about 37 miles a year.
But in Europe, A albopictus has spread faster, advancing about 62 miles a year and increasing to 93 miles a year over the past five years.
In the next five to 15 years, the models predict the spread of both species will be driven by human movement, rather than environmental changes.
But thereafter, expansion will be driven more by changes in climate, temperature and urbanisation which will create new mosquito habitats. If climate change isn't curbed by 2050, the spread is predicted to be even greater.
"With this new work, we can start to anticipate how the transmission of diseases like dengue and Zika might be influenced by a variety of environmental changes," said Simon Hay, director of Geospatial Science at IHME and professor of health metrics sciences at the University of Washington.
"Incorporating this information into future scenarios of risk can help policymakers predict health impacts and help guide strategies to limit the spread of these mosquito species, an essential step to reduce the disease burden."
Register for free to continue reading
Registration is a free and easy way to support our truly independent journalism
By registering, you will also enjoy limited access to Premium articles, exclusive newsletters, commenting, and virtual events with our leading journalists
Already have an account? sign in
Join our new commenting forum
Join thought-provoking conversations, follow other Independent readers and see their replies