Dumping of billions of tonnes of plastic waste is 'uncontrolled experiment' on planet Earth, scientists warn
Humans have produced about 8.3 billion metric tonnes of plastic since 1950, according to first global estimate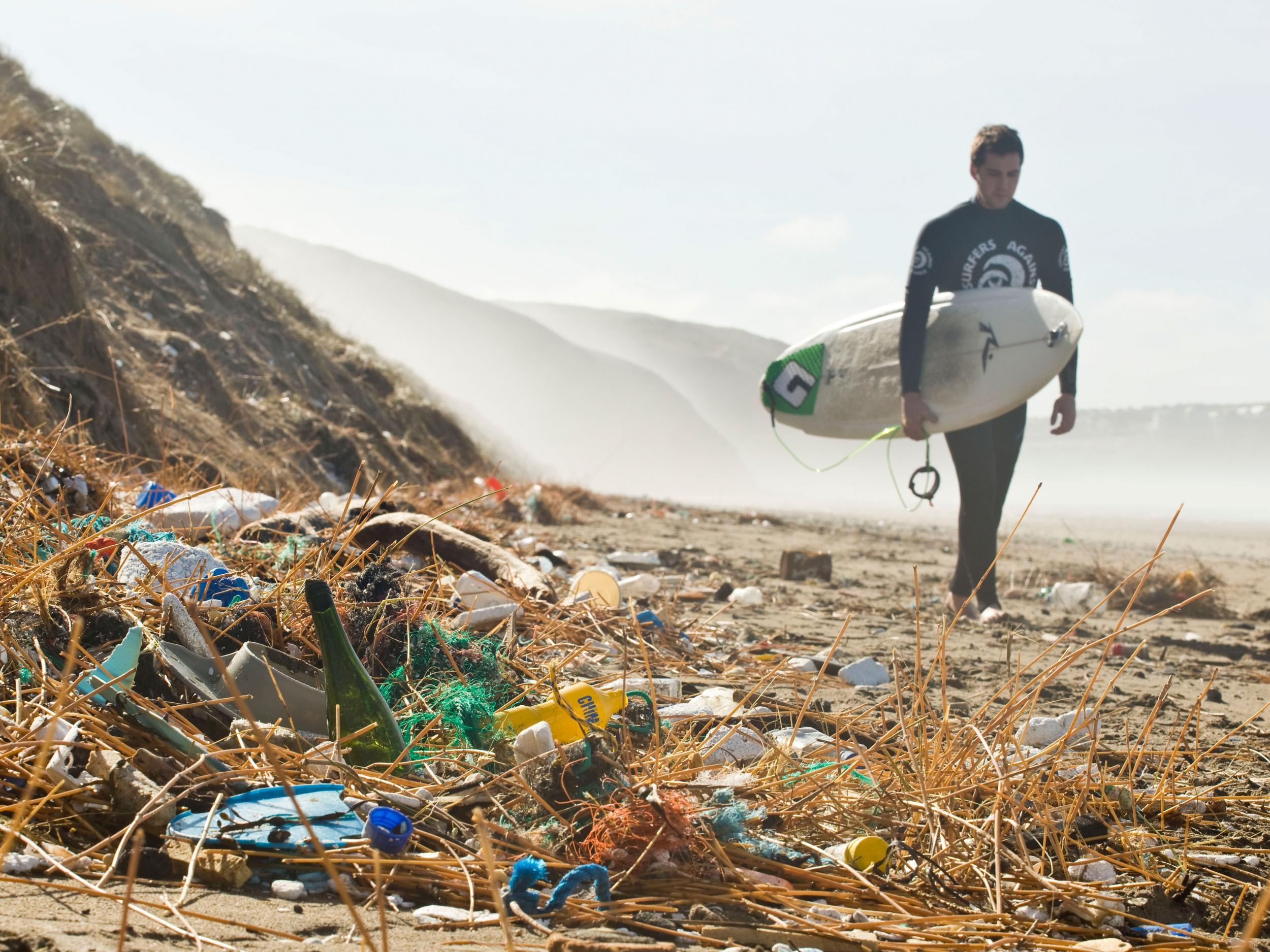 Humans are carrying out an "uncontrolled experiment on a global scale" by dumping vast amounts of plastic into the natural world, according to researchers who estimated the total amount produced since the artificial material became widely used in the 1950s.
They found 8.3 billion metric tonnes of plastic had been produced over the period, creating 6.3 billion tonnes of waste.
And 79 per cent of that was thrown away, either into a landfill site or the environment with just 9 per cent recycled and the rest incinerated.
The figures came as Surfers Against Sewage launched a campaign to persuade people to resist single-use plastics, saying the average person threw away the equivalent of 1,212 Coca Cola bottles or 4,600 plastic forks every year.
Writing in the journal Science Advances, the researchers warned that if current trends continued some 12 billion tonnes of plastic waste would be in landfill sites or the natural environment by 2050.
Concern over plastic waste has been growing, partly because it can contain hazardous chemicals but also because it attracts and concentrates other chemicals.
Giving evidence to MPs last year, one expert said plastic should be considered toxic once it got into the natural world because of this effect. The UN has also warned about the threat to human health posed by waste plastic.
But the Science Advances paper, written by scientists from University of California, Santa Barbara, Georgia University and the Sea Education Association in Woods Hole, Massachusetts, warned the full effects of dumping such a large amount of plastic into the environment were unknown.
"The growth of plastics production in the past 65 years has substantially outpaced any other manufactured material," they said.
"The same properties that make plastics so versatile in innumerable applications – durability and resistance to degradation – make these materials difficult or impossible for nature to assimilate.
"Thus, without a well-designed and tailor-made management strategy for end-of-life plastics, humans are conducting a singular uncontrolled experiment on a global scale, in which billions of metric tons of material will accumulate across all major terrestrial and aquatic ecosystems on the planet."
Plastic waste is seen as one of the signs that the Earth has entered a new geological epoch called the Anthropocene after humans as it will eventually show up in the rocks of the future, creating a dividing line between a 'natural' world and one dominated by our species.
The extinction of many animal species, the spread of pollution and radioactive waste are among the other signs.
In pictures: Plastic pollution around the world
Show all 10
The paper highlighted how quickly humans had taken to plastic.
"A world without plastics, or synthetic organic polymers, seems unimaginable today, yet their large-scale production and use only dates back to about 1950," the researchers wrote.
"The ensuing rapid growth in plastics production is extraordinary, surpassing most other man-made materials."
Plastic waste could be destroyed by burning or other processes or recycled. But recycling, the researchers stressed, only "delays, rather than avoids, final disposal".
Surfers Against Sewage's chief executive, Hugo Tagholm, urged people to "join the resistance against single-use plastic".
"Whether that's refusing throwaway plastics wherever we can, taking a refillable water bottle with you instead of buying single-use bottled water, reusing plastic bags on your weekly shop at the supermarket or making sure you recycle more, we all have our role to play," he said.
The campaign group said it had found that the average person throws away 23kg of single-use plastic every year.
It runs beach clean-ups around the UK and said the most common single-use plastics found on beaches included: plastic bottles, coffee cups and lids, plastic cutlery, straws, plastic stirrers and food packaging.
Join our commenting forum
Join thought-provoking conversations, follow other Independent readers and see their replies