Climate strike: Give detentions to children who skip school to protest environmental catastrophe, headteachers' union leader says
Students across the UK have been walking out of school to protest over climate change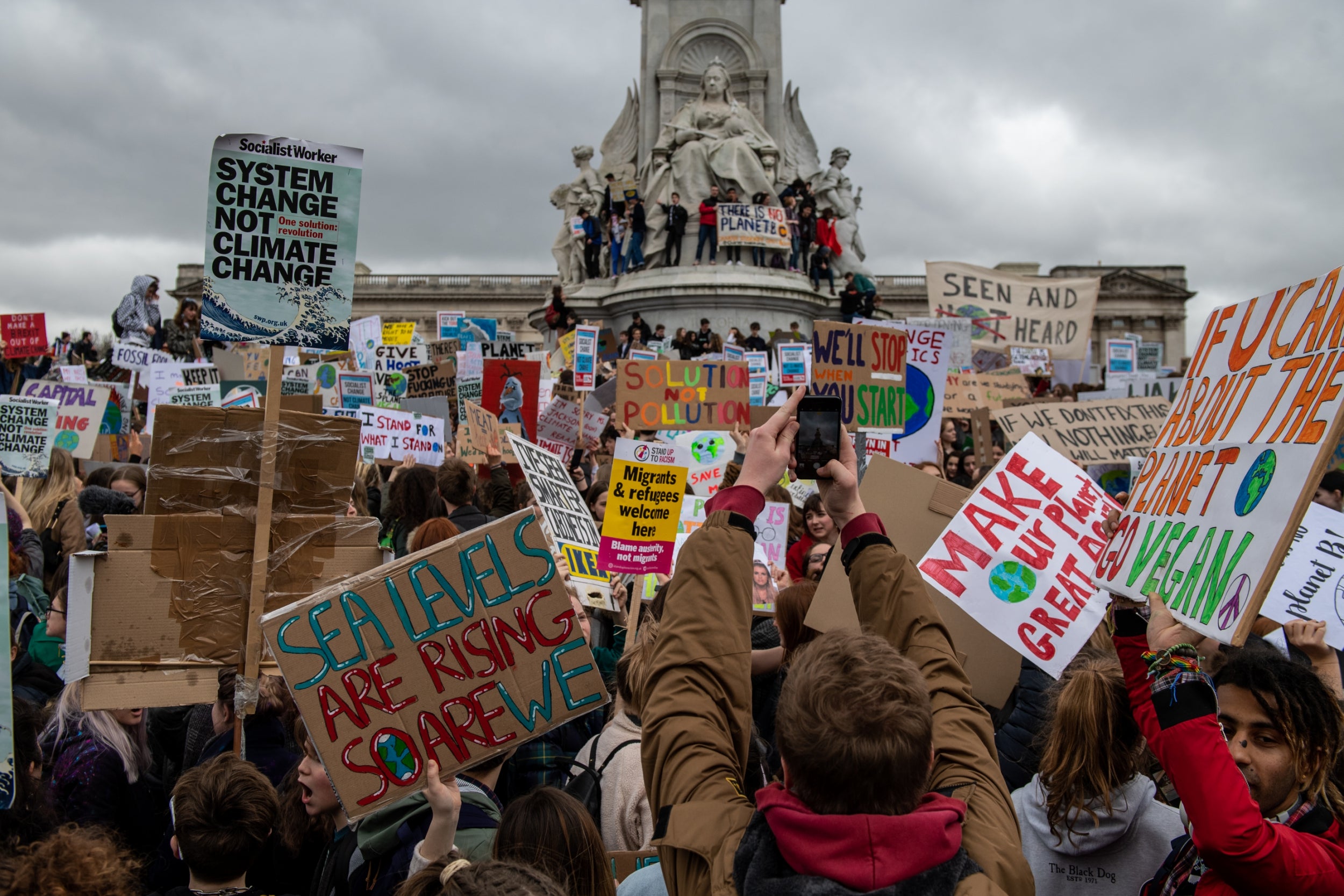 Headteachers should consider issuing lunchtime detentions to students who skip school for climate change protests, a union chief has said.
Pupils should be in school learning about climate change rather than demonstrating, said Geoff Barton, general secretary of the Association of School and College Leaders (ASCL).
The headteachers' union leader added that sanctioning protests opened the doors to more pupil absences over issues such as homelessness and knife crime.
On punishments for the protest, Mr Barton said: "Some schools will decide they want to send out a bigger signal. It might be that they do expect that those youngsters should do some work around the school.
"Personally speaking, I wouldn't think it unthinkable that you say to youngsters, 'You weren't here that afternoon, you missed work, other students couldn't be taught in the same way because the class size was smaller, you will be expected during lunch time to catch up on that.'"
"Act now or swim later" - Children worldwide protest climate change
Show all 38
His comments came on the same day that students around the world walked out of school to demand politicians take urgent action on climate change.
It was the second day this year that children have missed school to protest over the issue.
Speaking at ASCL's annual conference in Birmingham, Mr Barton said: "It seems to me that we patronise children ultimately by saying, 'Yes, well done'. It is a sentimental response.
"They should be learning in school about why climate change matters and learning how political processes work. That is our responsibility to do that."
Skipping school to protest against the Iraq war was not acceptable, and walking out of class for climate change demonstrations should not be condoned either, he said.
Mr Barton added: "The more we say climate change is such an important issue that young people can go and protest about it, well the more you open up other issues.
"What about fracking, what about homelessness for example, what about knife crime?"
Mr Barton added that when he was a headteacher, he issued after-school detentions to the students who went on strike over the Iraq war in 2002.
He said: "I wanted to send out the message that ultimately you can't as a society expect leaders to be able to take responsibility for the welfare of young people if you then don't give them the mechanism to be able to do that."
Liberal Democrat education spokeperson Layla Moran, who attended the protest last month, said she understood the safeguarding issues around children missing school, but added that they felt they had to.
She criticised MPs for saying it was unacceptable to skip school for the strike, when some schools have recently been forced to shut early due to lack of funding.
Ms Moran said: "The hypocrisy of government in this situation is astounding.
"And I have got schools in my area who are actively consulting on that [early closures] or have cut bits of the curriculum, and what the young people want is to be able to do both.
"They want to be able to have a planet that is going to be sustainable for them and their grandchildren and generations ahead, and attend school. I just think it is utter hypocrisy."
'It's not some kind of future threat' says Caroline Lucas as only handful of government MPs attend climate change debate
Speaking at the ASCL conference in Birmingham on Friday, education secretary Damian Hinds urged on children to stay in school.
He said he was "delighted" that pupils were taking a keen interest but added: 'I want children in school, and I want children learning to be the engineers, the climate scientists, the geographers of the future.
"And you've got a much better chance of that being in school than not being in school."
Join our commenting forum
Join thought-provoking conversations, follow other Independent readers and see their replies