Government urged to act fast on climate change after seeking advice on new carbon emissions target
Experts welcome request for advice from Committee on Climate Change, but say 'net zero' target must come soon to avert catastrophe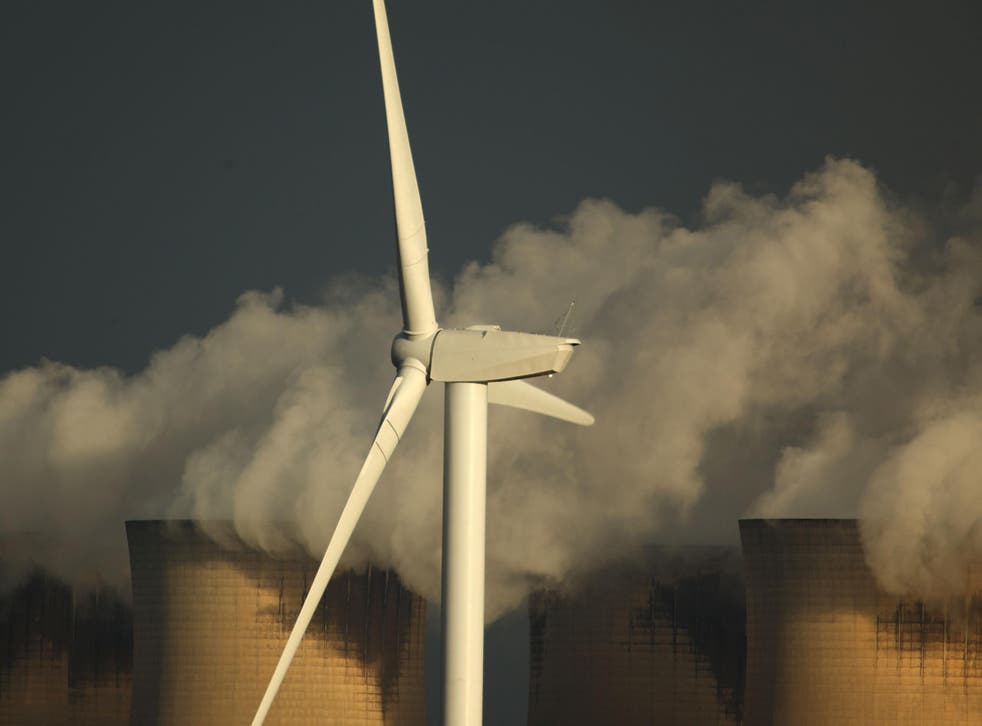 Government advisers have been tasked with setting out a strategy to virtually eliminate carbon emissions within 30 years, following a warning that "unprecedented" action is needed to tackle climate change.
The Committee on Climate Change (CCC) will establish whether the UK needs to completely overhaul its current emissions targets, and what needs to be done to achieve this transition.
Environmental groups welcomed the move as a crucial step forward, but cautioned that any new goals must be sufficiently ambitious to avoid the worst effects of climate change.
A major UN report released last week concluded that emissions must be slashed to "net zero" – the point at which emissions are effectively cut by 100 per cent – by 2050 to stop warming beyond 1.5C.
This will require massive and rapid changes to power generation, industry, transport, buildings and lifestyles, as well as investment in measures to suck any remaining CO2 from the atmosphere.
The letter to CCC chairman Lord Deben invites them to consider what emissions reductions would be needed to meet the Paris climate agreement target of a "well below 2C" rise, as well as the 1.5C limit urged in the new report.
Not only do experts agree that this more ambitious target is vital to avoid catastrophic effects such as coral reef extinction and Arctic ice loss, but they say that to get there emissions must reach net zero very soon.
IPCC: limiting global warming would require 'unprecedented changes', says Professor Jim Skea
Theresa May said: "On the global stage, the UK is driving forward action on climate change through our work at the UN and with our Commonwealth partners.
"To ensure that we continue to lead from the front, we are asking the experts to advise on targets for net zero emissions."
The previous Conservative government already said it would set a net-zero target in law, but the exact deadline for this target has been up for debate.
Labour has already committed to a net-zero target by 2050, and more than 130 MPs have signed a cross-party letter calling for the government to set a date for net zero before the middle of the century.
Responding to the news, Ed Matthew from The Climate Coalition said: "It is not just the target that matters, it's how fast we get there. The CCC must now ensure that this net-zero pathway is compliant with no more than 1.5C of warming.
"The UK must set a net-zero emissions target before 2050."
Britain's current target is to cut emissions by at least 80 per cent by 2050 relative to 1990 levels, and the CCC will advise on whether this will be sufficient to meet the Paris targets.
10 photographs to show to anyone who doesn't believe in climate change

Show all 10
The government request comes at the start of the Green GB Week initiative, and the government claimed that jobs in green industries could reach 2 million by 2030, generating up to £170bn in exports.
Ministers will also set out proposals for new laws for "smart energy" appliances such as washing machines and electric heating, with the ambition of making all new buildings smart by 2030.
The government has been criticised for its continued support for fracking, and lack of support for crucial renewable energy sources – both of which environmental campaigners say are at odds with its supposed tough stance on climate change.
Liberal Democrat environment spokesman Tim Farron claimed the Tories had "lurched drastically away from supporting green technologies".
Kate Blagojevic, head of energy at Greenpeace UK, said that in light of the Intergovernmental Panel on Climate Change report, "what our ministers need to do now is roll up their sleeves and turn climate science into climate action.
"There are many things that can be done straight away with existing technologies like restarting onshore wind, keeping a fair deal for solar, building zero-carbon homes and speeding up the switch to electric vehicles.
"Climate-proofing Britain won't just help avert one of the biggest threats we face, it will also have many other benefits like cleaning up air pollution, creating jobs and giving us better homes."
Emma Pinchbeck, executive director at renewable energy trade association RenewableUK said: "The government has done the right thing by taking the first step towards setting a new target of net zero carbon emissions, but this needs to be followed swiftly with robust action.
"Conservative ministers took the bold decision in 2015 to phase out coal; they need to be bold again."
Additional reporting by PA
Join our new commenting forum
Join thought-provoking conversations, follow other Independent readers and see their replies