Wildfires and Attenborough's witness statement: The biggest climate crisis moments of 2020
Sam Hancock looks back at the year – one of the three hottest on record – in climate milestones
Wednesday 16 December 2020 16:27 GMT
Comments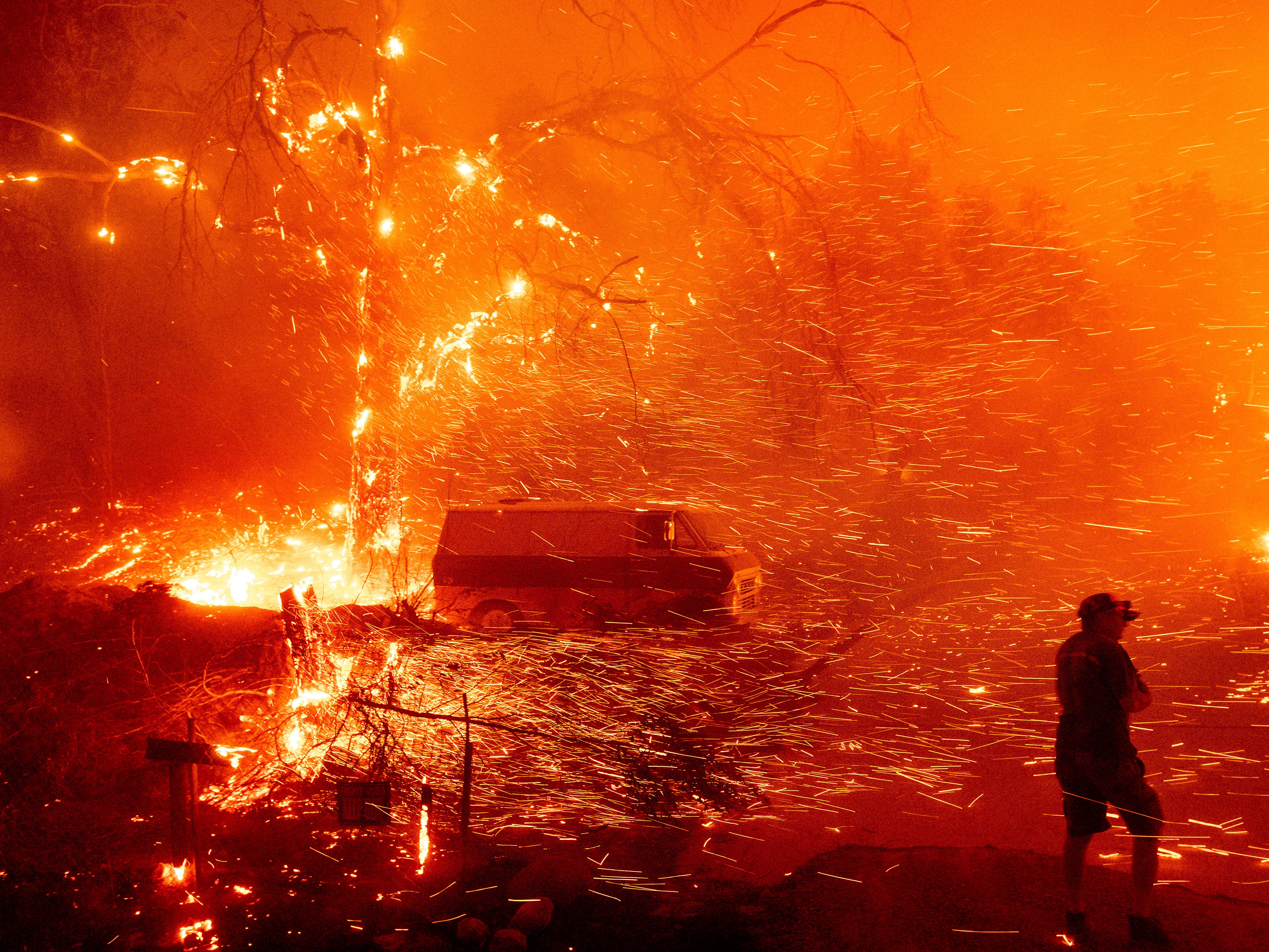 This year has marked a seismic shift in the climate crisis, both in terms of the pledges made by world leaders to fight it and the environment's less than subtle hints it has had enough of being mistreated.
In his Netflix documentary, A Life On Our Planet, which was released in October, David Attenborough pointed out the irony that we are all "bound by and reliant upon the finite natural world about us" but that we had allowed "our blind assault" against it to "alter the very fundamentals of the living world".
And considering how 2020 began – with the hottest January recorded in over 140 years – and how it will end – with the UN confirming it is one of the top warmest years ever – Mr Attenborough was right. There is still a huge amount of work to be done to abolish global warming, deforestation, carbon emissions, and melting ice caps. 
Here is a look at how 2020 played out through the lens of the climate emergency, and where we stand going into the new year:
January
Hottest January on record in 141 years
The National Oceanic and Atmospheric Administration (NOAA) reported that this was the warmest January since climate record-keeping began some 141 years ago. Temperatures in Europe were 0.2C higher than the previous warmest January for the continent – recorded in 2007.
This, and a sizable increase in global warming throughout 2019, saw ocean temperatures reach new highs at the beginning of 2020. Scientists revealed that the rate of heat introduced to the planet's oceans over the last 25 years is equivalent to the energy produced by 3.6 billion atomic bombs.
Barcelona declares climate emergency
Barcelona declared a "climate emergency" in mid-January, setting a new target to cut its greenhouse gas emissions by 50 per cent come 2030 through more than 100 main measures.
February
Heathrow expansion blocked by Court of Appeal
In a move labelled as "historic" by climate campaigners, a judge ruled that Heathrow's plans for a third runway were unlawful. Ministers were accused of failing to take into account the government's commitments to tackle the climate crisis.
However, the busy airport was later granted permission to appeal the move and on 16 December, it was announced that the original ruling had been overturned. The Supreme Court ruled that government policy supporting Heathrow's expansion was in fact lawful, with the judge saying former transport minister Chris Grayling "did take the Paris Agreement into account and was not legally required to give it more weight than he decided was appropriate".
Greta leads tens of thousands in Bristol youth climate protest
Activist Greta Thunberg led a momentous youth climate protest in Bristol, where the world-famous Swedish school girl warned "those in power" that she would "not be silenced when the world is on fire". Some 15,000 people marched through the streets in the pouring rain, after Greta accused politicians and the media of ignoring the climate emergency and "sweeping their mess under the rug".
March
Amazon rainforest on brink of 'collapse', scientists warn
A new study found that large ecosystems like the Amazon rainforest could collapse in less than 50 years, with researchers arguing that some natural environments are collapsing at a "significantly faster rate" than previously thought. 
Despite these warnings, though, it was reported in August that continued mass deforestation in the Amazon was leading to what charities, scientists and campaigners called "runaway climate change". Anna Jones, Greenpeace's head of forests, said at the time: "The Amazon is perilously close to tipping point. Scientists warn that in fewer than 20 years it could collapse with catastrophic consequences for indigenous groups, forest wildlife, our health and the climate."
April
Obama urges people to fight climate change as Trump lies about US air and water quality
While Barack Obama marked Earth Day's 50th anniversary by warning Americans that the climate crisis would "force far harsher changes" on future generations than coronavirus, Donald Trump planted a tree outside the White House and declared the US to have "the cleanest air and cleanest water than anywhere else on Earth".
US air quality has actually been in decline for several years, according to scientists and researchers. In the American Lung Association's recent State of the Air report, it was revealed that nearly half the US population – roughly 150 million people – is breathing polluted air.
Mr Obama urged people to "demand more" from leadership to protect the planet, in a thinly veiled attack on his successor Mr Trump.
May
Coronavirus causes short-lived 17% drop in global carbon emissions
Covid's largely positive effect on the environment became clear in May when a study revealed that due to a decrease in people flying and driving, there had been a 17 per cent drop in global carbon emissions.
The study, published in the journal Nature Climate Change, found that global carbon emissions per day in April were 17 per cent lower than the average daily emissions in 2019. Experts warned that the change was unlikely to be long lasting, though, and by early June a report by the World Meteorological Organisation confirmed that the world's carbon emissions had returned to about 5 per cent below 2019 levels.
June
Arctic circle records highest ever temperature of 38C
A record-high temperature of 38C (100.4F) was noted in a Siberian town, making it the highest ever in the Arctic circle. A weather station in Verkhoyansk logged the temperature, overtaking an Arctic record set more than a century ago at Fort Yukon, Alaska, where a temperature of 37.7C (100F) was documented in 1915.
"What's happening in Siberia this year is nothing short of remarkable," said Jeff Berardelli, a CBS News meteorologist. He said the new record in Verkhoyansk was "the kind of weather we expect by 2100, 80 years early."
July
First half of 2020 named second-warmest on record
The first six months of 2020 were declared the second-warmest on record with the NOAA revealing that temperatures between January and June were 1.07C above the 20th-century average of 13.5C, only 0.05C lower than the record set in 2016.
August
California begins battling 'worst ever' wildfires
The West Coast of America suffered its "worst ever" outbreak of wildfires in August, leading to governor Gavin Newsom declaring a state of emergency and hundreds of thousands of people being forced to evacuate their homes.
As of 6 December 2020, more than 9,279 fires have killed 33 people and burned more than 4 per cent of the state's roughly 100 million acres of land - making 2020 the largest wildfire season recorded in California's history, according to the California Department of Forestry and Fire Protection.
September
China pledges net-zero carbon emissions
China, the world's biggest emitter, pledged to reach carbon neutrality by 2060 and ensure its greenhouse gas emissions peak in the next decade, Xi Jinping told the UN general assembly in September.
"China will scale up its intended nationally determined contributions by adopting more vigorous policies and measures," the Chinese president said, in a historic move considering the country's previously non-committal attitude towards combating the climate crisis.
October
EU emissions to be cut by 60% in next 10 years
The European Parliament voted in favour of a legally binding target for the EU to cut its greenhouse gas emissions by 60 per cent by 2030, against 1990 levels.
Attenborough releases Netflix 'witness statement'
David Attenborough's self-proclaimed "witness statement" to the world rocked the boat with its stark predictions and foreboding one-liners.
The 90-minute Netflix documentary, A Life On Our Planet, covered the broadcaster's near 70-year broadcasting career. In it, Mr Attenborough's normally advisory tone took a more angry one – as he gave a stark warning to viewers, who he said were single handedly "assaulting" the planet, and that they must view the climate crisis accordingly.  
Netflix trailer for David Attenborough: A Life on Our Planet
"We are facing nothing less than the collapse of the living world. The very thing we rely upon for every element of the lives we lead," he said, before adding: "No one wants this to happen. None of us can afford for it to happen."
November
US formally pulls out of Paris Climate Agreement
One of Mr Trump's final actions as president was to formally remove the US from the 2015 Paris Climate Agreement – making the US the first nation in the world to formally withdraw from the agreement, which was drafted to strengthen the global response to the threat of climate change. 
Mr Trump announced the move in June 2017, but UN regulations meant that his decision took three years to take effect. Once Joe Biden won this year's presidential election, though, he confirmed that under his leadership the US would be rejoining the agreement.
Biden and Johnson announce separate 10-point climate plans
Both Mr Biden and Boris Johnson announced 10-point climate action plans in November, with the president-elect declaring that the fights against coronavirus and climate change were among his top priorities as America's 46th president.
Mr Johnson's plan was largely panned by UK climate groups across who said large "gaps remained," though he was praised for bringing forward plans to ban the sale of petrol-based cars which the UK will now do in 2030.
December
2020 one of three hottest years on record
The UN confirmed that 2020 will be one of the top three hottest years on record. This past decade is also the hottest ever recorded, according to the provisional State of the Global Climate report, published by the World Meteorological Organisation (WMO). All six of the hottest years have happened since 2015, it said.
PM announces new target to cut UK emissions 68% by 2030
Ending on a somewhat positive note, Mr Johnson finally responded to repeated calls by the UK's leading independent climate advisers and pledged to cut the UK's emissions by at least 68 per cent come 2030.  
The move means the UK now has the strongest short-term target set by any major economy. It also aligns the UK with a goal of limiting global warming to 1.5C above pre-industrial levels, the most ambitious target of the Paris Agreement.
Join our commenting forum
Join thought-provoking conversations, follow other Independent readers and see their replies