New £12m government fund for tree planting across England's community forests
It's hoped that the trees will eventually store 100,000 tonnes of carbon – equivalent to more than 45,000 transatlantic flights
Katie Anderson
Sunday 06 December 2020 14:28 Comments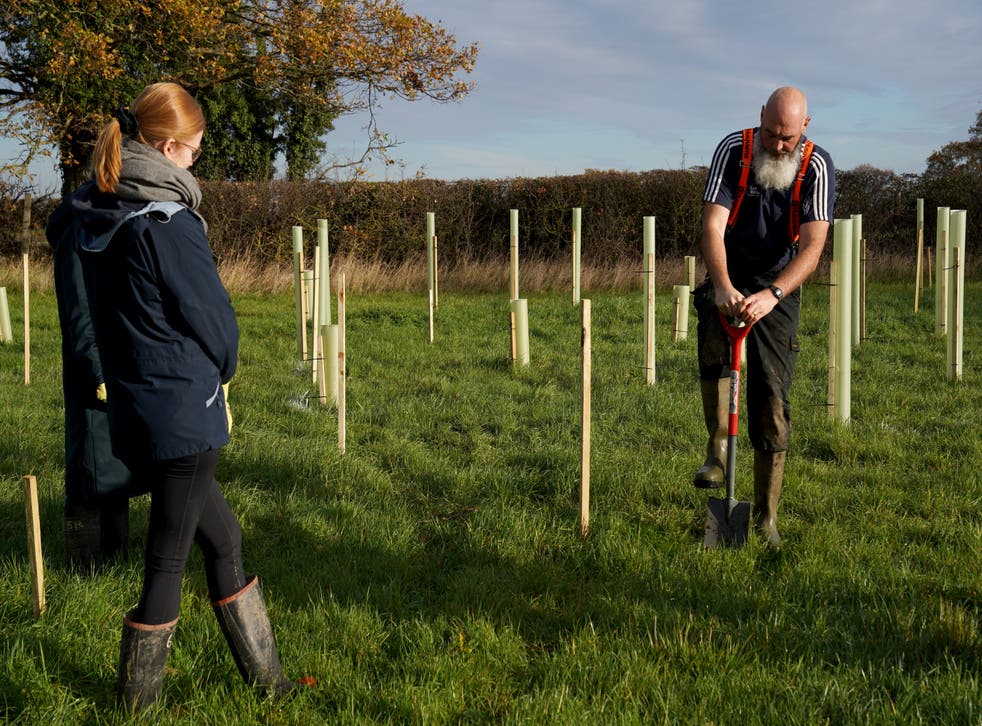 The government has announced a £12.1m fund to plant 500 hectares of trees across England.
The new project, Trees for Climate, will sponsor 10 community forests over the next five months, stretching from Somerset to North Yorkshire.
It's hoped that as the trees reach maturity, they will store 100,000 tonnes of carbon – equivalent to more than 45,000 transatlantic flights, the Department for Environment, Food and Rural Affairs (Defra) said.
It is just one of the government's measures aimed at getting emissions down to net-zero by 2050. As the trees grow, they'll absorb CO2 from the atmosphere during photosynthesis and then use it to build new leaves, roots and shoots.
But campaigners are sceptical of the government's announcement, suggesting it's not enough to sufficiently boost tree planting to be in line with what is needed to tackle the climate crisis.
Nick Rau, trees campaigner at Friends of the Earth, said: "You can't shout from the rooftops about a few million pounds for tree planting to fix the climate crisis, while planning to spend nearly £30bn on building roads at the same time. The fact also remains that the government's target on tree planting is just too low."
The new 500 hectares plan is a fraction of the 5,000 hectares that will be needed to be planted across England each year from 2020-2025 for the country to be in line with its emission targets, according to the UK's independent climate advisers.
It's even further away from the government's goal for the whole of the UK to plant 30,0000 hectares per year by 2025, which Boris Johnson outlined in his 2019 election campaign and repeated in his recent 10 Point Plan.
Defra said the Trees for Climate project will help mitigate against flooding, allow biodiversity to thrive and increase the public's access to woodland and green space.
It is also hoped the scheme will nurture jobs within the environmental sector, boosting local economies as part of a "green recovery".
Areas that are due to receive funding are The Forest of Marston Vale in Bedfordshire, the Greenwood Community Forest in west Nottinghamshire, and the City of Trees in Greater Manchester.
Also included are the Mersey Forest, the Forest of Avon, the Forest of Mercia, two projects in Yorkshire and two in the southeast.
The cash injection for the first planting session will come from the government's £640m Nature for Climate Fund, announced back in March.
Forestry minister Lord Zac Goldsmith said: "Through this exciting new programme we will build back greener, as more communities – particularly those in urban environments – will have access to nature, with real benefits for health and wellbeing.
"This vital programme will plant trees where they are most needed to stem flooding and provide more places for nature to thrive."
Sir William Worsley, chair of the Forestry Commission, said: "The £12.1m boost will be a huge help both for getting trees in the ground, but also enabling each of the community forests to ensure they are well-managed in the long term, making sure these new woods can thrive to the fullest extent."
The Trees for Climate scheme follows £3.9m of funding announced on Saturday to help increase tree cover in urban and rural settings across the UK, as well as close to waterways to reduce flood risk.
More than half the funding, £2.5m, will be spent on five pilot schemes over the next two-and-a-half years to develop tree planting programmes in different communities.
Green Party peer, Natalie Bennett, responded to the announcement: "We have a very bad habit right across Westminster of funding highly successful pilots but failing to turn them into national programmes, and it is crucial that what is learned from these schemes is quickly turned into widespread action.
"It is also vital that as well as focusing on planting, there is a large scale programme to promote natural regeneration, which is not only potentially cheaper, but will help ensure the right tree in the right place."
The prime minister also recently announced a further £40m additional investment into the government's Green Recovery Challenge Fund. The money will go towards creating and retaining thousands of jobs in the environmental sector, such as ecologists, project managers, tree planters and teams to carry out nature restoration.
Register for free to continue reading
Registration is a free and easy way to support our truly independent journalism
By registering, you will also enjoy limited access to Premium articles, exclusive newsletters, commenting, and virtual events with our leading journalists
Already have an account? sign in
Join our new commenting forum
Join thought-provoking conversations, follow other Independent readers and see their replies