Coronavirus: Could COP26 climate summit be held by video conference?
'What is needed to be seen is whether our habit of requiring face to face meetings can be overcome as we move forward in time,' says former chief scientific advisor as virus threatens to derail conference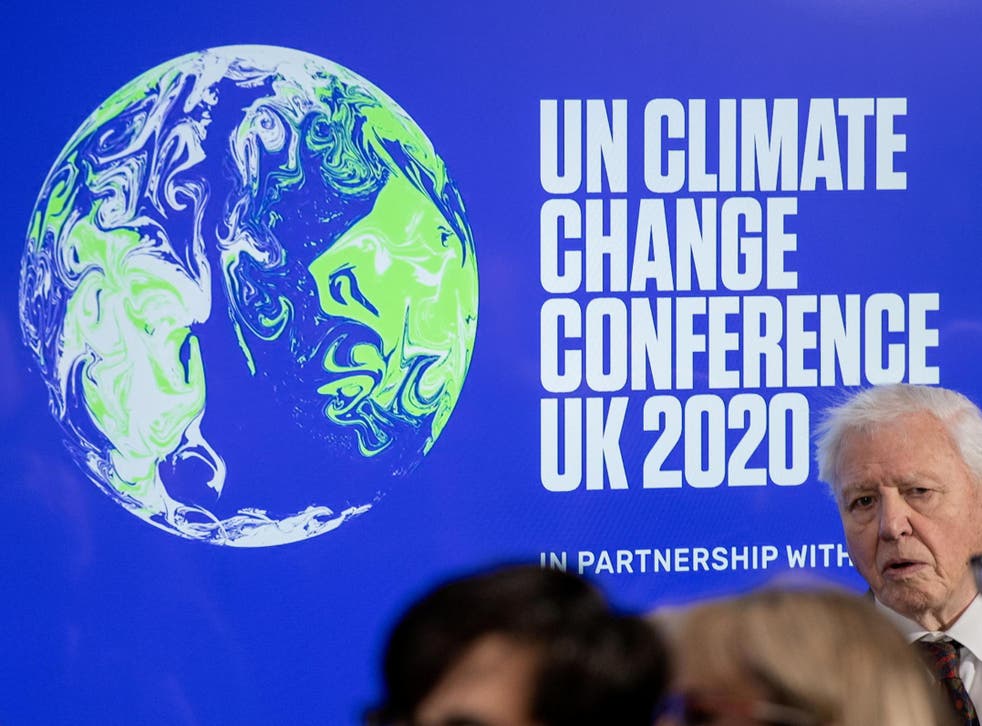 As the coronavirus crisis continues to shut down borders and keep people apart, event organisers worldwide are faced with questions of whether or not to cancel, postpone or move their occasions online - including the 26th UN Climate Change Conference of the Parties (COP26).
Uncertainty around how long the outbreak will last has raised doubts about COP26's future. The climate change conference has been billed as the "biggest international summit the UK has ever hosted" and is expected to welcome over 30,000 delegates to coordinate on tackling the climate emergency.
David King, a former chief scientific advisor to the UK government, told Radio 4's Today programme on Tuesday there is a "possibility" the COP26 may be delayed but could be conducted in the virtual space if the "habit of requiring face to face meetings can be overcome".
But Richard Black, director of the Energy and Climate Intelligence Unit, told The Independent the idea was "not feasible" and could reduce productivity gained by "rich debates" held at the international conference.
Speaking about the creation of a "global climate alliance" he is pushing for, Mr King had said "all of the action is now taking place virtually and it's flowing along quite well".
Before and after photos show impact of coronavirus around the world

Show all 20
He added: "I think that one can get a long way with virtual action; what is needed to be seen is whether our habit of requiring face to face meetings can be overcome as we move forward in time. It will be very interesting to see if we can reduce air travel after the coronavirus outbreak has died away. In other words, whether we develop new habits over the next year, year and a half, that reduces the demand for air travel."
But the logistics of bringing 195 governments and 30,000 people into an online space at the same time would be extremely difficult, considering different time zones, internet connection speeds, and the need for multiple conversations and consultations to be had between individuals, according to Mr Black.
"To have them all on conference calls when they all need the right to contribute and have private sessions to consult scientists, civil societies and more – it simply is not feasible," he told The Independent.
"COP26 is made up of a rich ecosystem. 30,000-ish people from different walks of life in one place, allowing for the scrutiny of governments and rich debates to be held – it wouldn't be possible to reduce all that into a video conference call.
"A few smaller meetings have already been moved online, for example, there has been one that involved 23 countries. Not only were time zones an issue, but comments and discussions had to be done via text, which takes more time.
"Representatives from developing countries without stable Internet connections also had problems making the most of the meeting. Imagine trying to organise that for thousands of people."
The question of COP26's future arises as the UN Climate Change (UNFCC) secretariat announced it is exploring remote work and video conferencing technology that will enable it to continue "ongoing support to the intergovernmental process on climate change" while the virus continues its spread around the world.
The UNFCC secretariat will also not be holding any physical meetings until the end of April 2020 and official missions have been suspended amid the outbreak of the disease.
There has also been criticism over the environmental impact of tens of thousands of attendees flying from around the world to attend an event aimed at mitigating the climate emergency.
But COP meetings currently produce zero emissions, according to Mr Black, in line with UN policies to cut carbon footprint as much as possible. Last year, COP25 committed to being entirely climate neutral by avoiding greenhouse gases, waste production, water and energy use, as well as encouraging participants to travel by local public transport.
"What can't be cut gets offset," he said. "So for example, the Paris Agreement only produced as much emissions as that of 800 French people."
The UN's 'Climate Neutral Now' initiative offers organisations, companies and individuals the opportunity to offset their carbon footprint by purchasing UN-certified "carbon credits" generated by climate-friendly projects.
It's still too early to say if COP26 will be postponed, though both Mr King and Mr Black say a delay to the conference is a possibility that can't be ruled out if the coronavirus pandemic remains an issue closer to the date.
But considering the significance of COP26, which marks five years since the Paris Agreement was reached, Mr Black said countries must honour their commitments, which were promised "by 2020, not by COP26".
Join our new commenting forum
Join thought-provoking conversations, follow other Independent readers and see their replies