Costa Coffee lobbied government against 25p 'latte levy' before proposals were binned
Exclusive: Costa claimed it would be 'deliberately targeting coffee drinkers' and questioned whether cups made from plastic and paper could be deemed single-use plastic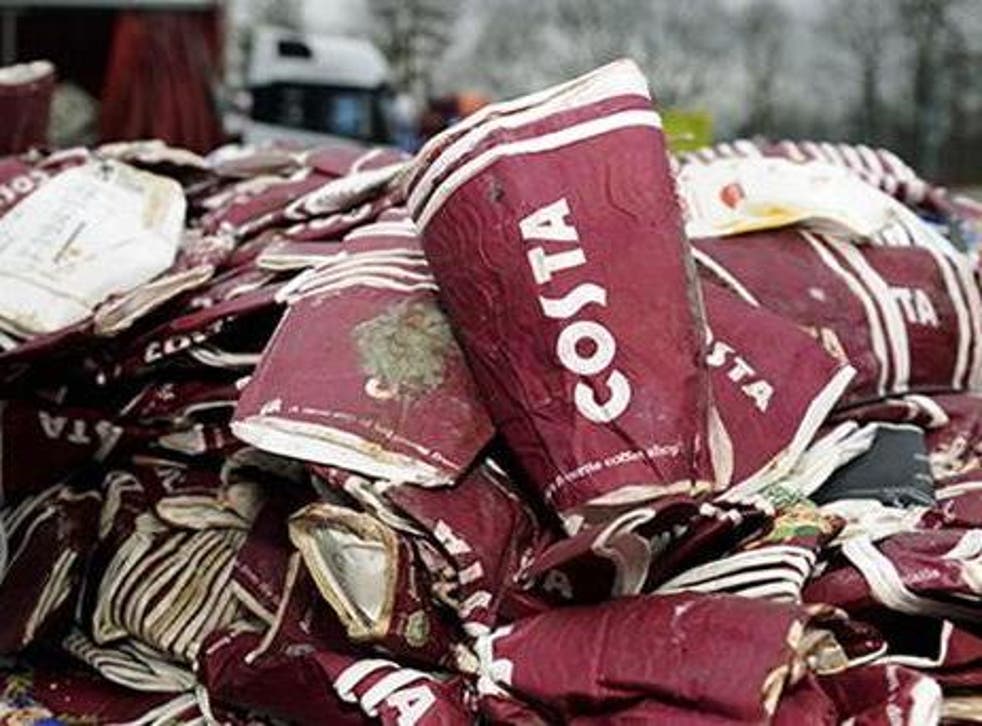 Britain's largest coffee chain claimed there was no evidence a 25p environmental "latte levy" on single-use cups would work and "obstructively lobbied" the government just before proposals to introduce the tax were binned against MPs' advice, The Independent can reveal.
Costa Coffee – which sells nearly half a billion drinks in takeaway cups every year – argued against the proposals to make customers pay more for them, just before the chancellor Philip Hammond dropped plans for the levy in last year's autumn budget, according to a freedom of information request by Greenpeace's investigative journalism unit Unearthed.
MPs on the Environmental Audit Committee (EAC) had recommended the levy should be brought in, and trials – including one in Westminster itself – have shown they drastically cut the number of cups thrown away. The Independent launched a campaign called Cut the Cup Waste to back the move in 2017.
However, just before Mr Hammond's budget, Costa claimed the government would be "deliberately targeting coffee drinkers" and questioned whether cups made from plastic and paper could be deemed single-use plastic, according to documents seen by The Independent.
Although plans for a nationwide scheme were scrapped, a 25p surcharge on takeaway cups in the Houses of Parliament introduced in October 2018 led to the number of cups plummeting from 58,000 a month to 15,000 per month.
Sea creatures seen tangled in plastic

Show all 8
Greenpeace UK ocean plastics campaigner Fiona Nicholls said it was "galling" the Treasury scrapped plans for a levy on throwaway cups after "obstructive lobbying" from Costa.
"We know the 'latte levy' works because when it was introduced in Westminster it led to 74 per cent fewer throwaway cups being used. The government must act on this evidence and introduce a charge without delay," she said.
A trial latte levy scheme carried out earlier this year by the universities of Sussex and Winchester showed the UK nationally could save in excess of 700 million cups every year.
Instead of applying a tax, ministers decided it was better for shops to offer voluntary discounts. The EAC said at the time the decision showed the government was not serious about reducing plastic waste.
In its submission to the Treasury in May last year, Costa said: "Costa does not support a tax on single-use cups. Taxation of cups would only add an additional unwelcome tax burden on UK consumers and currently there is no clear evidence as to how a tax will improve the recycling infrastructure or affect behaviour of those who litter."
The business also said the government should be wary of "promoting the view that single-use plastics are not recyclable", arguing this could lead to consumers just throwing cups away.
Costa said the main barrier to making cups 100 per cent recyclable is poor infrastructure and "consumer behaviour".
Coffee cups are 95 per cent paper but the thin lining inside the cup (which prevents leakage) makes them extremely hard and expensive to recycle. There are currently three specialist recycling facilities in the UK that can separate the plastic lining from the paper, meaning just 4 per cent of cups get recycled.
In its response to the consultation, McDonald's said consumers "should not suffer financial consequences as a result of any tax system changes".
The fast food chain also said the definition of "single-use" plastic should be based on how recyclable the plastic is and not the number of times it is used, and argued that plastic bottles are "by far the most effective way of supplying water to consumers" and "play a vital role in society".
In response to this story, McDonald's said: "Since these comments were made, in response to the government consultation, we've swapped plastic for paper straws, signed the UK Plastics Pact, and our customers can have their own water bottles refilled in our restaurants."
In its submission, Coca-Cola – which brought Costa in January this year – acknowledged that "public awareness of the potential negative impacts of single-use plastics has risen considerably in the last 12 months", but added: "However, the benefits of plastics cannot be ignored." A spokesperson told The Independent: "We support the introduction of a well-designed deposit return scheme, and reform of the producer-responsibility system to ensure that more of our packaging is recovered and recycled."
Starbucks did not provide a comment on the latte levy but said it was organising a scheme so cups could be separated from general waste.
Costa declined to comment on this story.
Awareness of plastic pollution has rocketed over the past few years following Sir David Attenborough's Blue Planet documentary in 2017, but many feel political action to cut plastic is lacking.
Schoolgirls petition McDonald's and Burger King to remove plastic toys from meals targeted at children
In his budget speech last year, Mr Hammond announced plans to tax all plastic packaging containing less than 30 per cent recycled content, from April 2022. At the time he said the UK would be "a world leader in tackling the scourge of plastic littering our planet and our oceans".
Leaked documents showed the UK's leading plastic trade group, the British Plastics Federation (BPF), pushed to weaken the tax despite its own analysis showing a levy would significantly increase the use of recycled materials in packaging.
A spokesperson for the BPF commented to Unearthed at the time, saying: "The plastics industry wants to increase the amount of recycled content in its products and we are working to overcome the numerous technical challenges to introducing 30 per cent recycled content across all plastic packaging formats. These are due to food safety laws and the need to keep packaging as resource-efficient as possible."
He argued that using recycled content could sometimes "result in using more plastic, not less" and said that it could make products "extremely difficult to recycle".
The spokesperson added: "It is for these reasons that the plastics industry is providing detailed information to the government to ensure the best environmental outcome, and that the money is invested in improving our national collection and recycling infrastructure.
The growth in single-use consumer plastics has fuelled a surge in plastic pollution around the world. It is estimated there are now 5.25 trillion pieces of ocean plastic debris, and a recent report estimated the quantity of plastic in the sea will treble by 2025.
The UK currently throws away 2.5 billion disposable coffee cups a year, which is enough to circle the planet five and a half times.
A government spokesperson said: "We are committed to eliminating avoidable plastic waste, and as we develop our policies on extended producer responsibility we will continue to explore ways to encourage reuse and increase recycling rates, including for takeaway cups.
"Businesses are already taking steps to limit their environmental impact, but we expect industry to go further and will return to the issue if sufficient progress is not made."
Register for free to continue reading
Registration is a free and easy way to support our truly independent journalism
By registering, you will also enjoy limited access to Premium articles, exclusive newsletters, commenting, and virtual events with our leading journalists
Already have an account? sign in
Register for free to continue reading
Registration is a free and easy way to support our truly independent journalism
By registering, you will also enjoy limited access to Premium articles, exclusive newsletters, commenting, and virtual events with our leading journalists
Already have an account? sign in
Join our new commenting forum
Join thought-provoking conversations, follow other Independent readers and see their replies