UK hit by largest ever outbreak of bird flu as chickens join humans in isolating to stop virus spread
'In some ways, it's easier with the Covid outbreak because we're not visiting other properties,' one poultry owner tells Zoe Tidman
Thursday 21 January 2021 09:07 Comments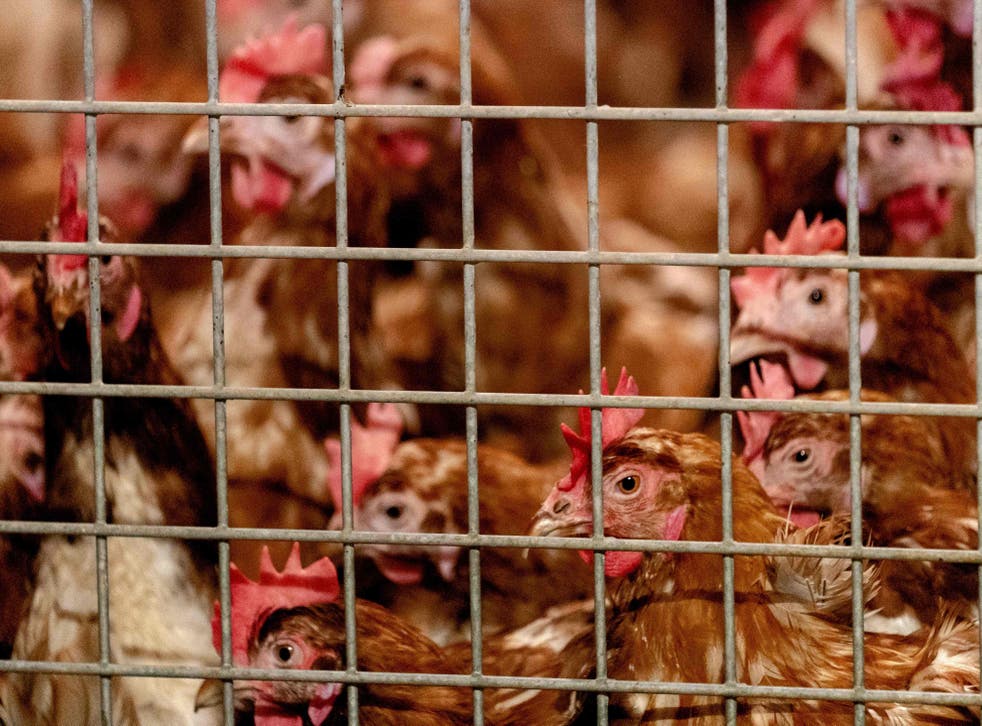 It is not just people who are cooped up indoors to stop the spread of a virus at the moment.
While humans stay at home during the coronaivrus lockdown, poultry are also being forced to stay inside over the UK's largest ever outbreak of bird flu.
Tens of thousands of birds have been culled and 20 cases of avian influenza identified during the current outbreak. Before that, the highest number of bird flu cases ever was 13, between 2016 and 2017. 
With the Covid-19 outbreak ravages the UK and enforces strict restrictions, Fiona Osborne, who keeps chickens in South Lincolnshire, says things are a bit different this time, compared to the last serious outbreak a few years ago.
"In some ways, it's easier with the Covid outbreak because we're not visiting other properties," she tells The Independent.
"We're not seeing other poultry keepers. People aren't coming onto the property. So to a certain extent, the biosecurity side is actually an awful lot easier."
She adds: "We don't have to think about other people bringing the spores of the bacteria or the virus onto our site."
Her 18 chickens are free range, and kept in a field. "Normally, they would have the entire half acre to themselves to roam around and lots of things to look at and keep them interested."
"Now, we have got them in three small polytunnel frames, which are covered with bird netting."
Instead the 18 chickens are kept in a space that is three by 18 metres. "It's a huge difference," she says.
Phil Crawley, who co-owns egg producer Sunrise Poultry Farms in Leicester, has given his chickens a football and other toys play with, to cope with the lockdown.
The restrictions have been the case since mid-December, from when all bird keepers in England - ones with pet birds, commercial flocks, or even just some in their garden - were required by law to follow certain precautions, including keeping birds indoors except in very specific circumstances.
Tens of thousands of birds have been culled towards the end of last year - including more than 10,000 turkeys at one farm in Yorkshire.
While several different strains have been identified, the H5N8 strain of highly pathogenic avian influenza has been found at 12 sites - including in backyard poultry near Exmouth, Devon and at a wild bird rescue centre in Droitwich Spa.
Professor Mick Bailey from the University of Bristol's veterinary school explains: "Influenza virus is just replicating completely out of control wild in northern Asia."
Every year, those birds migrate and expose the UK to new strains and variants which can be "slightly" or "dramatically changed", he says.
"This year is bad," Prof Bailey says, adding it was "also pretty bad as well" a few years ago.
He says the UK can expect "quite a few more outbreaks" and wild birds testing positive - but it "would have to escalate a lot to be uncontrollable".
"You would need the number of infected premises to rise above the number of inspectors capable of making those diagnoses," Prof Bailey says. "And I don't think that is going to happen."
However, one concern is if the coronavirus outbreak could start sending people working to control outbreaks into isolation, which Prof Bailey says could slow down the rate at which bird flu is diagnosed and protection zones put into place.
"It is not the case at the moment but just something to be careful of in future," he adds.
But coronavirus has also put a stop to habits, which experts and owners say could risk the spread of bird flu.
According to Department for Environment, Food & Rural Affairs (Defra), avian influenza spreads from bird to bird by direct contact or contaminated body fluids or faeces. It can also spread by contaminated feed or water, or dirty clothes and shoes.
With coronavirus restrictions telling people to stay at home, it removes the risk of taking bird poo on shoes - and the virus - from one garden to the next, Paul Wiggley from the University of Liverpool says, adding this is usually a "constant worry".
"Of the fancier breeds, there won't be the poultry shows," the professor of avian infection and immunity also tells The Independent, which are normally "quite a big thing".
One person affected by this is Kris Jury, who runs Devon Poultry, a smallholding with birds such as chickens, ducks, and turkeys.
"Because of Covid, we haven't had a show since around January last year," he says. "Because of that, I would imagine bird flu would spread less, but the checks when you go into and out of those shows are quite strong anyway."
Despite an outbreak in nearby Exmouth, Jury says he is not too worried about his birds catching the flu - as they are not having any visitors onto the site at all.
However, the poultry lockdown measures are pushing up his costs, as he is having to pay for more indoor lighting for shelters and food for the birds, as they are not eating what they find outdoors.
He says he hopes it will blow over soon - and he will also be back at bird shows again.
Osborne in south Lincolnshire hopes the situation will pass quickly too, and her chickens can be let outside again.
"They actually don't seem too concerned about it," she says. "I think I'm more upset than the chickens are, to be quite frank.
"But I'd still prefer them to be out free ranging. I really would."
Register for free to continue reading
Registration is a free and easy way to support our truly independent journalism
By registering, you will also enjoy limited access to Premium articles, exclusive newsletters, commenting, and virtual events with our leading journalists
Already have an account? sign in
Join our new commenting forum
Join thought-provoking conversations, follow other Independent readers and see their replies