Culling badgers actually spreads TB, latest study suggests
Odds of a badger visiting neighbouring territory after a cull increased 20-fold – which spreads infection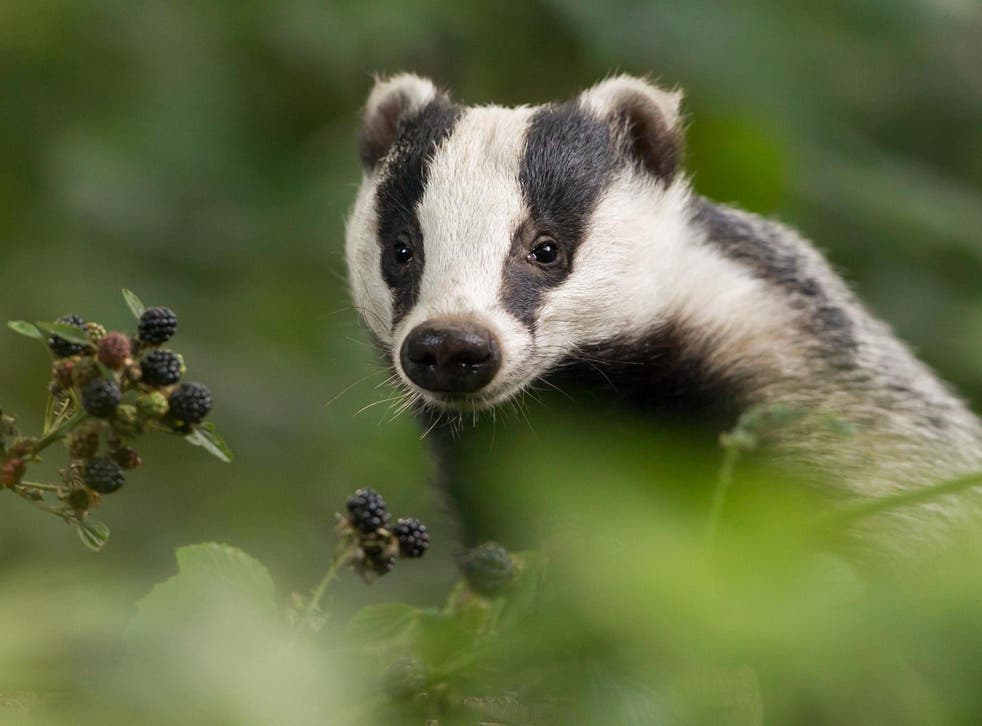 The government's claim that culling badgers reduces tuberculosis rates in cattle has come under fire after a major study suggested it could be making the problem worse.
Killing off badgers sees the creatures that survive cover 61 per cent more land each month, say scientists from the Zoological Society of London and Imperial College of London.
After a cull, the odds of a badger visiting a new area increases 20-fold.
This is because new territories open up as individuals are removed – which increases the risk of TB transmission to both cattle and other badgers, according to the paper published in Applied Ecology.
The badger cull is designed to halt the spread of bovine TB, which costs taxpayers more than £100m a year in compensation payouts to farmers.
The practice is highly controversial, with farmers and ministers often squaring off against campaigners who have called it "the biggest destruction of a protected species in living memory".
Lord John Krebs, emeritus professor at the University of Oxford, commented: "This research shows how important it is to find out about badger behaviour. It shows that culling badgers can cause surviving individuals in an area to move around more, and as a result they could come into contact with infected cattle and help to spread TB.
"The ill-thought out plan to control TB by killing badgers could therefore backfire."
Scientists say the changes were witnessed as soon as culling began, meaning even badgers that were killed may have first spread the infection over wider areas while the scheme was being implemented.
However, the animals spent less time outside of their setts in culled areas – on average, 91 minutes less per night.
Researchers believe this could be linked to reduced competition and increased food availability as badgers are removed from the population.
British Wildlife Photography Awards

Show all 23
The research group, from ZSL's Institute of Zoology and Imperial's MRC Centre for Global Infectious Disease Analysis, studied 67 badgers across 20 cattle farms in areas with and without farmer-led culling in Cornwall, collecting GPS-collar data between 2013 and 2017.
Separate research published in March also suggested culling badgers spreads TB. It found that culls disrupt local populations and drive them into previously uninfected areas.
Scientists at Scotland's Rural College found that unless strict rules are followed, it may be better to carry out no culling at all rather than continuing an ineffective operation that makes things worse.
Lead author and ZSL-Imperial PhD researcher Cally Ham said: "Badgers spend a large proportion of the night foraging for food above ground, and as culling reduces the size of the population, competition for food will also be reduced.
"We believe this accounts for the reduced activity levels, as well as bold individuals becoming obvious targets for culling and being quickly removed from the population.
"Because culling partly relies on shooting badgers moving around at night, the fact that badgers were active for fewer hours per night could actually be undermining culling efforts to further control badger numbers."
Last year the government commissioned a review of its strategy for tackling bovine tuberculosis in livestock amid ongoing controversy about badger culling to control the disease.
Measures to tackle the disease include cattle testing and movement controls, improving "biosecurity" or protective measures to prevent disease spread on farms, developing vaccines for cattle and badgers, and culling badgers – which can spread TB to cattle – in 32 areas of England.
The independent review found farmers must do more to tackle the spread of TB between cattle, which is a bigger part of the problem than badgers.
While it said that culling showed a "real but modest effect" and was a judgement call for ministers, the review led by Sir Charles Godfray said poor uptake of biosecurity measures and trading in high-risk livestock was hampering disease control.
'Shoot Selfies, Not Badgers' - Brian May Stands Against UK Badger Cull
Since the government implemented the culling policy in 2011, ZSL scientists have been working to understand whether badger vaccination could be used to reduce the infection of TB in the UK's badger population, and so help control TB in cattle.
Ellie Brodie, senior policy manager at The Wildlife Trusts, said: "This new study further shows that instead of helping to control TB, culling badgers can in fact contribute to spreading the disease across ever larger areas.
"Badgers live in tight-knit groups but culling disrupts their normal behaviour as survivors roam to new fields that can be shared with cattle. Vaccinating badgers is a positive solution to controlling TB in the badger population and one we urge the government to invest in".
A spokesperson for the Badger Trust said: "The latest research from ZSL shows that this mass destruction of a protected species could be resulting in perturbation, increasing the risk of TB spread in badgers and possibly cattle.
"Badger vaccination is the most cost effective and humane way of reducing TB in badgers that do not have the disease. It also removes the risk of perturbation and brings farmers and wildlife protection groups together in a spirit of mutual respect, trust and confidence.
"The government should halt the culling of badgers and move to a national badger vaccination strategy."
A Defra spokesperson said: "Bovine TB remains the greatest animal health threat to the UK, costing taxpayers over £100m every year as well as causing devastation and distress for farmers and rural communities.
"There is no single measure that will provide an easy answer to beating the disease and we are pursuing a range of interventions to eradicate it by 2038, including tighter cattle movement controls, regular testing and vaccinations."
Additional reporting by PA
Join our new commenting forum
Join thought-provoking conversations, follow other Independent readers and see their replies