A climate catastrophe or a lifeline for one of UK's poorest areas? How Cumbrian coal mine plan split opinion
Colin Drury speaks to activists on both sides of the divide over the controversial plans
Colin Drury
North of England Correspondent
Monday 08 February 2021 11:06 Comments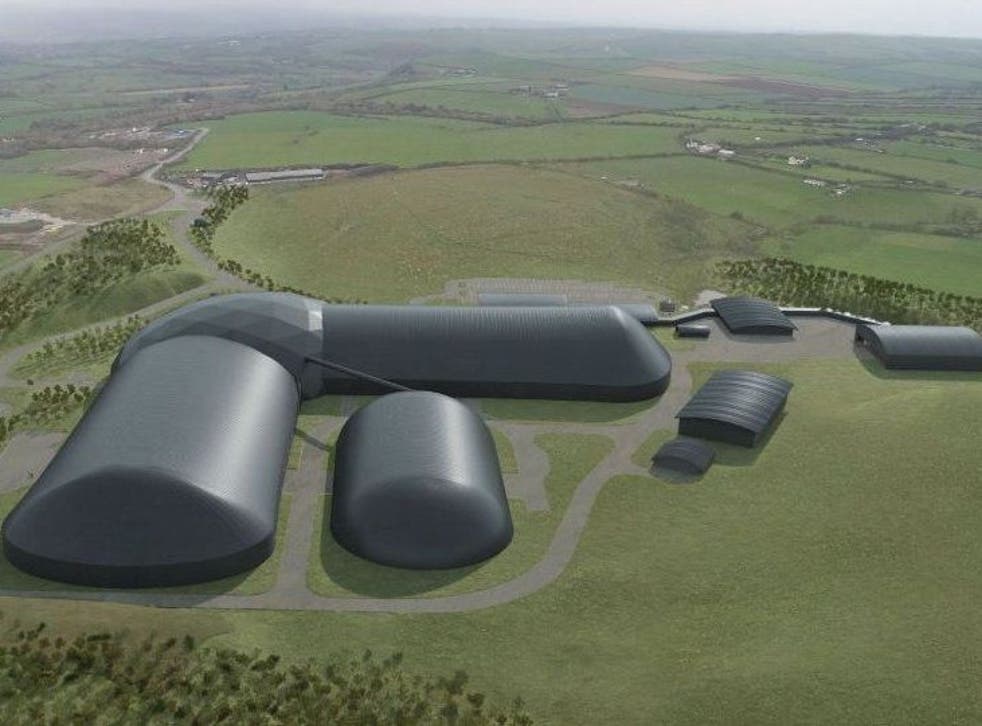 It has been described as an environmental catastrophe in the making, a disaster for future generations and a project that could single-handedly derail the UK's attempts to become carbon neutral by 2050.
Plans to dig the UK's first deep coal mine for 30 years near Whitehaven in Cumbria have drawn astonishment and ire in equal measure.
The £165m scheme – which was approved by the county council in October – was effectively waved through by the government last month when ministers declined to intervene. It was a local call for local people, they said.
But now pressure is growing on Boris Johnson to personally step in.
Environmental campaigners say the proposed Woodhouse Colliery – which would process 2.78 million tons of coal a year – flies in the face of the prime minister's promise to tackle the climate crisis. Greenpeace has called the scheme "mystifying". Matthew Pennycook, Labour's shadow minister for climate change, said it was "deplorable".
Under normal circumstances, such pressure might prove irresistible for a government with a reputation for U-turns. Except, perhaps, for one thing: the sheer levels of local support.
In contrast to many similar schemes – fracking in Lancashire, for instance, or a rejected pit near Druridge Bay in Northumberland – there is huge local advocacy for the mine. Proponents come from across the political spectrum and from all over Cumbria.
They say the scheme offers a once-in-a-generation opportunity to revitalise one of Cumbria's poorest regions, creating thousands of jobs and boosting infrastructure in this oft-overlooked part of the old Red Wall. Labour members here use terms like "levelling up" when talking about the scheme.
More pertinently, perhaps, they argue that, far from wrecking the environment, the mine will actually lay the foundations for a future green industrial revolution in Cumbria. The big question is: might they actually have a point?
When proposals for the new mine – to be built next to the town's former Haig Pit – first went on show at an open day in Whitehaven in 2019, they drew a steady stream of the region's former miners.
Cumbria was once colliery country and old workers were keen to see how and where the West Cumbria Mining (WCM) company would extract.
The answer – a colossal 750 million ton seam under the Irish Sea – left many sceptical.
"They were saying, 'We knew about that seam 40 years ago but there's no way of getting to it,'" recalls Mike Hawkins, himself the son of a miner and a Labour councillor for the area. "They were saying, 'Good luck, lads, you'll need it.'"
New technology has brought this once unattainable coal within reach and, in Cumbria, there is now much support for the idea it should be used to help the area.
The new mine would bring 500 well-paid jobs, WCM says. That, advocates reckon, would itself lead to another 2,000 in the supply chain. Investment in infrastructure would almost certainly follow, they say. In a ward, Whitehaven South, that has some of the most deprived areas of the region and an area, Copeland, where more than a quarter of all children live in poverty, according to the End Child Poverty campaign, such possibilities would be genuinely transformative.
"There is generational unemployment in places here and this is a once-in-a-lifetime opportunity to change that," says Hawkins. "It will change thousands of lives for the better."
Local Labour politicians are almost all united in their support, he adds. They feel let down that those in Westminster are not behind them. "The party is a broad church and everyone is entitled to an opinion," he tells The Independent – but he adds that the disconnect may be why this area "is now the former Red Wall".
Crucially, perhaps, none of the promised economic boon would come at a long-lasting cost to the environment, advocates claim. How so?
The argument rests on the fact that no thermal coal – that used to fuel power stations – will be extracted here. The pit would solely bring up coking coal, an essential component in the production of steel.
If the UK is to undergo a green industrial revolution, so the theory goes, it will require huge amounts of such steel. While low carbon methods for making this are beginning to be developed – notably in Scandinavia – they do not yet exist in a way that could be used to produce the sheer quantity currently required to build, for example, a wind farm. For now, coking coal remains a vital ingredient of the modern world's infrastructure.
"We shouldn't be building coal mines to make fuel – there is absolutely no argument about that," says Mike Starkie, the Conservative mayor of Copeland borough. "But that's not what this is. This mine will extract coal to make steel. And if we are to achieve the government's 10-point plan for green energy, we are going to need an awful lot of steel. If we want a green revolution – and, by the way, Cumbria leads the way on renewable energy – it needs coking coal. So, let's get it out the ground here instead of importing it halfway around the world from China or Russia. Let's have those jobs in the UK."
Stipulations within planning consent, he adds, mean the mine would stop producing coal altogether in 2049. "It bridges the gap to allow low-carbon steel manufacturing to be developed," he says. "It's a no-brainer."
Indeed, it is not just local politicians who appear in support. Residents do too. In a Facebook poll run by the Mirehouse Matters community group – that's the neighbourhood directly adjacent to Woodhouse Colliery – some 90 per cent of around 400 respondents backed the scheme. "Coal not dole," has become a common refrain round these parts, says Starkie.
All the same, unease undoubtedly remains.
More than 2,300 people objected to the planning application last year. Mines, many pointed out, were intrinsically filthy things. Some 8.4 million tons of CO2 will be pumped out every year by the new colliery, according to one report by the Green Alliance think tank. For context, that's the equivalent of a million homes.
Suggestions, meanwhile, that the coal would help build green infrastructure are contested – mainly because only a fraction of the coal extracted would actually stay in the UK. Most would be exported to Europe.
"People here are in support because the area is desperate for jobs," says Marianne Birkby, founder of the Keep Cumbrian Coal in the Hole campaign group. "They are crying out for investment, and what West Cumbria Mining has done is spend a lot of money on PR telling people they can have those jobs at this mine with no cost to the environment, and it's not true. It will be an environmental catastrophe."
The pit, says Birkby, an artist who lives in South Lakes, would not be a stepping stone to a greener future. Rather, it would disincentivise the British steel industry from innovating with cleaner production methods – a point also made by Friends of the Earth.
"Steel is essential for our industrial future, but we can't afford to get locked into using coal to produce it for the next three decades," says Tony Bosworth, coal campaigner with the pressure group. "We should be prioritising low-carbon methods of producing steel, which are already being trialled.
"Of course Cumbria, like every county, needs new jobs. But these should be in the green industries of the future, not in extending climate-wrecking fossil fuel production."
On these grounds, campaigners say, ministers should have reviewed the decision. The idea, they argue, that it is a purely local decision for purely local people is a nonsense.
"What could be more national – more international actually – than wrecking the global climate?" asks Dr Ruth Balogh, another campaigner, who lives near Cockermouth and has spent three years fighting against the mine.
Activists, indeed, have been buoyed by a Greenpeace poll which found 47 per cent of Britons believe allowing the coal mine to go ahead will have a negative impact on the UK as the host nation of Cop26.
The problem for campaigners may be that, with spades set to go in ground by the end of this year, there are now increasingly few legal avenues for preventing the mine.
Hopes of persuading Mr Johnson himself that the development runs counter to the UK's stated aim of ending its contribution to global warming appear slim. His personal aide in Westminster is one Trudy Harrison. That's the Tory MP for Copeland and someone who called the mine "fantastic news". She, like West Cumbria Mining itself, declined to speak to The Independent.
Either way, campaigners and activists remain adamant they will keep fighting. They are looking into possible appeals and licensing issues and vow to ensure the issue does not disappear as the UK gears up to host the Cop26.
"We all want those jobs here," says Dr Balogh. "We all know this area needs investment. But we shouldn't be going back to the bad old ways of the past to create those. We should be looking to create them in a new green future. The future of our children depends on it."
Register for free to continue reading
Registration is a free and easy way to support our truly independent journalism
By registering, you will also enjoy limited access to Premium articles, exclusive newsletters, commenting, and virtual events with our leading journalists
Already have an account? sign in
Register for free to continue reading
Registration is a free and easy way to support our truly independent journalism
By registering, you will also enjoy limited access to Premium articles, exclusive newsletters, commenting, and virtual events with our leading journalists
Already have an account? sign in
Join our new commenting forum
Join thought-provoking conversations, follow other Independent readers and see their replies