Greta Thunberg attacks EU plan to ban 'dairy'-terms from plant-based alternatives
'Unnecessary and extreme restrictions' on more environmentally friendly goods could undermine EU's climate goals, organisations warn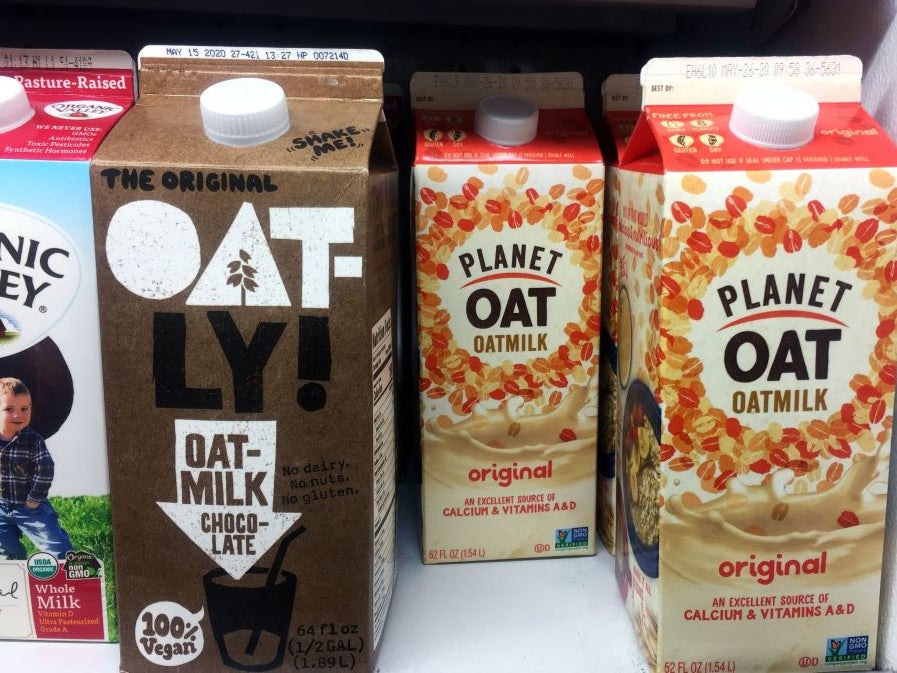 Environmental campaign groups and activist Greta Thunberg are protesting new, stricter rules under consideration by the EU which could ban vegan alternatives to dairy products from using descriptive words such as "milk" and "cheese" to market their products.
The European Parliament's Amendment 171 and Amendment 72, which have already been passed in parliament will have considerable consequences for both those selling plant-based alternatives to dairy, and for the consumers who buy them.
Existing laws have already prohibited terms such as "oat milk" and "vegan cheese", but under Amendment 171 companies must not attempt any "imitation or evocation" of existing dairy products.
This has alarmed the producers of oat milk, vegan cheese and other alternative products, who fear it could not only stop them from effectively describing their products, but result in bans on packaging which bears resemblance to dairy packaging - for example milk bottles and yoghurt pots.
Now, 21 organisations including Greenpeace, WWF, The God Food Institute and the Vegan Society have called on EU leaders to reject the legislation, which they say "would introduce new, unnecessary and extreme restrictions on the labelling of plant-based dairy products".
They also suggest the legislation could ultimately undermine other EU laws to reduce greenhouse gas emissions and promote biodiversity.
In their letter, addressed to the Portuguese presidency of the council of the EU, the organisations said: "Encouraging the broader uptake of plant-based diets is a key means of achieving the EU's emissions targets, reducing land and water use, as well as preventing further global biodiversity decline, and poor animal welfare practices.
The letter adds: "A recent study by the University of Oxford found that, without cutting emissions from our food system, it will be impossible to meet the Paris climate agreement targets."
Louise Davies, head of campaigns, policy and research at The Vegan Society said: "Now is the time to be supporting the plant-based business sector, not restricting it. With scientific consensus confirming that plant-based diets are on the whole better for the environment, governments need to be encouraging consumption of plant-based foods, and supporting brands in this area."
"These amendments do nothing to support consumer understanding, and instead are an arbitrary step to attempt to hold back the rise of the plant-based sector."
Climate campaigner Greta Thunberg has also taken aim at the legislation. On Tuesday she tweeted: "We are in a climate- and ecological emergency. What should we do? I know! Let's ban plant-based dairy from displaying allergen info being sold in cartons, using images of their own products and explaining the climate impact of food. That'll fix it."
Major oat milk producer Oatly has pointed out the the legislation could lead to confusion for consumers, as it would bar labels from saying things such as "does not contain mill", or "alternative to butter".
Greenpeace's EU spokesperson John Hyland added: "The proposed ban on terms like 'oat milk' or 'soy yoghurt' is about one thing only – maintaining Europe's overconsumption of industrially produced dairy, which scientists warn us is a disaster for nature and the climate.
"The factory farming lobby isn't content with the billions of euro in subsidies it has secured, it now wants to police common-sense language, to discourage people from choosing plant-based alternatives out of concern for the environment and public health."
In October 2020, grocery sales magazine The Grocer reported that 62 per cent of adults in the UK have previously purchased plant milk, rising to 81 per cent for those aged 25-34 while the plant milk market in the UK accounts for 15 per cent of the total European market. Its value is set to double between the years 2019-2025, from £226m to £497m.
Join our commenting forum
Join thought-provoking conversations, follow other Independent readers and see their replies