RSPCA calls for cut in meat and dairy as activists launch legal fight to end factory farming
Exclusive: Case believed to be the first of its kind worldwide will challenge ministers over intensive animal agriculture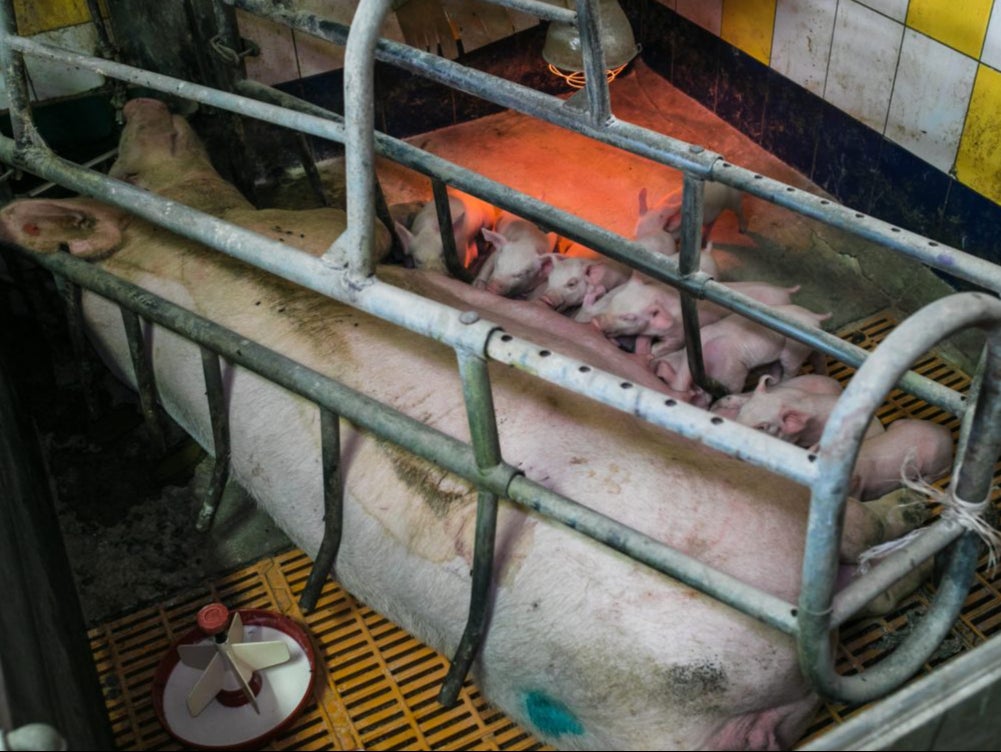 Animal-welfare activists are planning a legal challenge to the government to force ministers to end factory farming in the UK to halt damage to the environment and human health.
And RSPCA members have also called for a major cut in meat and dairy consumption in what has been hailed a landmark decision after years of debate over how much the charity should speak out on climate issues.
In the legal case, believed to be the first of its kind in the world, members of a group called Humane Being are crowdfunding with the aim of raising £60,000 to force ministers to curb intensive animal agriculture.
They say it is a major cause of greenhouse gas emissions and risks starting new pandemics by spreading viruses, as well as causing deforestation, animal cruelty and antibiotic resistance.
Phasing out intensive animal farming would end the harm and help create systems of producing food that are more sustainable to feed the world's population in the long term, they say.
The legal team includes Michael Mansfield, the human rights lawyer who has acted in cases from the Stephen Lawrence murder to Hillsborough and the Grenfell disaster.
The group has already written to George Eustice, the environment secretary, asking whether the issues have been considered and whether there are any plans to ban industrial farming or remove subsidies.
Earlier this month, RSPCA members voted at their AGM by 88 per cent to call for an end to intensive animal agriculture in the UK and for a significant cut in meat and dairy consumption to achieve the country's climate targets.
Jane Tredgett, a former board member of the charity and the founder of Humane Being, said: "It is great to see the RSPCA getting on board with this messaging.  
"I spent 10 years urging the RSPCA to be more progressive. Under the new chief executive, Chris Sherwood, the society is now moving forward (and closer to the vision of the original bold founders) and this vote symbolises that."
Peta Smith, another campaigner, said: "We hope this proves to be a landmark decision for the RSPCA. Slavery abolitionist William Wilberforce co-founded the society in 1824.  
"We are trashing our planet for a dangerous and short-term fix of cheap meat and dairy."
The RSPCA resolution acknowledged "the serious immediate and long-term issues linked to factory/intensive farming of animals" and calls for an end to UK-based intensive animal agriculture.  
It cited climate crisis targets, environmental pollution, pandemic risks, antibiotic resistance, global food security and farming systems that "deny sentient, intelligent animals any sense of a normal life, whilst subjecting them to painful mutilations with no anaesthetic or pain relief".
The vote is not binding but Ms Tredgett said they were looking to the board to take concrete steps to promote a ban on factory farming.
The World Health Organisation and other UN experts have pinpointed animals or food of animal origin as a starting point for emerging diseases, such as Covid-19, and some of the world's leading scientists have warned future pandemics are likely to be more frequent, spread more rapidly and kill more people if humanity continues to exploit animals. 
Livestock account for 14.5 per cent of global greenhouse gas emissions, according to the United Nations' Food and Agriculture Organisation.
A report last month warned a new bird flu virus with "high transmissibility" would make Covid-19 appear mild, with factory-farmed chickens exposed to a "cocktail" of infections, creating a "near-perfect breeding ground" for a disease outbreak of pandemic potential.
David Finney, of Humane Being's Scrap Factory Farming campaign, said: "We are sitting on a pandemics timebomb. Factory farming – with huge numbers of animals in cramped and unhygienic conditions – is the perfect breeding ground for these diseases.  
"We may eventually get control of Covid-19 but we are doing nothing about the conditions that created it in the first place."
Asked by The Independent whether realistically the government would shake up an entire industry, Mr Finney said: "While of course there is a possibility they may not, the risk of deadly zoonotic diseases hitting factory farms makes the challenge more serious; if they don't seek to bring about the end of factory farming, the government is not adequately protecting its citizens; 14 outbreaks of avian flu hit British farms just before Christmas."
He said he was confident the £60,000 needed for the full legal challenge would be raised. So far, nearly £5,000 has been raised.
"The scale of factory farming is also incredibly cruel," he added. "Pregnant pigs are confined in metal crates before giving birth; they have no room to turn around for up to 12 weeks a year. Calves are removed from their mothers within days or even hours of birth."  
Lorna Hackett, of the legal team, said: "Dietary over-reliance on animal products produced by intensive means has created an environmental and human health imperative. 
"This case, which we believe to be a global first, starts with a key mitigator – the banning of cruel factory farming. That is breeding and risking incidences of disease that pose a health risk that the authorities cannot continue to ignore."
Mr Sherwood said the RSPCA had a goal of seeing at least half of all farm animals in the UK reared to RSPCA welfare standards, and encouraging the public to reduce the amount of meat they eat, choosing higher welfare options and laboratory-grown meat when it is commercially available.    
A spokesperson for the Department for Environment, Food and Rural Affairs said: "We're proud to have some of the highest animal welfare standards in the world, and we are fully committed to strengthening them further to ensure all animals avoid any unnecessary pain, distress or suffering.
"That is why we will be bringing in new laws on animal sentience and are currently reviewing slaughter welfare regulations."
Join our commenting forum
Join thought-provoking conversations, follow other Independent readers and see their replies