Donald Trump appointee once called Obama a 'Kenyan creampuff' and Facebook boss a 'self-hating Jew'
William Bradford, a senior Department of Energy official, apologises for a string of bizarre comments, including the suggestion that Barack Obama might try to stay in office and a 'military coup' might be the 'only answer'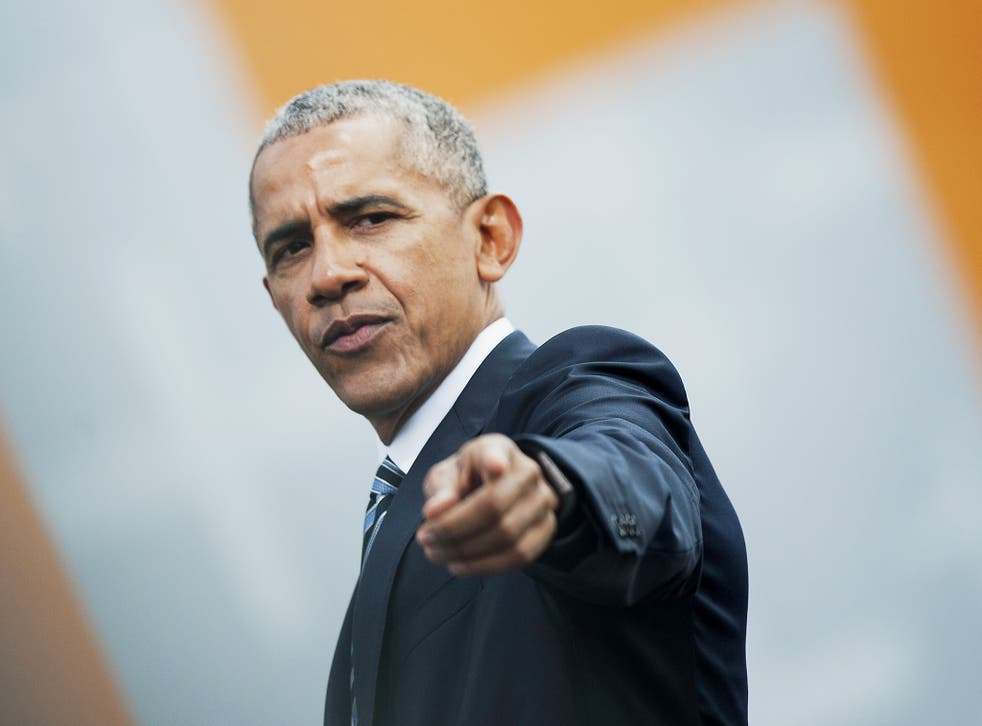 A senior US Energy Department official appointed by the Trump administration once described Barack Obama as a "Kenyan creampuff", Mark Zuckerberg as an "arrogant, self-hating Jew" and climate scientists as "cultists" and "nuts", according to a report.
William C Bradford, director of the Department's Office of Indian Energy, also appeared to believe Mr Obama might refuse to step down after his two terms of office, asking "what will we do? Is a military coup the only answer?"
The messages were posted on a since-deleted Twitter account, @Brute_Bradford, The Washington Post revealed.
Previously Mr Bradford caused controversy when he wrote an article claiming some academics who criticised US foreign policy were Islamist Fifth Columnists who could be treated as "unlawful combatants" and subjected to "coercive interrogation, trial, and imprisonment".
In an email to the Post, Mr Bradford, who previously was the attorney general of the Chiricahua Apache Nation, admitted the account was his and said he regretted the remarks.
"As a minority and member of the Jewish faith, I sincerely apologise for my disrespectful and offensive comments," he said.
"These comments are inexcusable and I do not stand by them.
"Now, as a public servant, I hold myself to a higher standard, and I will work every day to better the lives of all Americans."
Mr Obama was a particular target for the messages, which echoed the bogus claims by so-called 'Birthers', once led by Donald Trump, that the Democrat was not born in the United States and was therefore not entitled to be US President.
"I think Obama was given his mission in Tehran long ago, and it suits him just fine. How else can a Kenyan creampuff get ahead," he tweeted in December last year.
Another message that month said: "No one listens to the Tehran Candidate any more. He should slink away…"
In February 2016, after Mark Zuckerberg said people should not vote for Mr Trump, Mr Bradford asked: "Who is this little arrogant self-hating Jew to tell anyone for whom to vote".
It also appears Mr Bradford is very much a member of the climate science denial wing of the Trump administration.
"Soon, 'climate change' cultists will be pitied as the nuts they always were," he tweeted.
Other messages included one saying the controversial decision to intern Japanese Americans during World War II was "necessary".
Donald Trump's first 100 days: in cartoons

Show all 33
Mr Bradford also rejected the idea that women should be allowed to have frontline roles in the military and gave a lethal warning to anyone who might decide to try to conscript female members of his family.
"Women have no business in combat. Period," he tweeted in February. "Republicans pandering on this issue. Disgusting. I'll shoot anyone who comes for my daughters."
In 2015, Mr Bradford resigned as an assistant professor at the West Point military academy after writing an article in which he claimed that some American academics critical of US foreign policy were Fifth Columnists for Islamist terrorists engaged in "psychological warfare … against their own people".
"This radical development – employment of psyops [psycological operations] by American elites against Americans – is celebrated in the Islamic world as a portent of US weakness and the coming triumph of Islamism," he wrote.
"That a trahison des professeurs is responsible for the creation of the most important strategic weapon in the Islamist arsenal is a serious charge that must be developed and defended…"
Bizarrely he referred to these academics as 'Cloaca', an acronym he appears to have invented meaning 'critical law of armed conflict academy'. It is also a word meaning a sewer or a cavity at the end of some animals digestive tract.
"Cloaca scholarship and advocacy that attenuates US arms and undermines American will are psyops, which are combatant acts," he wrote.
"Consequently, if these acts are colourable as propaganda inciting others to war crimes, such acts are prosecutable.
"Cloaca members are thus combatants who, like all other combatants, can be targeted at any time and place and captured and detained until termination of hostilities.
"As unlawful combatants for failure to wear the distinctive insignia of a party, Cloaca propagandists are subject to coercive interrogation, trial, and imprisonment."
Law schools and journalists who helped propagate the academics' views were also "lawful targets given the causal connection between the content disseminated and Islamist crimes incited".
"Shocking and extreme as this option might seem, Cloaca scholars, and the law schools that employ them, are – at least in theory – targetable so long as attacks are proportional, distinguish non-combatants from combatants, employ non-prohibited weapons, and contribute to the defeat of Islamism," the man newly appointed as a senior Energy Department official wrote.
The National Security Law Journal later apologised for publishing the article, which it said was an "egregious breach of professional decorum".
Join our new commenting forum
Join thought-provoking conversations, follow other Independent readers and see their replies