Trump administration buries a government site designed to educate children about global warming
'We need, as a society and a government, to find a way where old facts stay accessible and transparent'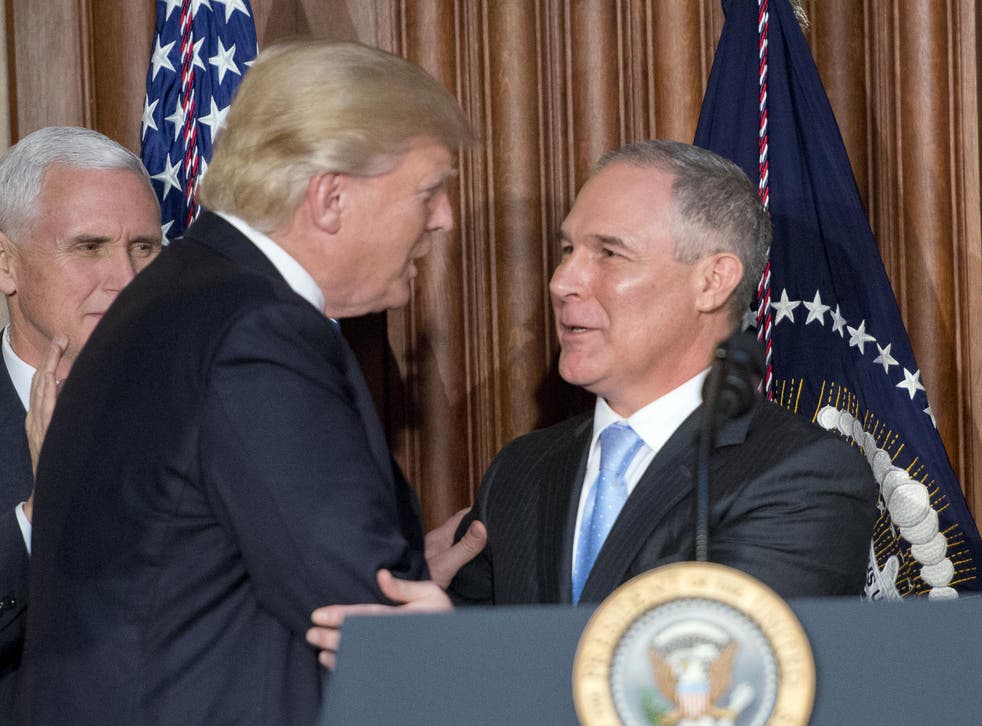 The US Environmental Protection Agency (EPA) has sidelined a website aimed at teaching schoolchildren about climate change, a public watchdog group has said, as part of the agency's efforts to align online content with the new administration's values.
When the EPA announced in April that its site was "undergoing changes that reflect the agency's new direction under President Donald Trump and Administrator Scott Pruitt," it posted a snapshot of the website as it looked on 19 January, the day before Mr Trump took office.
While it made it clear that this snapshot would not be updated, the idea was to allow the public to see what was being changed under the new administration.
But "A Student's Guide to Global Climate Change," a popular site that used to occupy a prominent place on the agency's main website, is not accessible from either the snapshot or by navigating the agency's home page, according to the Environmental Data and Governance Initiative, a group that has been tracking what changes the new administration has been making to public science and environmental sites.
The youth-oriented resource of more than 50 pages, which features educational videos and shows students how to calculate their own carbon footprint, has not been removed. But it is now very difficult for a casual reader to locate, even through a Google search.
"Overhauling and altering information on a significant part of a federal agency website is a substantial task and, especially when it's not urgent, the potential harms should be seriously considered and justified," said Toly Rinberg, a member of EDGI's website tracking committee.
"If agencies do alter website information, they should do so carefully and transparently, clarifying to the public what exactly is being altered and the effects it may have."
The controversial orders Donald Trump has already issued

Show all 9
After the group published its data report Friday, @RogueEPAstaff, a Twitter handle run by activists, posted: "We've heard from teachers who can't access materials they use for their classes."
The EPA did not reply to a request for comment on Friday.
Mr Rinberg said in an interview that the error was likely inadvertent but that it underscored "the fragility" of online public records. These pages are effectively lost from the archives, since they have not been preserved in the same way as other information embedded in the snapshot.
Adam White, a research fellow at the libertarian Hoover Institution, said in an interview that just as the Obama administration created websites that advanced its agenda, Trump's aides are trying to place their digital stamp on the government.
"I don't blame the Trump administration in many ways for rebooting the websites," Mr White said.
But he added that federal officials should be careful in how they make changes since, unlike shelving a library book, updating a website can lead to the loss of factual information.
"We need, as a society and a government, to find a way where old facts stay accessible and transparent," Mr White said. "I think it would be a mistake for any new administration, not just this administration, to come in and wipe the slate clean."
© The Washington Post
Join our new commenting forum
Join thought-provoking conversations, follow other Independent readers and see their replies