Trump plans to scrap logging ban in US' largest forest as experts warn of 'irreparable harm'
Environmental groups say state's politicians have 'sold out' ordinary Alaskans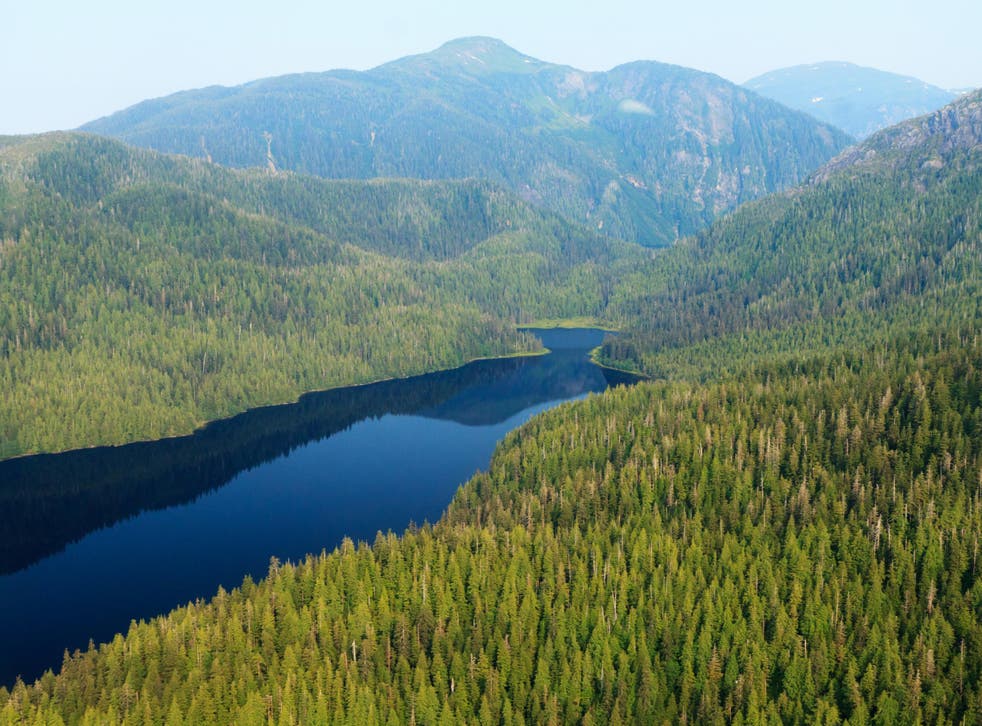 Donald Trump's administration is proposing to lift longstanding restrictions on logging in part of southeast Alaska known as "America's Amazon", in a move that experts say "threatens wildlife and the environment".
The US Department of Agriculture (USDA), which manages federal forests, has recommended exempting Alaska's Tongass national forest from Clinton-era rules that banned logging, road-building and mining in undeveloped forests – covering 9.2 million acres, or 55 per cent of the Tongass.
Comparable in size to the state of West Virginia, the Tongass is the largest intact temperate rainforest in the world and the biggest forest preserve in the US. It is home to Alaska's capital, Juneau.
The proposal is part of Mr Trump's wider policy of rolling back environmental regulations in order to boost industry.
Conservation groups oppose the move and claim Alaska's representatives have "sold out" their electorate.
Environment news in pictures

Show all 8
Randi Spivak, public lands director at the Centre for Biological Diversity, said in a statement: "Alaska's elected officials are selling out their constituents and robbing future generations by trying to strip protections from one of the most pristine old-growth forests in the world.
"Alaska is already reeling from the effects of climate change. Clearcutting remaining old-growth trees in the Tongass national forest would release significant amounts of carbon into the atmosphere and make things worse.
"This disastrous plan would smother vital wild salmon streams with sediment and irreparably harm subsistence hunters. It's wrong to put private profits ahead of the health and future of Alaskans."
The USDA proposal will be subject to a 60-day public comment period after it is published in the Federal Register later this week. If adopted, it will mark a victory for Alaska state officials who petitioned for the change.
Alaska's three-member congressional delegation said in a joint statement in favour of scrapping the ban. "The US Forest Service has a multi-use mandate for its lands that includes a timber harvest, and defending this mandate is key to ensuring that Alaska is entrusted to Alaskans."
Governor Mike Dunleavy and Senator Lisa Murkowski have said the 2001 logging ban has cost Alaskans jobs by limiting opportunities for the development of industries such as timber, mining, tourism and energy.
The Tongass serves as a buffer against climate change and stores an amount of carbon dioxide roughly equal to 8 per cent of that locked away in all the national forests of the lower 48 states, according to the Centre for Biological Diversity.
Current protections also extend to cultural and sacred sites of importance to native Alaska people who rely on the Tongass for spiritual practices.
Andy Moderow, director of the Alaska Wilderness League, said lifting the ban on logging would come "at the expense of recreation and fishing, native communities, and wildlife".
Support free-thinking journalism and attend Independent events
Natalie Dawson, executive director for Audubon Alaska, said: "Relinquishing more than 9 million acres of protected national forest to feed the mouths of an industry that exports our old-growth forests overseas is not the future of Alaska for Alaskans.
"It disregards decades of hard work by Alaskans to protect our remaining forests for sustainable industries that actually exist and rely on healthy, intact forests, and their supported fish, birds, and other wildlife.
"This is the diversity that will drive the future of Alaska's economy."
Additional reporting by Reuters
Join our new commenting forum
Join thought-provoking conversations, follow other Independent readers and see their replies