Emily James: Lights, camera, activists
Emily James abandoned a successful career in prime-time TV to direct a film about climate-change protesters. She takes Phil England behind the scenes of an unlikely action movie
Tuesday 12 October 2010 00:00 BST
Comments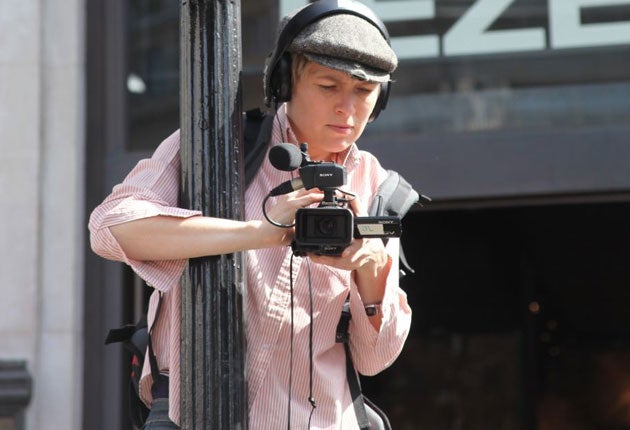 In a tiny office in East London, Emily James waves her papers from Kent Police. The award-winning documentary maker is one of a number of people who have recently won compensation claims after the force admitted their policing operation for the 2008 Camp for Climate Action, next to Kingsnorth power station, was both "disproportionate" and "unlawful".
After making a string of acclaimed films for Channel 4, James has now committed herself to a project which her former commissioning editors won't touch with a bargepole. Her film Just Do It – Get off your arse and change the world! follows the frequently criminal exploits of people taking direct action on climate change, shadowing three organisations – Climate Rush, Climate Camp and Plane Stupid – as they strive to bring attention to their causes. Due for release early next year, it promises to be an unashamedly sympathetic portrait of the activist community by someone who has been given unprecedented levels of access.
"Over the last few years we've had film after film about how bad the climate situation is which leave you quite depressed at the end," explains James, who was an executive producer on 2009's climate change wake-up film Age of Stupid. "With this film you won't leave the cinema with your head in your hands. You're going to come out ready to take on the world!"
So how did James – a Los Angeles-born Cambridge graduate who studied the history and philosophy of science before going to film school – manage to gain the trust of a community of activists engaged in law-breaking activity and accused of being hostile to the media?
"The biggest reason why people were hesitant to get involved was because they didn't want to incriminate themselves. So I developed a very thorough security protocol involving a lot of runners dropping tapes to safe houses and I promised everybody that none of the footage of the build-up to the action would go out until their court cases were resolved."
James was first entrusted with filming two protests at the end of 2008 by some friends who had become activists. Alongside the mainstream media reporting, activists had been documenting their own activities with reports on the Indymedia website and videos on YouTube with a mixture of amateur enthusiasm and authenticity. But James was the first person on the scene who had the skills, contacts and track record to make a professional film on the movement as a whole. James says it seemed there was "a burden of responsibility" on her to make the film.
Alongside the issue of trust, another obstacle to activists taking part in the film was their reluctance to be singled out and made into stars. "I've tried very hard to make it a portrait of a community and of a growing movement," says James, "but at the same time you have to have some returning characters because the audience needs to attach themselves to real human beings so that they care about what happens to them and care about the narrative of the film."
I ask Elly – a member of the Climate Camp media team and one of about nine characters who appear regularly throughout the film – how she feels about this. "In a broad movement it's always frightening that what you say might be taken as representing other people's politics when there's a diverse range of opinions, but I think Emily is aware of that and seeking to represent it. And she's made sure there's been an open dialogue after the filming has finished, with consultation and room for input. So that's been a really reassuring process."
Lily, a Plane Stupid activist who is currently busy with a community project called Transition Heathrow, explains why she agreed to participate. "The power of this film is that it's demystifying the activist movement. It's shining a light into a world that people might not know much about and it's showing that people taking direct action, who are taking their power back, are just ordinary people who have become so concerned that they're taking action for themselves. Showing to the wider world that anybody can get involved and anybody can make a real difference is incredibly important."
"We are often portrayed as just crusty hippies, posh kids with trust funds, hopeless dreamers or domestic extremists," continues Elly. "There have been smears targeted at Climate Camp by the police which have been reported without being checked properly. This year there was an alleged oil spill by protestors on a motorway which the police have been unable to substantiate. We're also facing corporations with incredible PR teams. The Camp made more than 20 complaints this year to the Press Complaints Commission and the Lothian and Borders Police."
Having spent 10 years producing documentaries for television, Emily didn't doubt that she'd be able to make the film for either Channel 4 or the BBC. But selling the idea to commissioning editors was riven with difficulties. "I was asked to sit down and write a treatment for a commission and I was in tears," she recalls. "The executive producer kept reminding me that I had to be objective and journalistic about this story. They seemed to believe that in order to attract an audience to the film you had to have a negative critical perspective on the people that were in the film because that was the way to get your two million viewers at nine o'clock. I just thought to myself, 'I can't sell out all the people who had put their trust in me.'"
The sensitivity of TV broadcasters to potentially libellous material that could trigger expensive court cases was also a problem. Any references the protesters made to the companies they were targeting would be pulled. "I thought to myself, 'How do I make a film about people who are going to cut their way into City Airport and lock themselves around a private jet but exclude the references to the consortium that owns the airport?' They would have looked ridiculous because you would have taken out all the justifications for doing it. So I just had to take a leap of faith and make it independently."
But with editorial independence comes the burden of legal risk. So James, like the activists she documenting, is now in the position of putting herself legally on the line for her convictions.
"On the Just Do It website we talk about wanting to incite people to take action on climate change. There's very little contemporary legal precedent for what constitutes incitement but we're not inciting people to take a specific literal action. It's something we thought quite a lot about and ultimately I came to this position that it's always right to try and stop something that's wrong. Even if that means you're taking a big risk yourself sometimes you have to take those risks. Are we inciting people? Maybe we are, but we're inciting them to do the right thing and I'm prepared to take the consequences of that."
James and her team have chosen a different take on the "crowd funding" idea that was successfully employed by the makers of Age of Stupid. Rather than asking for numerous small investors to buy shares of £5,000 each, they are asking for donations starting at £10, offering incentives for larger donations, but no promise of financial return. "That was a very conscious and deliberate decision because we didn't want to be in a position where we had to capitalise on the film in order to recoup investor's money and we wanted to be able to give the film away under a Creative Commons license."
The project has received a useful fillip recently with the offer of match funding from the ethical cosmetics business Lush. So, starting today for two weeks, the company which has previously supported direct action campaigns Plane Stupid and Climate Rush will be contributing a pound for every pound given via the www.just-do-it.org.uk website. "So if this sounds like a film you'd like to see, now is the time to visit the website and make a donation because it won't happen without the support of the audience."
But does direct action work? Christopher Rootes, director of the Centre for the Study of Social and Political Movements is convinced that direct action has played a decisive role in recent climate campaigns. "I think direct action on aviation and coal was crucial because it managed to move them up the agenda in a quite spectacular way. With coal, direct action had an absolutely critical effect in awakening the Government to the contradictions between what it was saying about the need for carbon reductions and its apparent complacency in the face of power industry proposals for new coal-burning power stations."
Already the Coalition Government is wavering on its high-profile opposition to coal-burning power stations. "That's another sign that we can't depend on politicians to lead the solutions," says Elly. "If Kingsnorth or other coal-fired power stations are scheduled to go ahead again there will be communities that will want to fight them."
V iew the trailer for the film at www.just-do-it.org.uk. Phil England is producer of www.climateradio.org
Join our commenting forum
Join thought-provoking conversations, follow other Independent readers and see their replies