Energy companies more reliant on 'dirty' coal to produce electricity than they were a decade ago
Exclusive: Campaigners say figures undermine claims firms are going green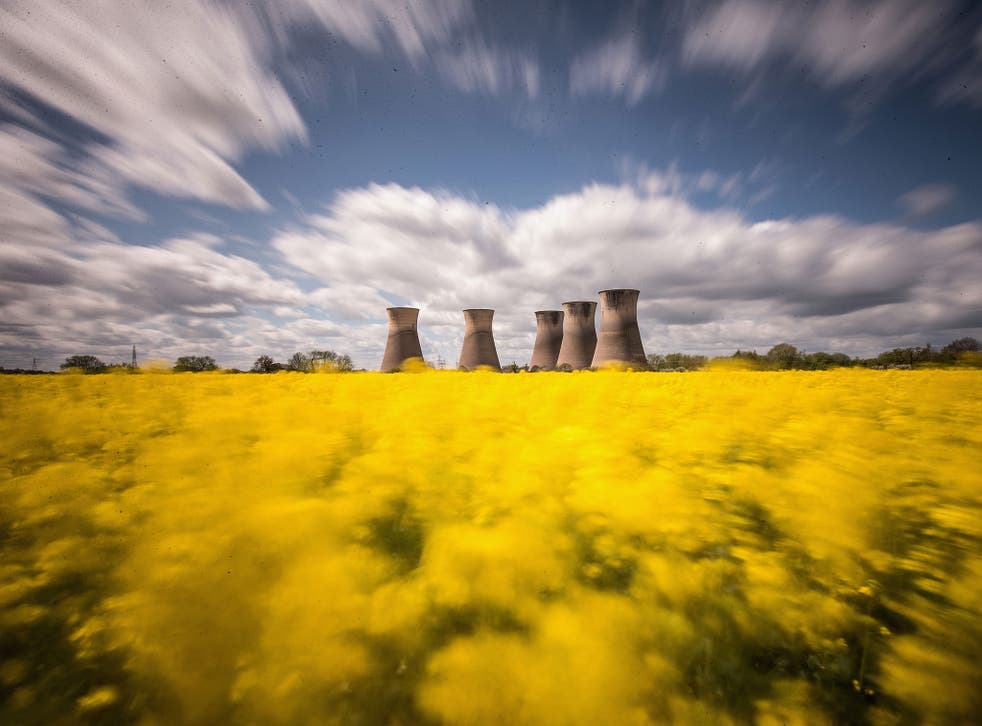 Two of Britain's largest energy suppliers are more reliant on coal to produce the electricity they sell to customers than they were 10 years ago.
British Gas and SSE, which have over 40 per cent of the market between them, now use more coal to produce electricity than they did in 2005, new figures suggest. Experts said their reliance on coal – the dirtiest form of fossil fuel, which produces twice as much CO2 as gas – was undermining attempts to cut the UK's carbon emissions through renewable supplies.
In the past 10 years the percentage of electricity generated from renewable sources has grown by 400 per cent – yet total carbon emissions from generation have only fallen by around 8 per cent.
This is because while the Big Six energy companies are now buying more than a third of the energy that they sell from polluting coal-fired power stations, they have cut back on buying power from more expensive but greener gas-fired power stations.
Environmental campaigners said this undermined the companies' claims to be "going green" and called on the Government to step in and take action.
The statistics come as the campaign group 38 Degrees and the Big Deal, a consumer collective, prepare to launch a drive to persuade consumers to switch energy suppliers to companies offering zero-carbon electricity.
The Clean Energy Switch will attempt to use the bargaining power of tens of thousands of people to cut the cost of buying renewable energy to below levels comparable with what most people pay for conventionally generated electricity.They hope the move will put pressure on the Big Six companies to cut their reliance on fossil fuel generation and spur further investment in renewable technologies.
The plan is being backed by Labour, the Liberal Democrats and the SNP at Westminster.
"In the face of cuts to green projects and subsidies, the Tory Government has given the impression that they have little interest in promoting green energy," said Angus MacNeil, chair of the Energy and Climate Change Select Committee.
"By harnessing the power of consumers, we can make it easy for people to help combat climate change, save money and support the renewables industry. I encourage as many as possible to sign-up to show the Government that climate change does matter."
Figures released to the Government by the Big Six energy companies show that they are still reliant on coal for much of the electricity they sell.
Last year, 22 per cent of the electricity sold by British Gas came from coal generation. In 2005 the figure was 14 per cent. Just over 31 per cent of SSE's electricity was generated from coal compared with 29 per cent in 2005. Other companies appear to have been more successful at reducing their coal dependency. EDF produced 46 per cent of its electricity from coal in 2005 but this has been cut to 26.8 per cent.
Electricity generated by coal emits around 910 grams of CO2 per kilowatt hour compared with 390g for gas generation, and nothing for nuclear or renewable power.
Experts said many companies had chosen to continue buying and using electricity generated from coal because it was more profitable to do so.
"In the absence of rules to cut pollution from the dirtiest coal stations it has been very profitable for the big energy companies to burn more coal," said Joss Garman, associate director for energy and climate change at IPPR.
"This has been hugely damaging to Britain's efforts to build a cleaner economy because it has cancelled out some of the carbon savings brought about by the growth in green energy. Amber Rudd [the Energy and Climate Change Secretary] should introduce targeted pollution controls on coal stations of the type that Barack Obama has begun using in the US. This would force the Big Six to cut their carbon footprints without raising energy bills."
Doug Parr, Greenpeace's policy director added: "These companies may be using more clean energy, but to live up to their rhetoric of combating climate change, they also need to exclude the dirtiest fuel from their energy mix and that means cutting back on coal.
"The Government must help that happen by living up to David Cameron's pre-election promise and put a date on phasing out coal for good. As Government only seems to be concerned with short-term cost-effectiveness, it's the policy that should appeal to them most. But while policy for 21st-century technologies like renewables have been trashed, action on coal has not been forthcoming."
Ironically, some of the new entrants to the electricity market that have benefited from consumers switching suppliers for cheaper bills are highly dependent on coal. iSupplyEnergy, First Utility and Flow Energy, for example, sell electricity of which almost half is produced by coal-fired power stations.
The plan behind 38 Degrees Clean Energy Switch is to use consumer power to get better deals on green power than are currently available. It is being run by the Big Deal – which aims to bring together large groups of people to "collectively bargain" with companies to lower costs.
There is no obligation for those who sign-up to switch but the group hopes that they will be able to negotiate with a green energy supplier a rate which is better than average Big Six prices.
"Energy bills are one of the biggest strains on household budgets for people throughout the country," said Tim Farron, leader of the Liberal Democrats. "For too long, getting a cheaper price has meant giving up on being green. That is why I have signed up to the Clean Energy Switch today, and I am encouraging people to do the same. Together, we can beat the Big Six, protect the environment and save money."
Clean Energy Switch: You can sign-up for free at www.thebigdeal.com or at www.38degrees.org.uk by entering just an email address and postcode. Signing up does not mean you have to take the deal.
Join our new commenting forum
Join thought-provoking conversations, follow other Independent readers and see their replies