Trump administration suspends all Environmental Protection Agency grants
EPA suspends all funding research, pollution monitoring and education ahead of Trump nominee Scott Pruitt taking control of the agency
Caroline Mortimer
Tuesday 24 January 2017 13:35 Comments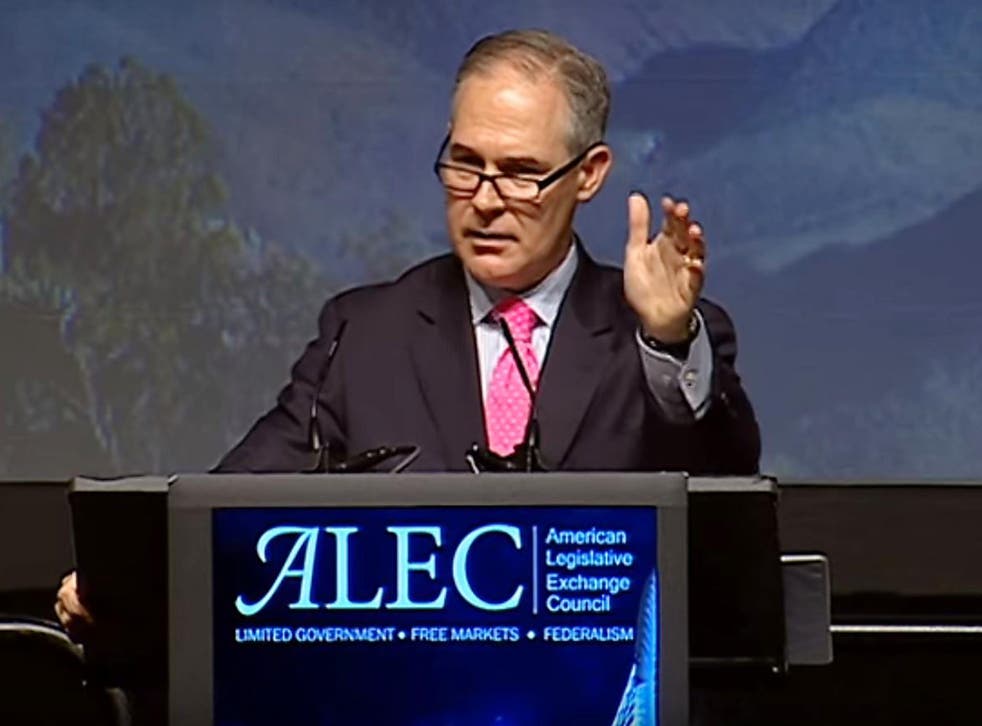 The US environment agency has suspended all its grants as Donald Trump enters the White House.
Staff at the Environmental Protection Agency have by the incoming Trump administration been told to freeze all the grants designed to fund research, redevelopment of former industrial sites, air quality monitoring and education but were banned from discussing it with anyone outside the agency.
It is currently unclear whether the freeze is temporary or permanent as the Senate has not yet officially confirmed Mr Trump's pick for EPA chief, Scott Pruitt.
Mr Pruitt, a former Oklahoma Attorney General, is a noted climate change sceptic who has build his career on suing the EPA over its attempts to restrict pollution.
Environmentalists fear he is poised to roll back many of the measures which protect the nation's air and water supply.
The lawyer is a believer in "states rights" and has set up a "federalism unit" to fight "overreach by the federal government".
According to an unnamed source on Capitol Hill an EPA worker reached out to inform them of the order anonymously because they feared retaliation.
Sioux from Standing Rock claim victory over Dakota Pipeline

Show all 21
He told the Huffington Post: "I will say it's pretty unusual for us to get these kinds of anonymous contacts from people at the agency, which makes me think it's unusual".
Myron Ebell, who ran the agency during the transition, confirmed the freeze but added that the move was not unprecedented.
He told ProPublica: "They're trying to freeze things to make sure nothing happens they don't want to have happen, so any regulations going forward, contracts, grants, hires, they want to make sure to look at them first.
"This may be a little wider than some previous administrations, but it's very similar to what others have done".
Mr Trump, who previously claimed climate change was "created by the Chinese in order to make US manufacturing non-competitive", has promised to lift restrictions on mining for coal and drilling for oil.
He also said he wanted to payments to the UN's climate change programme and use the money to fix the US' water and environmental infrastructure.
Sean Spicer, Mr Trump's press secretary, suggested over the weekend that the White House was likely to restart the proposed Dakota Access Pipeline oil pipeline project which was suspended by Barack Obama last year after weeks of protests by members of the Native American Sioux tribe and their supporters at Standing Rock Indian Reservation in North Dakota.
Register for free to continue reading
Registration is a free and easy way to support our truly independent journalism
By registering, you will also enjoy limited access to Premium articles, exclusive newsletters, commenting, and virtual events with our leading journalists
Already have an account? sign in
Join our new commenting forum
Join thought-provoking conversations, follow other Independent readers and see their replies