'Illegal' attempt to weaken EU pesticides rules backed by UK could increase cancer risk, lawyers warn
Critics say efforts by European Commission to water down endocrine disruptor regulations are 'clear violation of its duty to protect humans, animals and the environment'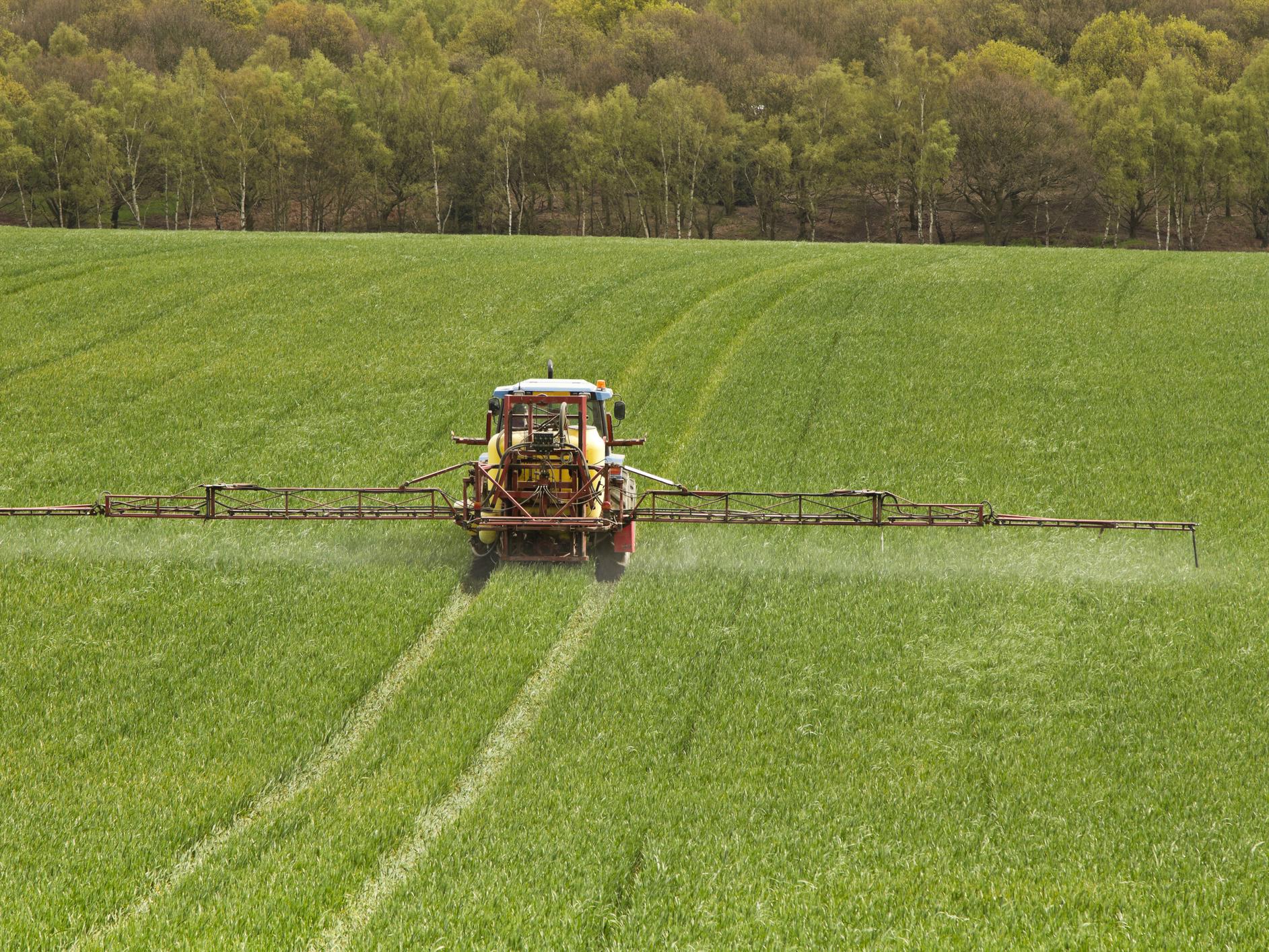 The UK government is trying to water down rules that block pesticides linked to a string of health defects from being sprayed on fields across Europe, according to environmentalists.
Exposure to these chemicals, which crops carry onto supermarket shelves, can increase the risk of cancer, nervous system disorders and developmental issues.
Despite these hazards, a handful of states with the UK at the helm has pushed the European Commission into a bid to weaken EU rules – a move that lawyers warn is illegal.
Mounting evidence has suggested some endocrine disrupting chemicals used in pesticides are linked with everything from breast and thyroid cancers to non-descended testes in young men.
Responding to this perceived threat, the EU has attempted to remove them from the food chain.
The first steps to eradicating these substances in Europe came nine years ago, when the EU agreed on an effective ban. The UK was the only member state to vote against the motion.
Since then, industry lobbying backed by the UK, the Netherlands and a handful of Eastern European nations has seen repeated attempts to weaken these rules as the EU attempted to clarify which substances are covered by the new restrictions.
After years of debate, a decision has finally been reached on which pesticides are classed as endocrine disruptors.
This means public authorities will be able to enforce rules to protect people against them within weeks.
But pesticide companies argue that given the range of harmful and harmless substances that interact with the human endocrine – or hormone – system, the criteria that have been established are too strict.
Now, a push to alter these strict regulations, up for discussion at a committee this week, has been slammed by environmental lawyers ClientEarth.
Science news in pictures
Show all 20
They say this small group of actors has influenced the commission into "illegally overstepping" its powers, "in clear violation of its duty to protect humans, animals and the environment".
Contrary to the claims of pesticide companies, they argue that endocrine disruptors are dangerous enough to merit a near-blanket ban.
The current rules mean these chemicals will only be allowed if industry can demonstrate there will be "negligible exposure", meaning levels people are exposed to are virtually undetectable.
Under the commission's new proposal this would be changed to "negligible risk", a far more vague definition that would likely lead to an uptick in these potentially toxic chemicals
Environmental group the Pesticide Action Network estimates this change would increase levels in food by hundreds of thousands of times.
"If you do it by risk assessment, it always leads to approval," explained Hans Muilerman from the Pesticide Action Network.
"You can use numerous ways to calculate and you can keep on calculating and calculating and in the end somehow there is safe use."
ClientEarth lawyer Dr Apolline Roger warned against abandoning the strong protections currently in place "at the request of a small number of vocal member states".
"The proposal assumes a safe level of exposure, but even very low doses of endocrine-disrupting chemicals may affect humans and wildlife," she said. "For endocrine disrupting chemicals we need laws which strongly favour prevention."
Graeme Taylor from pesticide industry representatives the European Crop Protection Association said they disputed the criteria used to determine endocrine disruptors as not all of them are as dangerous as the EU's rules suggest.
"Many ordinary everyday substances interact with the endocrine system in a temporary way without causing harm like paracetamol, vitamin C, soy or coffee; but that does not make them endocrine disruptors," he said. "The same goes for pesticides."
Member states will gather at the Standing Committee on Plants, Animals, Food and Feed this week. If the proposal is passed the European Parliament – which has previously criticised the committee's efforts to change pesticides regulations – will have a chance to veto it.
Though critics hope this latest attempt will go the same way as previous efforts, they are concerned that more member states will be convinced by the move. ClientEarth said this could lead to a backtracking that would "not just moving the goalposts, but removing the whole pitch".
"The commission's changes are in clear violation of its duty to protect humans, animals and the environment and an illegal overstep in powers reserved to the democratically elected parliament and council," said Dr Roger
Support free-thinking journalism and attend Independent events
Though the commission has the power to propose new laws, it is not supposed to amend existing laws in the fundamental way currently being proposed.
"It's now up to member states and the Parliament to oppose the illegal amendment and ensure people and the environment continue to be protected," said Dr Roger.
A European Commission spokesperson said that as member states are only discussing the point and deciding whether they wish to proceed, they did not wish to comment.
Though the future of the UK's pesticide laws remains uncertain until a Brexit deal if agreed, critics suggested its focus on resisting environmental regulation does not bode well for a future away from the EU.
"Undoubtedly the UK is opposing regulation as far as I can see, and leaving it to the companies – they have a lot of trust in the companies," said Mr Muilerman.
Responding to these concerns, a spokesperson from the Department for Environment, Food and Rural Affairs said: "We have a strong record on taking action to prevent dangerous pesticides from being used, including banning certain neonicotinoids that can impact our bees and pollinators.
"It remains our position that decisions on the use of pesticides should be based on a careful scientific assessment of the risks, with the aim of achieving a high level of protection for people and the environment."
Join our commenting forum
Join thought-provoking conversations, follow other Independent readers and see their replies