As Extinction Rebellion targets the world's biggest polluters, does it matter how 'green' individual activists are?
Analysis: How eco-friendly do you have to be before you are allowed to be concerned about environmental destruction, asks Harry Cockburn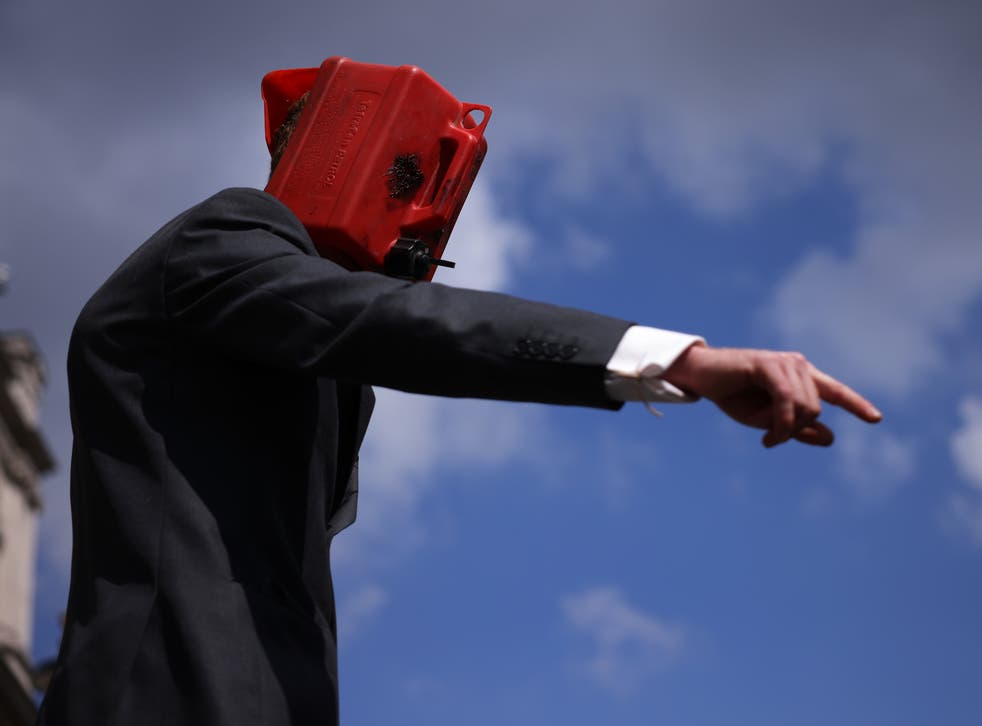 With pink smoke billowing from the balcony of the Guildhall, and the appearance of a giant pink table thronged by activists near Trafalgar Square, Extinction Rebellion has kicked off its two-week-long programme of civil disobedience in London.
As a small number of roads in London are closed to traffic, the metaphorical knives are out among those for whom street protests are an unstomachable response to rapid global climate breakdown – despite the proof of their efficacy.
A favourite line of attack against the environmental movement is charging members with hypocrisy.
Right-wing blog Guido Fawkes is among the outlets highlighting that one of Extinction Rebellion's co-founders, Dr Gail Bradbrook, drives a diesel vehicle. In a radio interview this week, Dr Bradbrook said she drives her sons to football and rugby practice where they live in Stroud.
The cries of hypocrisy come just weeks after newspapers across the political spectrum pounced after it emerged the prime minister's Cop26 spokesperson, Allegra Stratton is also the owner of a diesel car, which she said she uses to drive her two young children to see family.
Guido Fawkes' piece says Dr Bradbrook's vehicle, and her 2019 flight to central America exemplifies a "do as I say, not as I do" attitude, while similar claims were made about Ms Stratton's vehicle of choice.
But is Extinction Rebellion here to lecture people not to drive fossil fuel vehicles, take foreign holidays or police people's individual choices, like eating meat, or buying clothes?
No. Their specific target is the City of London. Meanwhile, the government for whom Ms Stratton works for has long supported and subsidised the fossil fuel firms who have appeared to try to shift blame for the climate crisis onto individuals – including knowingly using the techniques once used by big tobacco to downplay risks.
Ahead of this week's protests, the organisation told reporters: "The City of London is the arch financier of the carbon economy. It supports 15 per cent of all carbon emissions around the world. It hosts BP, Shell, Glencore, Anglo-American, and Russian oil and gas companies such as Gazprom and Rosneft."
When pressed by one reporter – from The Times – on what XR believes "must change in people's lives", the panel said they rejected the "framing of the question".
Dr Charlie Gardner, a lecturer in conservation science at the University of Kent, who was on the XR panel, said: "This question puts the onus on individuals – the citizens of this country – to change their lives. This is not what we're asking.
"The power of individuals to bring about change is very limited. The powerful actors here are governments. Governments set the rules of the game that corporations and citizens play by, governments also are able to influence corporate behaviour through taxes, financial incentives.
"I reject the premise of this question – what the ordinary British citizen needs to change in their lives. What I personally am involved in [the environment movement] for, is to oblige governments to change the rules of the game the rest of us have to play by."
If the only activists qualified to speak on the climate crisis must be free of all hypocrisy – having zero impact on the natural world – then only cave-dwelling hermits subsisting on berries would qualify. As one XR activist highlights in a piece in The Independent this week, if these were the sort of hippies protesting in London, then they would be "safely be ignored by lawmakers and the public and nothing would ever get done. It's an oil company's wet dream."
There is a conscious and determined shift under way in the environmental movement to recalibrate the public's thinking on responsibility for the climate crisis.
Shaming people into changing their behaviour will neither attract people to the movement, nor have a large enough impact, campaigners belive. It is no longer seen as vital that activists lead completely green lives.
Ms Stratton's admission to driving a diesel car closely followed a piece she wrote for the Telegraph urging people to take climate action by not rinsing dishes before putting them in the dishwasher, and buying soap in bar form instead of in plastic bottles. The article was widely criticised for its lack of ambition ahead of the UN climate summit in November.
Instead it is about helping larger numbers of people recognise bigger forces – a major 2017 report found just 100 firms are responsible for 70 per cent of greenhouse gas emissions over the last two decades.
Meanwhile, those who helped bring Extinction Rebellion to the front pages of newspapers across the world, are also now working on related projects to further broaden the appeal of the environmental movement beyond existing groups such as XR and the Green Party, both of which have not gained mass support fast enough to gain the power to act in time to halt rising emissions.
In a blog post, Dr Rupert Read, previously a leading figure in Extinction Rebellion, but who left the movement in 2020, wrote last month: "To have any chance of succeeding in unleashing the power of righteous rage and love that could correct our course, we need to come clean about our failure to achieve power in time. To make the most of XR's success, we need to be more moderate (especially in terms of methods) than them."
Following a summer of devastating droughts, floods and wildfires across the world, concern about climate breakdown is soaring. Taking action does not require people to abandon the modern world.
For the cynics, wherever the call for change is coming from, they will dismiss it.
Join our new commenting forum
Join thought-provoking conversations, follow other Independent readers and see their replies