Farmdrop: This app could stop shoppers going to supermarkets for groceries
Farmdrop connects consumers with producers, cutting out the supermarket – or middle man – and thereby threatening to drastically shake up the way that the UK food supply chain operates
Zlata Rodionova
Friday 03 March 2017 18:26 Comments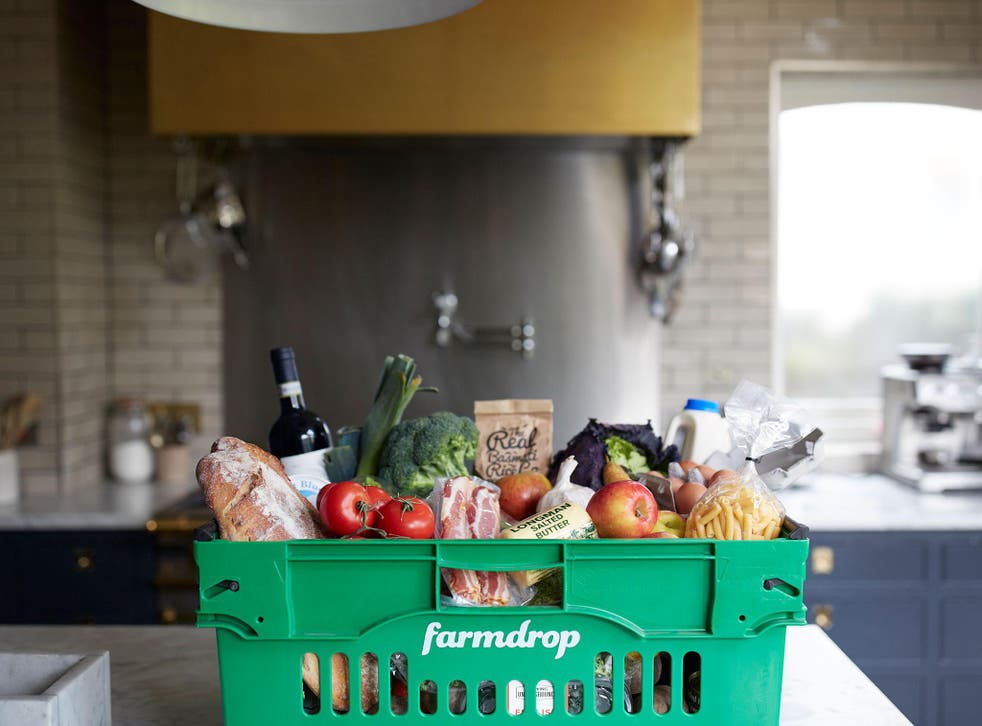 The case for buying British has perhaps never been stronger.
Veg lovers have for months been battling shortages of their favourite greens but even when courgettes, broccoli, lettuce and the like return to the shelves en masse, we may have to fork out a lot more cash to stock up on our five a day.
The squeeze – driven by poor weather in southern Europe – and the way that it has resonated through the media, has starkly highlighted just how dependent we have become on imported foods.
Italian aubergines, Brazilian coffee and French wine are all products we've come to know and love, but as the pound looks unlikely to recover in a meaningful way any time soon, cooking up a flavourful feast could remain a costly affair.
One man has twigged the opportunity in the situation.
Ben Pugh, who used to work a desk job in the City of London, launched what's perhaps best described as an online farmers market back in 2012.
Farmdrop, an online platform and app, has since garnered around 30,000 regular users. It effectively connects consumers with producers, cutting out the supermarket – or middle man – and thereby threatening to drastically shake up the way that the UK food supply chain operates.
Mr Pugh says that this disintermediation helps to provide Londoners with low-cost access to high-quality food thanks to the internet, rivalling the dominant megastores and supermarket chains.
Producers who sell via Farmdrop are also given a roughly 75 per cent share of the retail price of what's ordered, which he says is about double what they would get from delivering to supermarkets, for example.
And the concept seems to be working. Sales have increased by around 600 per cent over the last year, with total sales revenue in 2017 expected to be around £3m.
The Real Junk Food Project activists feeding schoolchildren food waste in Leeds
According to Mr Pugh the current system – where only 52 per cent of food eaten in the UK comes from local sources and just 23 per cent of the fruit and vegetable eaten in Britain is grown here – is not only "unsustainable" but "ridiculous".
"It's about better food," he told the Independent. "If I am eating spinach that has been cut the previous day from a farm that is 50 or so miles away, I am better for it,and my family is better for it because its fresher, it comes from closer by," he said.
The entrepreneur said attitudes are already changing.
He predicts that enterprises such as Farmdrop will slowly tempt people away from supermarkets.
"People are getting more and more reasons every year to question the validity of the supermarket model in terms of the quality of food and the overall value proposition," Mr Pugh said.
The latest family spending data for 2015/16 from the Office of National Statistics shows that household expenditure at supermarkets has fallen in the last year, while the average amount spent on online grocery shopping has increased by a third.
Families spent £50 more on online groceries in 2015/16 than they did in the previous year.
And Farmdrop is making the most of this trend.
On 7 March it's launching its next-day-delivery service, meaning that a customer will now be able to shop by noon for delivery the following afternoon.
Producers have been willing to speed up the order process because "they believe in what we're doing, and can see their revenue growing by supplying through Farmdrop", Mr Pugh said.
"Unless you make it as easy as, if not easier than the system customers are currently using, it will not work. You need to give them [shoppers] convenience."
"It's not enough to say 'look at my spinach, come and pick it up' – it doesn't work. You have to say 'I'll bring it to your kitchen at a time of your choosing'."
Food and drink news

Show all 35
The company will start with deliveries in London but is aiming to expand to Bristol later this year.
It also plans to have a hub in every major UK city, such as Birmingham, Manchester, and Edinburgh, as more people turn to local food.
"Supermarkets have become irrelevant in my life," said Mr Pugh. "Obviously I am an early adopter of my kind of next-generation solution. But just fast-forward another 20 years – the rate of change will only be accelerating."
Register for free to continue reading
Registration is a free and easy way to support our truly independent journalism
By registering, you will also enjoy limited access to Premium articles, exclusive newsletters, commenting, and virtual events with our leading journalists
Already have an account? sign in
Join our new commenting forum
Join thought-provoking conversations, follow other Independent readers and see their replies