Faslane nuclear submarine base could be flooded as sea levels rise, warns Scottish Natural Heritage
More than 100 locations, including the naval base, are expected to be inundated with seawater
Ian Johnston
Environment Correspondent
Thursday 21 September 2017 13:35 Comments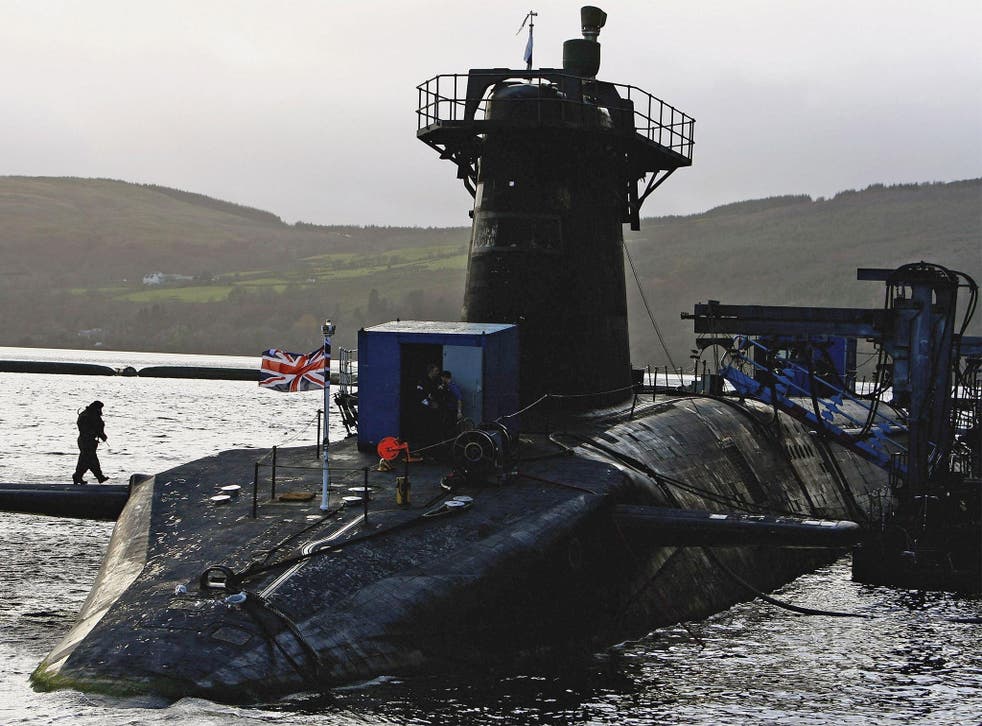 The Faslane nuclear submarine base on the Clyde estuary could be at risk because of rising seas, Scottish Natural Heritage has warned.
A new report by SNH, which is funded by the Scottish Government, said that sea levels were expected to rise 47cm in the area by 2080 as a result of climate change.
This would "inundate" buildings and fixed mooring at the base close to the shore, it warned, as well as low-lying areas in several coastal communities. Flooding caused by rising seas could also put "pressure" on Prestwick International Airport, the report added.
Britain's independent nuclear missile fleet of submarines is based at Her Majesty's Naval Base Clyde at Faslane on Gare Loch, which extends north from the Firth of Clyde.
The Ministry of Defence said the "potential risks" posed by climate change to the base had been discussed earlier this year and it would "continue to monitor the situation closely".
The SNH report said: "The main objective of this study is to provide an evidence base of the projected extent of sea-level rise and storm surges in the Firth of Clyde, and associated risks to vulnerable habitats, coastal communities and infrastructure."
This would help plan future developments and manage the risk of flooding.
While changes in future storm surges were likely to be "very small", a rise in sea levels was expected to cause a problem for much of the coast.
An initial visual review had "identified over 100 locations where there would appear to be risks of changes to the likely flood levels, and where these will be associated with developed areas, designated sites, and infrastructure such as roads and railways".
"The assessment has been based on where the predicted sea level rise and associated flood risk appears to be significant, with regard to the current coastline," the report added.
"However, the 'flood' mapping doesn't take account of factors such as local surface-water and fluvial input, and erosion associated with wave activity – likely to be especially important on the Ayrshire seafronts – and therefore underestimates flood risk."
Faslane Bay was listed as one of the areas where the "potential impacts are predicted to be the greatest".
Regarding the naval base specifically, the report said: "Buildings close to the shore will be inundated, as will any static (non-floating) moorings."
Floodwater could also extend beyond a railway line in the Prestwick area, "putting pressure on Prestwick International Airport Railway Station and potentially inundating the airport car park".
10 photographs to show to anyone who doesn't believe in climate change

Show all 10
The natural environment might also struggle to cope.
"The way in which saltmarsh and mudflat habitats will be impacted by sea-level rise is not known in detail, but what is clear is that a lack of sediment delivery from both marine and fluvial sources will impact negatively on the ability of these habitats to keep pace with a rising sea-level and so, with a few very localised exceptions, the present trend of erosion along the saltmarsh edges will continue and likely accelerate," the report added.
But Professor Des Thompson, of SNH, said nature could also "help us cope with climate change".
"One such solution is through managed realignment of the coast. This allows natural features such as saltmarsh to act as coastal defence," he said.
"This work forewarns us and helps us plan for these possible changes. Clearly sea-level rise and its potential impact represents a widespread issue which will affect low-lying land around the Firth of Clyde."
The Ministry of Defence indicated it was taking the issue seriously.
"We closely monitor the effects of climate change on our bases and track potential risks to our infrastructure," an MoD spokesperson said.
"A workshop on this was held at HMNB Clyde earlier this year, and we will continue to monitor the situation closely."
Register for free to continue reading
Registration is a free and easy way to support our truly independent journalism
By registering, you will also enjoy limited access to Premium articles, exclusive newsletters, commenting, and virtual events with our leading journalists
Already have an account? sign in
Register for free to continue reading
Registration is a free and easy way to support our truly independent journalism
By registering, you will also enjoy limited access to Premium articles, exclusive newsletters, commenting, and virtual events with our leading journalists
Already have an account? sign in
Join our new commenting forum
Join thought-provoking conversations, follow other Independent readers and see their replies