Faster than floods: How to prevent a double disaster in Bangladesh
The UN's World Food Programme and Central Emergency Response Fund are using forecasts to help people prepare for the next climate shock
Gemma Snowdon
Saturday 15 August 2020 13:18 Comments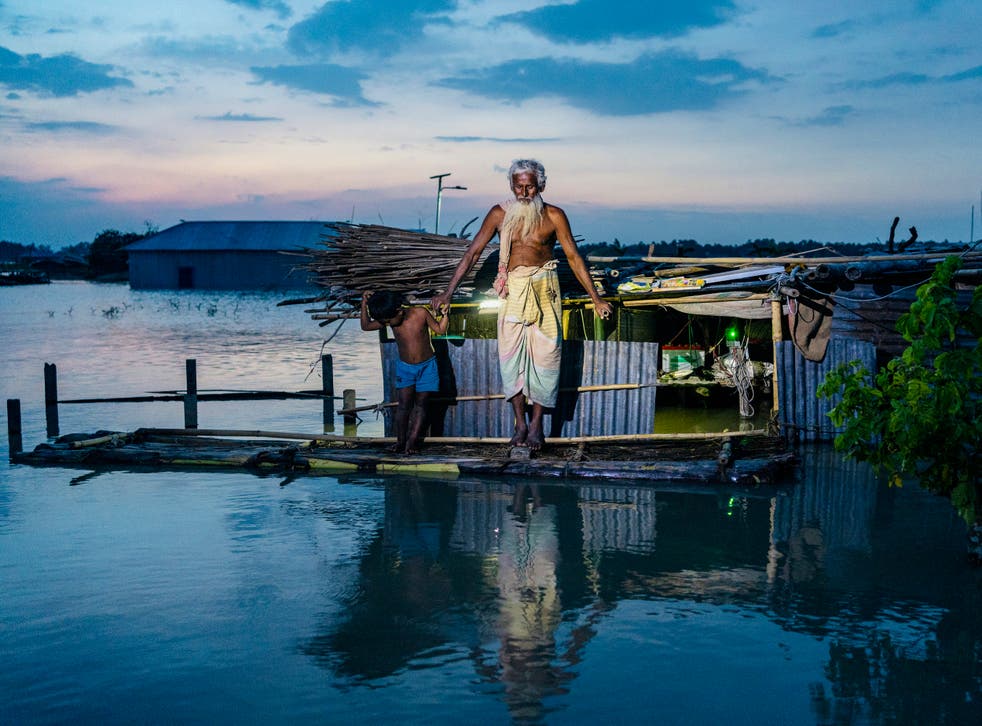 In northern Bangladesh, Abdus Samad Sarker swims through floodwaters, desperately trying to salvage food for his livestock. Abdus and his family live near the Brahmaputra, one of the largest rivers in the world.
As the country battles a growing Covid-19 crisis, millions of people are also facing floodwaters that threaten their homes and livelihoods. Although the Brahmaputra and surrounding river networks provide important natural water sources, during the monsoon they also pose a threat, with waters bursting the riverbanks and inundating large swathes of the low-lying country.
While some disasters resulting from natural hazards, such as earthquakes, are next to impossible to predict, extreme weather events such as floods are relatively easy to anticipate thanks to advances in data collection and weather forecasting systems.
In Bangladesh, the World Food Programme (WFP) and the International Federation of Red Cross and Red Crescent Societies (IFRC) have used these tools to develop an innovative mechanism that employs robust weather forecasts to disburse funding for humanitarian assistance even before a flood occurs. The aim is to offer faster and more empowering support, and to help communities prepare and protect themselves before the next disaster strikes.
A cutting-edge early-warning system and a timely cash grant mean Abdus has been able to relocate his livestock, his main source of income, to higher ground while he waits for the waters to subside.
"During the day we go to our neighbour's house, but at night we sleep on a boat," he says. "I'm 78 years old and I don't have any job prospects, so receiving this money is helpful and helps me feed my family."
This year, the forecasting programme in Bangladesh has been expanded through an "anticipatory humanitarian action" project led by the UN's Central Emergency Response Fund. The idea is that families like Abdus's receive cash before the floods hit so they have time and resources to prepare for the impact on their lives, homes and livelihoods.
Meanwhile, vulnerable women and girls have been supplied with hygiene and health kits. Rowshan Ara is among those to have received the cash payment of $53 (£41); while that may not seem like a lot, it goes a long way in an area where the average daily wage is less than $5 a day.
She and her family had already felt the devastating impact of floods earlier in the monsoon when they lost their land. They found some new land and signed a three-year lease. Now their new property is also completely submerged.
Families are empowered to prepare by purchasing essential supplies such as food and medicine, by strengthening their shelters, protecting their assets, and moving to safer areas. The anticipatory assistance can also aid their recovery by allowing them to start rebuilding sooner, which can make all the difference for their homes and livelihoods in the long term.
"The money will help us survive this flood," explains Rowshan Ara. "If we have anything left once the floods are going, then we will use it to build our house higher from the ground and hopefully next time it won't be as bad."
Anticipatory action is a core element of the new business model that humanitarian organisations need to adopt in order to effectively respond to the rapidly evolving landscape of climate and other risks that combine to form compound disasters such as this one.
Through anticipatory action, WFP and its partners aim to lead to a faster, more efficient and humanitarian response, which also protects development gains and prevents crises before they occur.
WFP assists 1.17 million people in Bangladesh, including more than 850,000 Rohingya refugees in Cox's Bazar. Learn more about WFP's work in Bangladesh here
Register for free to continue reading
Registration is a free and easy way to support our truly independent journalism
By registering, you will also enjoy limited access to Premium articles, exclusive newsletters, commenting, and virtual events with our leading journalists
Already have an account? sign in
Join our new commenting forum
Join thought-provoking conversations, follow other Independent readers and see their replies