Food miles: The true cost of putting imported food on your plate
In the misty fields and moist polytunnels of the wholefood industry, a row is taking root. Should air-freighted goods retain their coveted organic status - or should they be stripped of it to save the planet? Joanna Blythman digs into the debate
Thursday 31 May 2007 00:00 Comments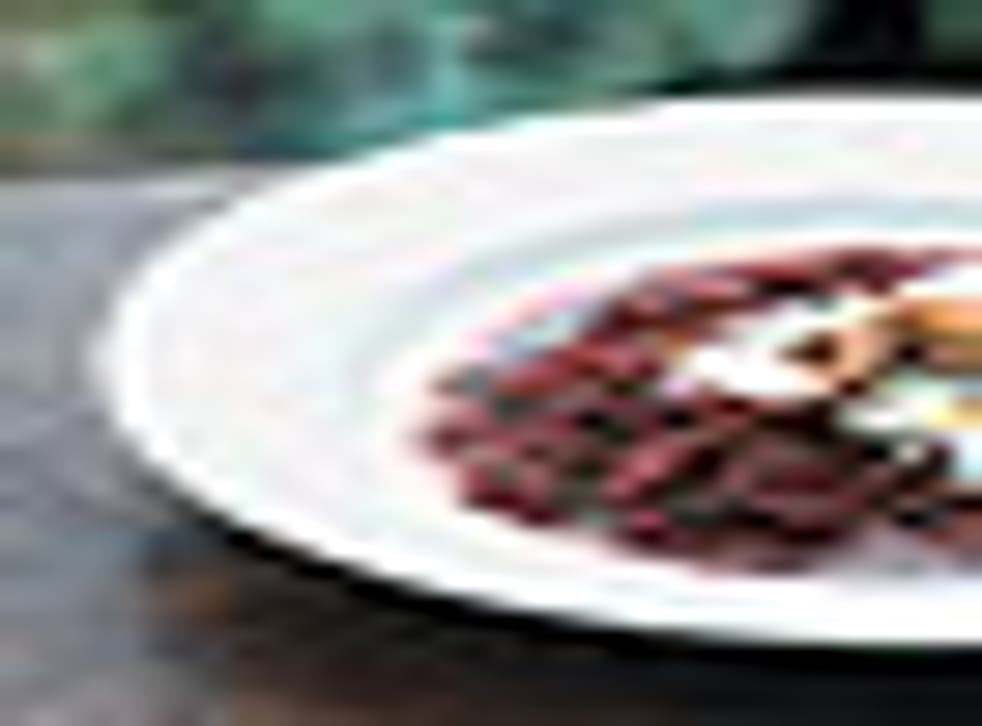 Like two out of every three British consumers, I buy organic food regularly. I do so for many reasons. I want to avoid the residues of agrichemicals that turn up with regularity in 30 per cent of all foods, and some 40 per cent of fruit and vegetables that are grown conventionally. I just can't see that regularly ingesting small amounts of toxic chemicals can be good for me, and however much the Government tries to reassure me that such microscopic quantities are nothing at all to worry about, I just don't believe it.
And being less than keen to eat traces of pesticides myself, I cannot, with a good conscience, ask some other poor bugger to spray the stuff, or expect people who live next to the fields to accept stoically the occasional pall of spray-drift chemicals that hangs over their homes and gardens.
Health apart, I buy organic because if offers better animal welfare, especially for pigs and poultry, the most abused of livestock at most farms. Last but not least, I am convinced that it is better for the environment. This is not only because organic farms promote wildlife, but because, at its best, organic farming reuses the waste it creates, and leaves a slight carbon footprint. I like to think that when I buy organic, I'm making an all-round green choice.
But hang on a moment. When I pick up a carton of organic Chilean blueberries, Argentinian blackberries, or Zambian sugarsnap peas, all air-freighted from their countries of origin, my carefully constructed rationale for buying organic is shot full of holes. Only the most stubborn climate-change deniers still challenge the notion that air-freight, with all its CO2 emissions, is contributing to global warming and helping to heat up the planet towards the point of no return. Air freight emits more greenhouse gases per food mile than any other mode of transport. This is what I am aiding and abetting when I pick up any air-freighted product - whether or not it carries an organic stamp.
Planes have rapidly become the Achilles heel of many would-be environmentalists. We compost, we buy energy-saving bulbs, we recycle more packaging, but when it comes to surrendering the relatively recently established idea that we can jet around the globe as many times as we can afford it, we drag our feet, and fortifying accounts of the joys of homespun alternatives, such as cycling holidays in the Highlands, don't quite hit the spot. But while there is at least a counter-argument to be made that people need to fly to visit their families in far-flung places, or just generally to broaden the mind, there is absolutely no necessity for British consumers to eat fragile fruits and vegetables that have been transported, at great expense to the planet, from thousands of miles away.
Air-freighted fruit and vegetables are a bad habit that our supermarket chains have cultivated among British consumers. They have actively encouraged the idea that it is entirely reasonable for us to expect to be able to buy every fruit and vegetable produced anywhere on the planet, 365 days of the year. Perishable, air-freighted, out-of-season produce has give supermarkets a perfect device for "adding value", for which read "make more profit". There is only so much you can charge for a bunch of British broccoli - even the sweetest, freshest, purple-sprouting variety. But fly in some "tenderstem" Zimbabwean broccoli, all cleaned, and trimmed and ready for the microwave, and you have a licence to print money.
No air-freighted cherry, avocado, or pineapple can ever be considered as a green, or environmentally aware food choice, but the dissonance between the words "organic" and "air-freighted" is particularly stark. A growing number of consumers, having taken on board many elements of the pro-organic argument, now expect to be able to buy - in organic form- every line that's available on the conventional produce shelves. But since demand for organic food outstrips supply, many more organic lines are likely to have been flown in. Try to buy organic asparagus today, and the chances are it that has been air-freighted from Peru. If the environment matters to you, then surely it is lunacy to overlook generous bunches of conventional British, or even road-freighted Spanish asparagus, for a few air-freighted organic Peruvian stems ?
If you insist on buying organic above any other consideration, and expect to be able to eat every agricultural commodity known to man all year round, then the irony is that your shopping basket is bound to contain a higher proportion of air-cargo than someone who buys the conventional equivalent. In terms of wilful environmental damage and sheer ignorance, that's like owning a Hummer.
The Soil Association, Britain's leading organic food certifying body, has now sharpened this debate. Pushed by less supermarket-focused organic growers - who believe that it should be promoting locally grown, or at least British-grown food if it wants to maintain the integrity of the organic brand - it is floating the possibility that it might consider stripping air-freighted foods of their organic status. This has prompted a heated reaction from some development organisations who argue that air-freighted organic food is crucial to poor countries such as Ghana, which earn valuable foreign currency this way to create employment and underwrite improvements to infrastructure, such as schools, clinics and roads.
There is more than an hint of emotional blackmail here. It's an attempts to play the "helping people" card to trump the over-arching environmental argument that air-freighting food is both unnecessary and destructive. It conveniently ignores the fact that it is precisely such countries, where water is scarce and soil is prone to erosion and desertification, that will be in the front line as climate change takes hold, suffering the harsh effects of drought or flood. First and foremost, they need to base their agriculture around feeding their own people and safeguarding their own country's food security, a task that will be made doubly difficult as global warming takes its toll.
If we want to help growers in poor countries, we must appreciate the difference between Fairtrade and organic labels - whether or not we are about the environment. Fairtrade guarantees that individual producers have earned a living wage and that their community has accrued some further benefits from the trade. Organic certification agencies have always been silent on the question of wages and are not a guarantee of food that is ethically or equitably grown.
The development lobby also places too much trust in the honourable business intentions of our fickle supermarket giants who are perfectly capable of ditching suppliers at the drop of a hat. Bear in mind that most of the companies who currently supply our supermarkets with air-freighted organics have only been doing so for the past few years. They may still be in the honeymoon phase with their supermarket clients, but it is only a matter of time until supermarket dons start playing them off against one another as they do with their conventional suppliers, threatening to take their business elsewhere.
We would also be naive to believe that when we buy an air-freighted organic import, the high cost at the checkout is equitably redistributed back down the supply chain. A Kenyan grower explained to me that he was paid a mere 26 pence per kilo for green beans that retailed on the shelves of our major multiples for more than £5. It is our supermarkets, not the producers, who largely benefit, because they are adept at extracting the lion's share of the margin and exploiting the gap between the producers in those faraway places and the consumers in the UK.
Our supermarkets, despite their much vaunted "green" strategies will never stop air-freighting exotic, out-of-season lines, however environmentally irresponsible it is, unless some higher authority stops them: cute little plane logos on packs are a cop-out. But organic shoppers are meant to know better. They can vote with their feet and leave all those tired, over-priced, over-packaged lines on the shelf.
Joanna Blythman is the author of Shopped - the Shocking Power of British Supermarkets (4th Estate, £7.99)
Gobbling up the planet: Your guide to food miles
APPLES (FUJI)
Seventy-six per cent of apples consumed in the UK come from overseas. Washington, home of the Red Delicious and grower of half of America's apples, produces 135,000 tons of Fuji apples a year. They also come from China and Japan, and have a long shelf-life. With refrigeration, Fuji apples can last five or six months.
Typical exporter: US
Food miles to UK: 3,700
C02 (kg per pack of four): by sea 0.06; by air 1.68
Price: £1.99/500g, £2.98/kg
BEEF
The United States, Brazil, the European Union, Japan and the People's Republic of China are the world's largest consumers of beef, while the world's largest exporters of beef are Australia, Brazil, Argentina and Canada respectively. While British beef is clearly labelled in UK supermarkets, Argentinian beef is still a best seller here.
Typical exporter: Argentina
Food miles to UK: 6,900
CO2 (kg/kg): by sea 0.22; by air 6.33
Price: approx £6/kg
PINEAPPLE
South-east Asia dominates world production of pineapples. Total world production in 2001 was 14.220 million tons. The primary exporters of fresh pineapples in 2001 were Costa Rica, 322,000 tons; Ivory Coast, 188,000 tons; and the Philippines, 135,000 tons. In the UK we get most of our pineapples from Ghana.
Typical exporter: Ghana
Food miles to UK: 3,100
CO2 (kg/pineapple): by sea 0.22; by air 6.26
Price: approx £2/kg
TOMATOES
The tomato plant was first grown in England in the 1590s, but despite being a staple of greenhouses countrywide, China produces the most, churning out more than 30 million per year. UK consumers have become used to getting their tomatoes from Saudi Arabia. Grown to look good and last for ages, these love apples tend to be rather lacking in flavour. The British Tomato Growers Association says two thirds of the tomatoes eaten in the UK are imported.
Typical exporter: Saudi Arabia
Food miles to UK: 3,100
C02 (kg/pack of six): by sea 0.04; by air 1.2
Price: approx 99p/420g £2.35/kg
SPRING ONIONS
The most common kind of spring onion is the Welsh onion, Allium fistulosum. Ironic considering how many scallions are imported from Thailand.
Typical exporter: Thailand
Food miles to UK: 5,900
CO2 (kg/pack): by sea 0.04; by air 1.28
Price: approx 50p/200g; £2.50/kg
POTATOES
According to the British Potato Council, the UK imports about 350,000 tonnes of tatties a year, including during the English season. Even more depressing is the fact that many of these imported varieties may have been in storage for up to six months.
Typical exporter: Israel
Food miles to UK: 2,200
C02 (kg/kg): by sea 0.07; by air 2.0
Price: approx £1.50/kg
ASPARAGUS
Despite the delicious flavour of British asparagus, UK consumers tuck into thousands of tons of Latin American asparagus, even during the British season. Peru is the world's leading asparagus exporter, followed by China and Mexico. The top asparagus importers in 2004 were the United States (92,405 tons), followed by the European Union (external trade 18,565 tons), and Japan (17,148 tons).
Main exporter: Peru
Food miles to UK: 6,300
C02 (kg per pack): by sea 0.05; by air 1.44
Price: £1.99/250g, £7.96/kg
BROCCOLI
Traditional purple sprouting English broccoli is only available from February to April, making eating it year-round an ethics-busting luxury. Interestingly, the Food Standards Agency says frozen broccoli has more nutritional value than fresh florets that have been refrigerated for too long. Buy British and keep it in the freezer.
Main exporter: Spain
Food miles to UK: 780
C02 (kg/broccoli): by sea 0.01; by air 0.22
Price: 38p/ea; £1.28/kg (Sainsbury's)
KING PRAWNS
South-east Asia is where many of the UK's king prawns are intensively farmed. This kind of technique can be harmful to both prawns and people: cancer-causing antibiotic residues were discovered in some Indonesian farmed prawns five years ago, resulting in a slew of EU bans. When bred intensively, the prawns also run the risk of contracting white-spot virus.
Typical exporter: Indonesia
Food miles to UK: 7,300
CO2 (kg per pack): by sea 0.03; by air 0.84
Price: £2.99 per 125g, £23.92 per kg (Sainsbury's)
BANANAS
In 2003, India led the world in banana production, representing approximately 23 per cent of the worldwide crop, most of which was for domestic consumption. The four leading banana exporting countries were Ecuador, Costa Rica, The Philippines, and Colombia, which accounted for about two-thirds of the world's exports. Bananas are refrigerated to between 13.5 and 15C (57 and 59F) during transport.
Typical exporter: India
Food miles to UK: 5,106
C02 (kg/kg): by sea 0.16; by air 4.67
Price: 68p/1kg
SUGARSNAP PEAS
The sweetest pea on the market is surprisingly versatile and can even survive frosts, but it thrives in warmer climates and is grown across Central America and the southern states of America.
Main exporter: Guatemala
Food miles to UK: 5,450 miles
C02(kg/pack): by sea 0.04; by air 1.0
Price: £1.29/200g £6.45/kg
GRAPES
Thanks to their delicate skins, grapes require more packaging to transport them safely than almost any other fruit. Grown for export in Eygpt, South Africa and the US. Owing to the packaging, imported grapes have a doubly large carbon footprint.
Main exporter: Egypt
Food miles to UK: 2,200
C02 (kg/pack): by sea 0.04; by air 1.0
Price: approx £2.50/500g £5/kg
STRAWBERRIES
What could be more British than strawberries on a summer's day? Unfortunately, out-of-season berries from Spain or even California have become the norm for consumers wanting a year-round fix.
Main exporter: Spain
Food miles to Britain: 780
C02 (kg/pack): by sea 0.01; by air 0.19
Price: approx £4/kg
NEW WORLD CHARDONNAY
Thought to be named after a village in the Burgundy region of France, Chardonnay is now the number one grape variety in Australia and the rest of the New World, where its versatility makes it a reliable grape for producing wine in huge quantities. This has led to something of a backlash; TV wine expert Oz Clarke called it "the coloniser and destroyer of the world's vineyards and palates".
Typical exporter: Australia
Food miles to UK: 9,000
C02 (kg/bottle): by sea 0.29; by air 8.27
Price: approx £5
CARROTS
In 2005, China was the largest producer of carrots and turnips, according to the Food and Agriculture Organisation. China accounted for at least a third of the global output, followed by Russia and the US. In the UK, we get most of our carrots from South Africa, despite the fact that the Western carrot emerged in Europe in the 15th or 16th century.
Typical exporter: South Africa
Food miles to UK: 6,000
CO2 (kg/kg): by sea 0.19; by air 5.5
Price: 69p/kg
AVOCADOS (HASS)
Commercial avocado orchards produce an average of seven tons of the fruit per hectare each year, with some orchards achieving 20 tons per hectare. The fruit is native to Mexico and Central America, although large quantities of avocados are also exported from Israel and South Africa. The avocado is delicate and does not tolerate freezing temperatures and can be grown only in subtropical and tropical climates.
Main exporter: Mexico
Food miles to UK: 5,500
C02 (kg per avocado): by sea 0.03; by air 0.89
Price: £1.99/600g, £3.32/kg (Waitrose)
PEARS
One of the oldest cultivated fruits, the pear regularly popped up in Roman fruit bowls. With more than 30 species, there are few climates that the tree - which can survive temperatures as low as -30C - doesn't thrive in, and wild specimens can be found in Devon and Cornwall. However, all too often we rely on exports from South America and China.
Typical exporter: Argentina
Food miles to UK: 6,900
CO2 (kg per kg): by sea 0.22; by air 6.3
Price: £1.60 per kg
BLUEBERRIES
Although blueberries are native to North America, they are also grown in Australia, New Zealand, South American countries, and Poland, before being air-shipped as fresh produce to markets around the world. Full of antioxidants, these berries may be good to eat, but they're dreadful for the environment.
Typical exporter: South Africa
Food miles to UK: 5,600
Carbon (kg/pack): by sea 0.03; by air 0.77
Price: approx £3.00/150g £10/kg
CHAMPAGNE
Dom Pierre Pérignon spent years trying to keep the bubbles out of his invention. In 17th-century France they were considered a sign of bad wine-making, but the Benedictine monk's aristocratic clients quickly developed a taste for fizz and, realising his success, he told prospective clients that it "tasted like stars". Global consumption now exceeds 300 million bottles a year, and every single one comes from the Champagne region of northern France.
Main exporter: France
Food miles to UK: 239
CO2 (kg per bottle): by sea 0.007; by air 0.2
Price: approx £20
GREEN BEANS
Given that green beans come dried, frozen and canned, it seems unbelievable that they are grown in places such as Zambia, Kenya and Zimbabwe, and then transported to the UK. Refrigeration not only toughens their skins, but also leaches their nutrients.
Typical exporter: Zambia
Food miles to UK: 4,900
CO2 (kg per pack): by sea 0.03; by air 0.9
Price: approx £7.50 per kg
BABY SWEETCORN
The star of stir-fries the country over, baby sweetcorn from foreign climes is a pale imitation of its freshly picked counterpart. It's best when cooked within 30 minutes of harvest, but since much of the sweetcorn that is sold in Britain is grown in Thailand, there's little chance of tasting it at its best.
Typical exporter: Thailand
Food miles to UK: 5,900
CO2 (kg per pack): by sea 0.04; by air 1.03
Price: 99p/130g £7.62/kg
SWEET POTATOES
According to 2004 Food and Agriculture Organisation figures, world production of sweet potatoes is 127,000,000 tons. The majority comes from China with a production of 105,000,000 tons. However, about half of the Chinese crop is used for livestock feed rather than fancy mash.
Main exporter: China
Food miles to Britain: 5,000
C02 (kg/kg): by sea 0.16; by air 0.92
Price: approx £1.50/kg
LAMB
There are 10 times as many sheep as people in New Zealand and more than half of the country's lamb exports travel thousands of miles to the EU, where the UK is the number one customer.
Main exporter: New Zealand
Food miles to UK: 11,700
C02 (kg/kg): by sea 0.38; by air 10.7
Price: £4.99/680g £7.34/kg (Sainsbury's)
CANNED TUNA
Yellowfin tuna can be found in the Pacific and Indian oceans. Once caught, they find their way to Thailand, the biggest producer of tinned tuna in the world. About 70 per cent of all fish eaten in Britain originates in foreign waters.
Main exporter: Thailand
Food miles to UK: 5,900
CO2 (kg/pack): by sea 0.04; by air 1.0
Price: 30p/185g; £2.20/kg
Better buy British: five favourite local foods
STRAWBERRIES
Season: mid-April to late September
Typical origin: Hereford
Price: £2.94 per 450g
Commonly imported, strawberries are picked before they ripen to prevent damage during transport. However, as they undergo no further ripening once picked, it is advisable to make the most of the British variety while in season.
WATERCRESS
Season: April to early November
Typical origin: Hampshire, Dorset
Price: £1.16 per 100g, bagged
Grown in Southern England since the early 19th century, watercress has anti-cancer properties. Once a popular infusion, it was brewed with lemon and sugar and used as a tonic.
ASPARAGUS
When: May to mid-June
Typical origin: nationwide
Price: £7.96 per kilo
In season for a tantilisingly short period of time, asparagus was traditionally only grown in the Vale of Evesham in Worcestershire, East Anglia, London and Kent, but is now common throughout the UK.
WELSH LAMB
When: late May to mid-October
Typical origin: Monmouthshire, South Wales
Price: £10.19 per kilo
A delicacy revered by the French, Welsh lamb is reared on wild mountain pasture and is characterised by a depth of flavour and succculence.
MACKEREL
When: June to October
Typical origin: Scotland
Price: £6.98 per kilo
A common fish in the North Atlantic, the mackerel has been eaten in the United Kingdom for centuries and is an excellent source of vitamin B12 and omega-3.
RESEARCH BY SIMON USBORNE, ABIGAIL OUTHWAITE AND REBECCA ARMSTRONG
Register for free to continue reading
Registration is a free and easy way to support our truly independent journalism
By registering, you will also enjoy limited access to Premium articles, exclusive newsletters, commenting, and virtual events with our leading journalists
Already have an account? sign in
Join our new commenting forum
Join thought-provoking conversations, follow other Independent readers and see their replies