'Massive' impact of food waste on climate with nearly a billion tons binned each year, finds UN report
Around a fifth of all food produced worldwide was thrown away in 2019, study suggests
Tom Batchelor
Saturday 06 March 2021 08:16 Comments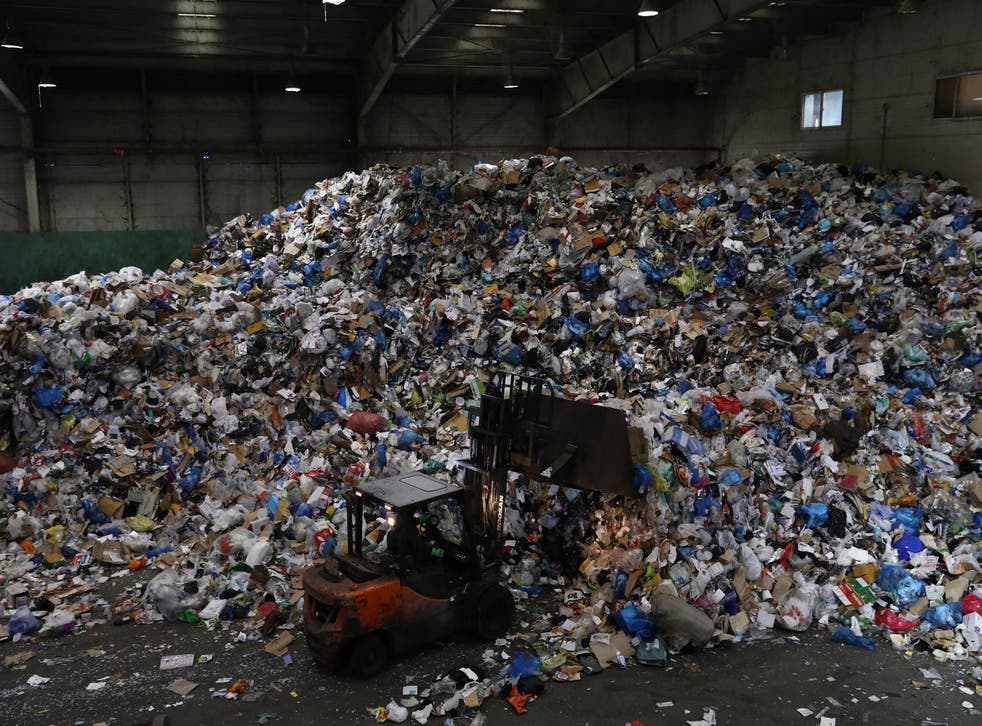 If global food waste were a country it would be the third biggest polluter after the US and China, according to campaigners, who are urging governments around the world to do more to tackle the problem after a UN-backed report found nearly a billion tons of food is being thrown away each year.
Around a fifth (17 per cent) of all the food produced worldwide was thrown away in 2019, amounting to an estimated 931 million tons.
That weight roughly equals that 23 million fully-loaded 40-ton trucks, enough bumper-to-bumper to circle the Earth seven times.
Researchers said the combined impact of producing just the food that is thrown away, from the fertilisers to the diesel powering the tractors, accounted for around 10 per cent of global greenhouse gas emissions.
Those figures, included in the Food Waste Index Report 2021 produced by the United Nations Environment Programme (UNEP) and charity Wrap, come amid global efforts to halve food waste by 2030.
"A person going shopping today is likely to throw away around a fifth of the items in their trolley," said Marcus Gover, CEO of Wrap, which this week launched the UK's first ever Food Waste Action Week, aimed at highlighting the impact of wasted food.
"That can be tackled by simple things like making a list or just looking in the fridge before going shopping."
Around 70 per cent of all the food wasted is linked to households, with 16 per cent coming from manufacturing, 11 per cent from restaurants, pubs and hotels, and just 3 per cent from supermarkets.
On an individual level, that amounts to 120kg of food thrown away by every person on the planet each year.
"It's not about blaming people for it," Mr Gover told The Independent. "It's about helping people to know what they can do about it.
"Producing food is one of the most impactful things we do in terms of the environment. Agriculture accounts for 70 per cent of the world's freshwater use and is linked to 30 per cent of the total greenhouse gas emissions and 80 per cent of global biodiversity loss."
Mr Gover said throwing away edible food had a "massive" impact on the environment.
"If we're wasting food then we're throwing away all of the energy that went into making it, all of the carbon that has been produced," he said. "And all of that diversity loss was for nothing.
"We're talking about 10 per cent of global greenhouse gas emissions. That is a big number, so big, in fact, that if food waste were a country, it would have the biggest greenhouse gas emissions in the world after the US and China. Around six times more than global aviation emissions. So it just has a massive impact on climate change."
The report – the most comprehensive food waste data collection, analysis and modelling to date – looks at food waste from retail outlets, restaurants and homes, counting both food and inedible parts like bones and shells.
General thinking until now had been that more developed countries were to blame for the most food waste among individual households. But researchers found in nearly every country food waste was substantial, regardless of income level.
Mr Gover said the UK was "leading the world" on the issue, having reduced food waste by 27 per cent since 2007.
"Nowhere else in the world has done anything like that," he said. "The UK is half way on its journey to halving edible food waste by 2030.
"But we need more action to tackle food waste in the home around the world. We need funding for that so I am calling on governments, on businesses, on international organisations, to invest in tackling food waste in the home.
"If they do that, they will be helping us reach net zero. Without reducing food waste we won't reach it."
Some 690 million people were affected by hunger in 2019, a number that is expected to rise sharply with the Covid pandemic, and three billion people are unable to afford a healthy diet.
Campaigners say reducing the amount of food that is thrown away would not only reduce the environmental impact but go some way to addressing food poverty.
Inger Andersen, executive director of UNEP, said: "Reducing food waste would cut greenhouse gas emissions, slow the destruction of nature through land conversion and pollution, enhance the availability of food and thus reduce hunger and save money at a time of global recession.
"If we want to get serious about tackling climate change, nature and biodiversity loss, and pollution and waste, businesses, governments and citizens around the world have to do their part to reduce food waste.
The UN Food Systems Summit this year will provide an opportunity to launch bold new actions to tackle food waste globally."
Register for free to continue reading
Registration is a free and easy way to support our truly independent journalism
By registering, you will also enjoy limited access to Premium articles, exclusive newsletters, commenting, and virtual events with our leading journalists
Already have an account? sign in
Join our new commenting forum
Join thought-provoking conversations, follow other Independent readers and see their replies