Companies from Amazon to Spar 'complicit in tropical forest destruction caused by everyday products'
Top brands accelerate tree loss, says study – while WWF claims at least £16bn will be wiped off UK economy by nature and eco crises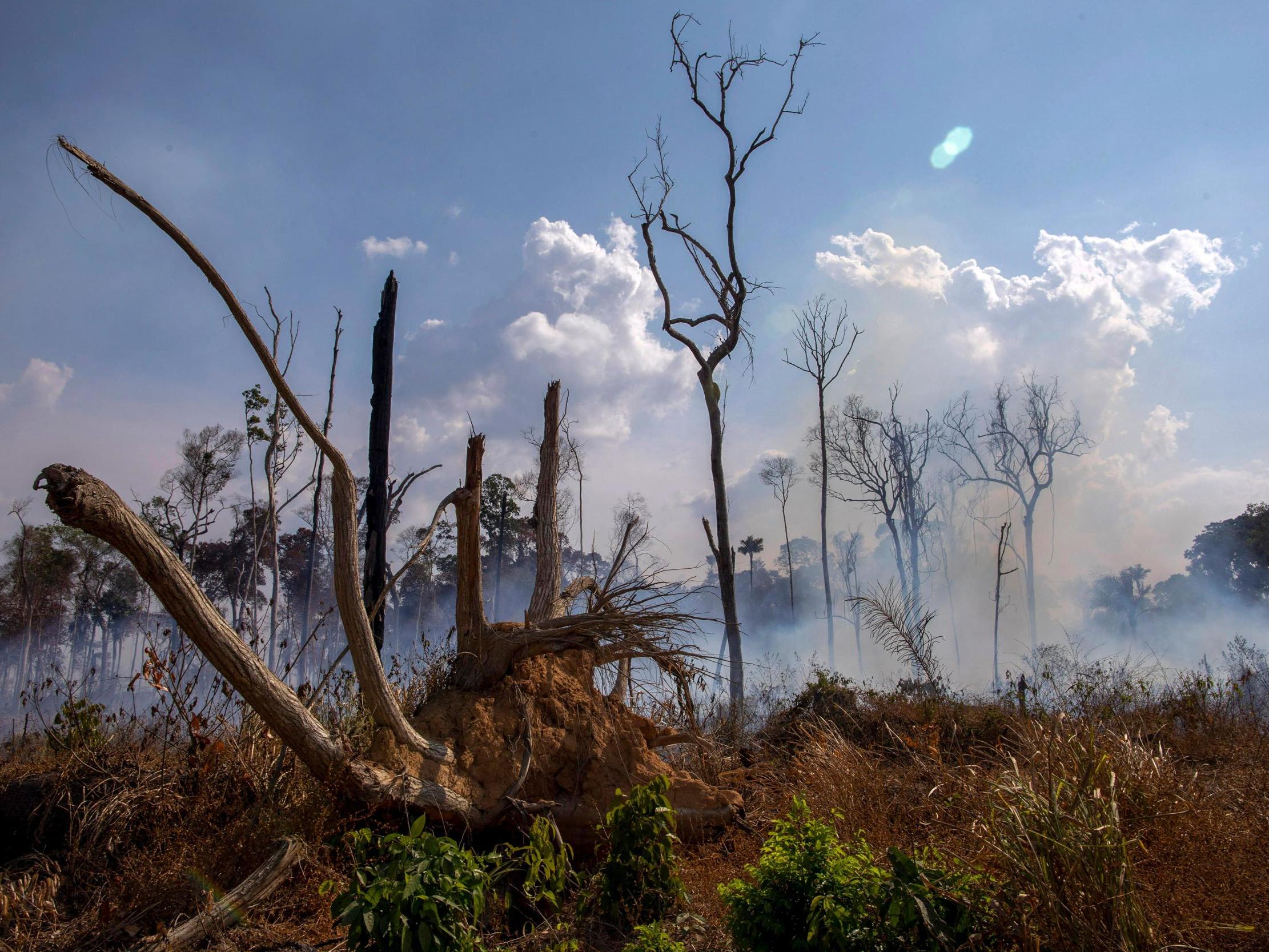 Shoppers are buying everyday goods by top-name brands ranging from Amazon to Versace without realising they may be linked to destruction of tropical forests, a report claims.
Products such as food and fashion that originate from palm oil, soya, beef, leather, timber, pulp and paper are accelerating worldwide deforestation and adding to the climate crisis, according to the Forest 500 study produced by campaign group Global Canopy.
At the same time, a separate report said the environmental and nature crises will cost the world hundreds of billions of pounds a year – and the UK will be among countries worst hit, with at least £16bn wiped off the economy by 2050.
Worldwide, the tally from rising food prices, droughts, commodity shortages, extreme flooding and coastal erosion will add up to almost £8 trillion by 2050, it has been calculated.
The Forest 500 document on deforestation identifies world-famous brands that it believes are "complicit" in the destruction.
Amazon rainforest swept by fires: In pictures
Show all 25
They include internet giant Amazon; supermarket chain Spar, and UK-based Capri Holdings, whose brands include Versace, Jimmy Choo and Michael Kors.
Vast areas of tropical forest are cleared each year to make way for commodities used in millions of everyday products. Native trees are razed to grow palm trees and soya, which are used to feed meat animals in vast factory-farm operations worldwide.
But Global Canopy said that of the leading companies trading in commodities, nearly half (242 of 500) have made no public promise to end deforestation.
The organisation also blames financial institutions that back the brands, which include European fashion stores, food giants in the US, France and Japan, and furniture companies.
Sarah Rogerson, the report's author, said: "Forest risk commodities are in almost everything we eat, from beef in ready meals and burgers, palm oil in biscuits, to soya as a hidden ingredient in poultry and dairy products.
"Many people would be shocked to know how many familiar brands in their shopping basket may be contributing to the destruction of the Amazon and other tropical forests."
On average an area of tropical forest larger than the Netherlands was lost every year from 2014 to 2018 as forests are cleared for agriculture, emitting more greenhouse gases than all the EU, figures show.
In Brazil, forest clearances were blamed for the tens of thousands of fires in the Amazon that damaged land and biodiversity last summer.
The Forest 500 report finds that 140 companies and 102 financial institutions have made no public commitments to prevent deforestation in their supply chains or the companies they finance.
Most of the institutions that fund companies "do not appear to recognise the risk that their investments may drive deforestation and contribute to climate change", the biggest of which is BlackRock, it says.
Ms Rogerson said: "Many of the world's best-known brands are complicit in the destruction of tropical forests, which undermines our ability to combat global climate change.
"They are turning a blind eye to deforestation caused by demand for the commodities they use and failing to publicly recognise their responsibility to act."
More than 80 companies have removed or weakened commitments or reduced reporting, the study says.
"While some companies have shown real leadership, overall progress has been painfully slow and this highlights that voluntary commitments by the private sector cannot be relied upon to drive change," Ms Rogerson said.
Amazon rainforest loss in Brazil more than doubled in January against the previous year, data showed last week.
Meanwhile, a report by WWF calculates that the price of the eco and biodiversity crises will hit £8 trillion – nearly as much as the combined economies of the UK, France, India and Brazil.
It says UK losses will be the third worst, behind only the US and Japan, reaching at least £16bn by 2050, a figure approaching the combined spending on police and fire services in England and Wales.
The main costs will be caused by the loss of natural coastal protection, leading to flooding and erosion, as well as declining fish stocks.
The study reveals "conservative" annual global costs within 30 years of £251bn for coastal protection; £98bn for carbon storage; £14bn for water supply for agriculture; and £12bn for pollination from wild pollinators.
Prices of timber, cotton, oil seeds, fruit and vegetables, will all rise as agriculture will be hardest hit by loss of nature.
"To drive investment in nature's recovery at the scale and pace needed, we urgently need to transform our economic and financial systems," WWF says.
In response, BlackRock pointed to a prior statement saying it was intensifying engagement with firms on sustainability, adding: "We ask companies to disclose any initiatives and externally developed codes of conduct, eg committing to deforestation-free supply chains, to which they adhere and to report on outcomes".
An Amazon spokesperson said the company was strongly committed to conducting business in an ethical manner, using suppliers that promote a sustainable future. He said: "In 2019, we co-founded the climate pledge, a commitment to meet the goals of the Paris Agreement 10 years early and reach net zero carbon by 2040.
"As part of this, we are investing $100m to restore and protect forests, wetlands, grasslands and peatlands around the world. We understand that reducing our use of materials and making operational changes are also critical, and we know that the responsible sourcing and use of certain commodities – including soy, palm oil, paper and pulp – are important to addressing deforestation. We have set a goal of achieving 100 per cent sustainable palm oil in Amazon-branded products in North America and Europe by the end of 2020, and will continue to develop more sustainable options for other key commodities."
The company was increasing the use of recycled content in packaging and bringing in new materials to reduce waste, he added.
The Independent has also contacted Spar and Capri Holdings for comment.
Join our commenting forum
Join thought-provoking conversations, follow other Independent readers and see their replies