Fracking firms struggling to raise money from UK banks amid environment protests
'Fracking is a failed industry in the UK. The sooner our Government acknowledges that and throws its weight behind the booming renewable energy sector, the better for us all,' says Greenpeace
Ian Johnston
Environment Correspondent
Friday 14 July 2017 16:51 Comments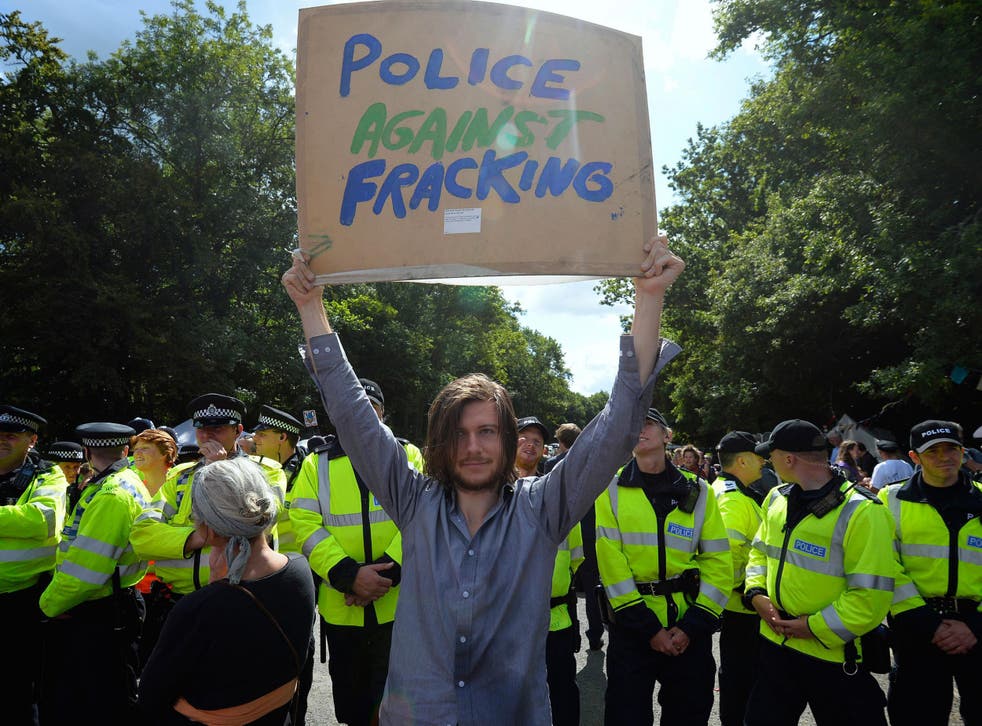 Companies hoping to take part in the Government's promised fracking "revolution" have been "finding it a challenge" to get finance from British banks.
According to minutes of a meeting between the industry and a Government minister, some firms were "struggling" or "suffering".
They added that some conventional oil and gas projects had been "affected by protests as well", according to the civil servant's notes.
Environmental campaigners said the account of the meeting, obtained under freedom of information laws by an activist, showed that fracking was a "failed industry in the UK" and called for the Government to help the "booming renewable energy sector" instead.
While the meeting took place in May last year, one financial expert said banks' reluctance to invest in fracking was likely because of public's generally negative view of the controversial process, suggesting this may still be a problem.
Environmentalists are mainly opposed to fracking because it opens up a new source of fossil fuels, but there have also been concerns about earthquakes and pollution of groundwater and the air. Fracking involves sending a mixture of water and chemicals down a well at high pressure to fracture shale rock and release gas or oil contained inside. A study this week showed that treated wastewater from fracking plants in the US still contained significant levels of radioactive material.
​The minutes showed that medium-sized companies with perhaps 200 employees – mostly involved in the oil and gas supply chain who want to get into the shale gas sector – were finding things difficult.
"Operators are struggling – taking so long for them to get off the ground that SMEs are suffering," the document said.
"Traditionally 10 to 15 wells are drilled a year and this year only four were drilled. Noted conventional oil and gas work has been affected by protests as well.
"Industry are finding it a challenge to get support from British banks … all funding therefore comes from overseas and self-growth.
"They have looked at equity but don't want to dilute the companies. British banks are saying the companies are too small. For example, Barclays London said no so approached Barclays Kenya and paid a premium for this. Other financing issues concerned potential work in Russia and Iran."
The Conservative manifesto spoke of hoping to create a fracking "revolution" in the UK, with hopes of similar economic effects produced by the boom in the US. However it added that this would only happen "if we maintain public confidence in the process, if we uphold our rigorous environmental protections, and if we ensure the proceeds of the wealth generated by shale energy are shared with the communities affected".
Anna Soubry, the then business minister who attended the meeting with industry body Onshore Energy Service Group (OESG) and several firms, opened the discussion by saying she was a "big fan of shale", according to the document.
Professor Paul Stevens, an energy expert at the Chatham House think tank, told Greenpeace Energydesk, that fracking's poor image was a problem.
"Without access to finance, fracking is simply not going to happen in the UK," he said.
How fracking works and where it could happen

Show all 2
"Irrespective of the pros and cons of fracking – and I've never been convinced it's as bad as the NGOs say – they have convinced the world [that fracking is dangerous], and nothing is going to change that.
"The shale industry is never going to take off because of public opposition."
One banker, who helps companies raise money, told The Independent that in the current environment "practically any business can get a loan from a bank – providing it isn't about to collapse".
He said that he did not think that the size of a company would restrict its ability to be able to get a loan from a bank.
It would be more likely, he said, that banks were not willing to provide funding because they don't want to be associated with some of the controversial activities that these companies are engaged in – in this case fracking.
The banker likened it to some fund managers who are restricted from buying bonds or stocks in companies in the tobacco, gambling or arms industries, due to a firm-wide commitment.
There has been a steady trend towards more sustainable and socially responsible investing in major global financial centres in recent years. Dozens of companies have issued so-called green bonds to finance socially-responsible projects.
And Elisabeth Whitebread, an energy campaigner at Greenpeace UK, said: "UK fracking firms have run up huge financial losses over six years of attempting to inflict a dirty fossil fuel industry on communities that don't want it.
"Now we can see that it's also proving difficult for the industry to access the finance it would need to scale up beyond a few niche projects.
"Fracking is a failed industry in the UK. The sooner our Government acknowledges that and throws its weight behind the booming renewable energy sector, the better for us all."
Lee Petts, a founder member of the OESG, agreed the "perception problem" was affecting financing of the sector.
"If you are in charge of handing out money in terms of bank loans to contractors and you cannot see what the future of the industry is – it's clouded by the fact there's a degree of opposition to it – you don't know how it's going to take off. You are going to be risk averse, aren't you?" he said.
But Mr Petts said he expected the industry's image would soon improve.
"Once residents see for themselves it's not as bad as they've been led to believe," he said, "I think we'll see a significant change in public perception, we'll see opposition tail right off."
Register for free to continue reading
Registration is a free and easy way to support our truly independent journalism
By registering, you will also enjoy limited access to Premium articles, exclusive newsletters, commenting, and virtual events with our leading journalists
Already have an account? sign in
Join our new commenting forum
Join thought-provoking conversations, follow other Independent readers and see their replies