Fracking protesters' 'absurdly harsh' jail sentences spark calls for judicial review backed by hundreds of scientists
Jail terms of up to 16 months handed down to men who climbed on cabs of lorries delivering fracking machinery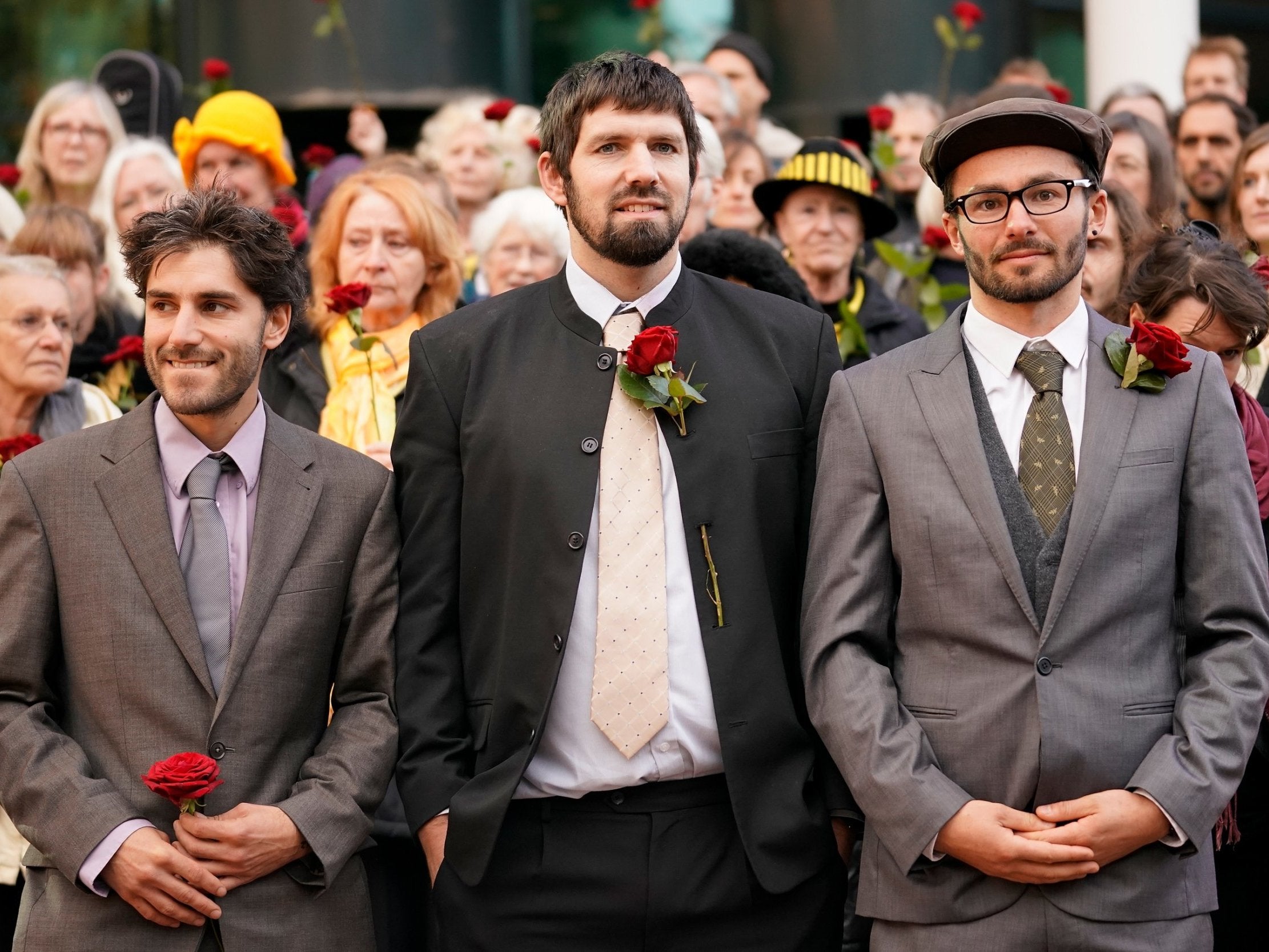 More than 200 academics have signed a letter calling for a judicial review of "absurdly harsh" prison sentences handed to three fracking protesters on Wednesday.
An open letter, started by staff at the University of Sussex says that the jail terms of between 15 and 16 months for halting a convoy of lorries carrying shale drilling equipment "set a dangerous precedent".
Simon Roscoe Blevins, 26, Richard Roberts, 36, and Rich Loizou, 31, are thought to be the first environmental protesters to receive a jail sentence in the UK since 1932.
They were convicted of causing a public nuisance after clambering onto the roofs of three lorry cabs travelling to energy firm Cuadrilla's base in Little Plumpton, Lancashire and refusing to come down for between 45 and 84 hours.
A fourth protestor, Julian Brock, 47 was given a 12 month prison term, suspended for 18 months, after pleading guilty to causing a public nuisance.
The letter says: "The ruling sets a worrying precedent, curtailing opportunities for the kind of public protests that have historically been effective in instituting the legal and policy changes that defend our environment for our future generations.
"We need more, not less, space for action to confront unsustainable industrial practices that harm our communities and perpetuate our reliance on fossil fuels.
"We join calls for a judicial review of this absurdly harsh sentence, and an inquiry into the declining space for civil society protest that it represents."
It was started by Andrea Brock and Dr Amber Huff, staff at the University of Sussex who described the ruling as "part of a wider trend of criminalisation of protest in the UK", but has now been signed by professors, legal scholars and heads of department from around the country.
"This harsh sentencing of environmental protestors suggests that civic space is closing. This is really worrying as non-violent protest is essential for democracy and sustainability," said Professor Ian Scoones, from the Institute for Development Studies at Sussex.
Professor Lyla Mehta, a researcher at the same institute, added: "Fracking is unpopular and controversial around Europe and North America. Using draconian measures and imprisonment to curb peaceful protest is an infringement of basic rights and a blot on UK democracy".
So far the letter has been signed by 233 academics.
Cuadrilla's fracking site near Blackpool has been at the centre of continued protests and objections from locals after the government gave the company permission for the UK's first commercial fracking well.
At the sentencing at Preston Crown Court Judge Robert Altham said the defendants "caused costs and disruption to Cuadrilla" but their other victims were the many members of the public and businesses affected by the traffic.
Though he did not express a view on fracking he recognised it was "not a frivolous topic" and said the sentences would have been considerably longer if the men had not been protesting.
However he said he could not suspend the sentences of Blevins, a soil scientist, Roberts, a piano restorer, and Loizou, a teacher, as "each of them remains motivated by unswerving confidence that they are right".
Police drag 85-year-old Green activist across road during anti-fracking protest
According to government surveys only 16 per cent of the public support fracking development.
In a statement on the initial sentencing, Greenpeace UK executive director, John Sauve, said: "Ministers have changed laws, taken away homeowners' rights and distorted the planning process to make way for the shale industry, yet it's four peaceful protesters that get punished for climbing on a lorry.
"As the world's leading scientists are about to issue their latest warning on the existential threat fossil fuels pose to our living world, these Lancashire protesters deserve our gratitude, not a prison term."
The Intergovernmental Panel on Climate Change (IPCC) is due to release a special report next week examining the growing threat climate change poses.
Francis Egan, chief executive of Cuadrilla, said in a statement: "We have always respected the right to peaceful and lawful protest.
"However we will continue to condemn unlawful, irresponsible and reckless behaviour that at best inconveniences and costs law abiding local business and commuters and at worst puts them at risk of harm."
Join our commenting forum
Join thought-provoking conversations, follow other Independent readers and see their replies