Giant pandas at Edinburgh Zoo 'could be cloned' in bid to save species
Conservation groups warn the plan for Tian Tian and Yuang Guang is a short-term solution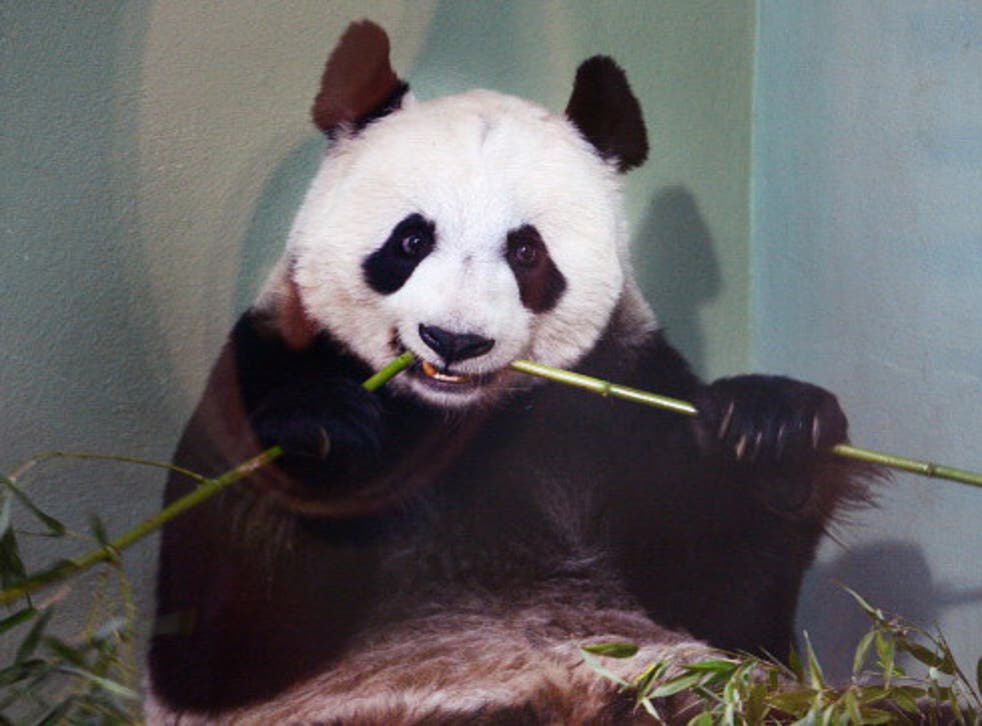 The only two pandas in Britain could be cloned by scientists in a bid to save the rare bear species from extinction, according to experts at Edinburgh Zoo.
Tian Tian and Yang Guang, the bears on loan to the zoo from China since 2011, have failed to mate in their time together and attempts at artificial insemination were confirmed as failed this summer.
As a result a team of international scientists have taken a step towards cloning one or both of the pandas by taking tissue samples from the bears' mouths, according to the Mail on Sunday.
But conservation groups have warned that cloning is not a long-term solution to ecological challenges and said cloned animals often suffer health problems growing up. One of the scientists on the panda team also helped to clone Dolly the sheep, who had to be euthanised at the age of six because of health problems.
Dr Bill Ritchie, a director of Roslin Embryology, told the Scottish Mail on Sunday that the team had managed to isolate the "building-block cells" needed to start the process.
"The fact that you can grow cells is a step on the way. This may be a source for a cloning project. People are wary about cloning and would rather go with conventional methods, but pandas are an anomaly because of their lifestyle. This is a step in bringing back an endangered species or helping preserve them."
However, Iain Valentine, director of Giant Pandas for the Royal Zoological Society of Scotland, said cloning the animals was not a definite plan and that the samples were for "bio-banking".
"Basically stem cells have been produced from swabs. Why is this important? Because it gives conservationists another method of bio-banking genetic resource other than sperm or eggs," he said.
"[...] Cell lines allow us to test potential vaccines without having to involve the animals themselves, and they can also be used for tissue repair.
"Importantly, this has nothing to do with cloning, although some key figures involved in the cloning of Dolly the sheep are sharing their expertise as part of the project."
The pandas originally came from the Ya'an reserve in Chengdu, the capital of south-west China's Sichuan province. They are on loan to Edinburgh Zoo for a £600,000 annual fee and any cubs born to Tian Tian, who has had twins before, would be sent back to China after two years, according to the BBC.
The Captive Animal's Protection Society (CAPS) have argued that any attempt at birthing cloned embryos can damage the surrogate mother - and does not address general ecological problems.
CAPS said on its site: "Many cloned embryos die shortly after birth from conditions including organ failure, respiratory problems, cardiovascular failure and other abnormalities. [...]
"In 2004, China announced plans to clone pandas in a supposed attempt to save the species from extinction. Critics pointed out that cloning creates a copy of an existing individual, which would not enrich the gene pool of the species."
Panda reproduction is notoriously inefficient. Females only ovulate for one week every year, may be fertile for less than a day, and appear to fail to mate with males when in captivity.
Experts have said male pandas in zoos may not know what to do as they do not grow up around other pandas, according to The Week.
Join our new commenting forum
Join thought-provoking conversations, follow other Independent readers and see their replies