Threatened by global warming Alaskan town raises white flag, votes to relocate to mainland
Vote comes one year after President Barack Obama paid visit to highlight region's plight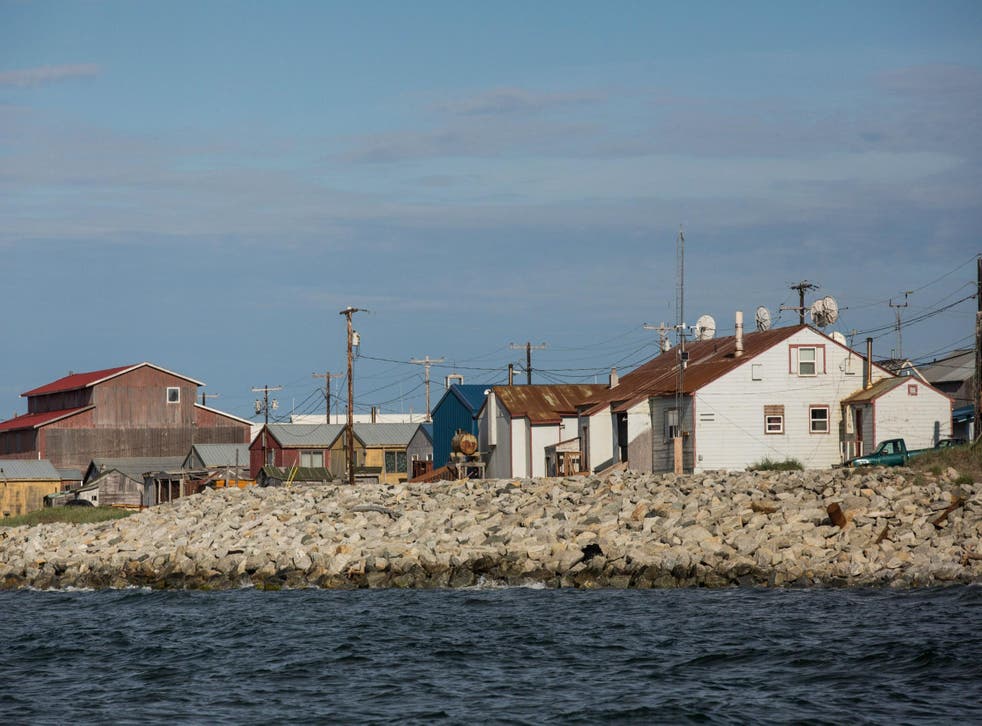 Residents of a remote offshore island in Alaska have raised the white flag to the looming threat of global warming and voted to relocate their entire community to the mainland.
The wrenching decision was made by eligible voters of the Inupiat Eskimo village of Shishmaref, which sits on a fast-eroding bar of land just north of the Bering Strait in the Chukchi Sea. The vote was close, however - eighty nine in favour and seventy nine against.
It comes after years of anguish as warming temperatures coupled with accelerating erosion of the island's fragile coastline has seen houses tip into the ocean and old traditions of ice-fishing curtailed as the sea around the village has frozen over later and later in the winter season.
"Doing nothing is not an option," Mayor Howard Weyiouanna, commented days before the vote was taken. His community, which is home to about 600 people in total, is one of about three dozen identified by the US government as being under threat because of rising seas.
The alternative put to voters at their meeting on Tuesday was to remain where they are and find money to build protective barriers to try to protect their slither of land from encroaching waters.
In reality, nothing is likely to happen any time soon because there is no money available for either course of action. However, supporters of the decision to relocate hope that the vote will trigger the start of consideration by federal agencies of how money for it might be found.
"About 15 years ago, they estimated the cost at $180 million, but I would figure it's much higher now," Donna Barr, secretary of the Shishmaref Council, told CNN. "The problem we've been facing for the last 40 years is there is no money from the federal or state government. We don't see the move happening in our lifetime because of the funding."
"The lack of ice has affected our hunting, fishing and other traditions," Esau Sinnok, a Shishmaref native and Arctic youth ambassador wrote in an essay last year. "Every year it gets harder and harder to collect enough meat for the winter. Tomcod and whitefish are a large part of our winter diet, but since the ice forms later in the year, it's more difficult for us to gather enough food."
Barack Obama became the first sitting US President to travel inside the Arctic Circle when he made a three-day trip to the Alaska coast exactly one year ago. It was billed as his attempt to draw attention to the dangers that climate change, with the associated melting of ice and increase in sea levels, represented for communities like Shishmaref.
Register for free to continue reading
Registration is a free and easy way to support our truly independent journalism
By registering, you will also enjoy limited access to Premium articles, exclusive newsletters, commenting, and virtual events with our leading journalists
Already have an account? sign in
Register for free to continue reading
Registration is a free and easy way to support our truly independent journalism
By registering, you will also enjoy limited access to Premium articles, exclusive newsletters, commenting, and virtual events with our leading journalists
Already have an account? sign in
Join our new commenting forum
Join thought-provoking conversations, follow other Independent readers and see their replies