Golden eagle population set to soar after £1.3 million funding injection
Lottery funding helps secure future for rare species in Scotland
Graeme Murray
Press Association Scotland
Monday 27 March 2017 01:26 Comments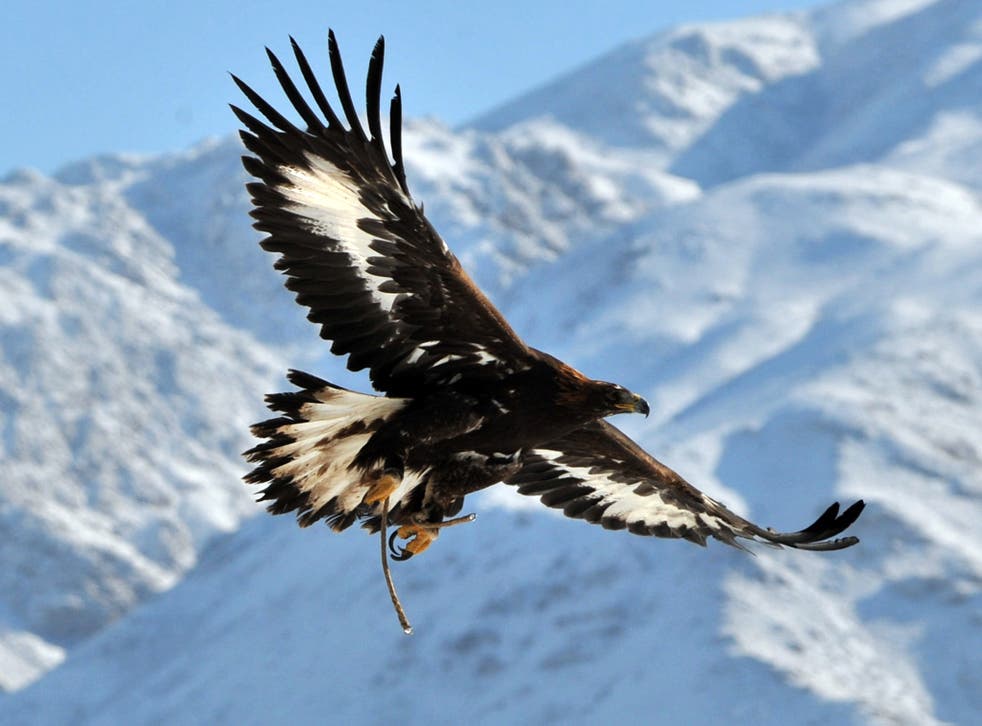 The population of an iconic bird of prey is poised to soar after a scheme to boost golden eagle numbers attracted £1.3 million in funding.
The South of Scotland Golden Eagle Project attracted funding from the Heritage Lottery Fund and plans to increase numbers in Dumfries and Galloway and the Scottish Borders.
The project involves RSPB Scotland, Scottish Land and Estates, Forestry Commission Scotland, Scottish Natural Heritage, Buccleuch and the Langholm Initiative, who have been working together for more than a decade.
There are now two to four pairs of golden eagles in the south of Scotland but a study has shown there is suitable habitat for between 10 and 16 breeding pairs.
Mark Oddy, chairman of the South of Scotland Golden Eagle Project, said: "Golden eagles are arguably Scotland's most iconic species and this programme will ensure more of us can see these magnificent birds across the south of Scotland's skies.
"This venture is not just about birds, but is also about people and in the coming months we will continue to work closely with people living and working in the south of Scotland so everyone can get behind our endeavour.
"The Langholm Initiative will have a key role in hosting the project and in fostering the long-term economic and social benefits to enhance the influence and legacy of this project. I thank the Heritage Lottery Fund for their huge support, it is fantastic news for nature."
Recent satellite tagging work of golden eagles has shown the south of Scotland population is isolated from larger populations in the Highlands.
Over a four-year period from 2018, the scheme hopes to bring between five and 10 young eagles south. Teams will use use white-tailed eagle and red kite reintroduction projects as models.
Single eagle chicks from the broods in the Highlands will also be raised and released at a hidden location in the Borders.
Lucy Casot, head of the Heritage Lottery Fund in Scotland, said: "We have some wonderful native wildlife in Scotland and collectively we have a responsibility for its survival.
"It is the prospect of glimpsing rare species, such as these glorious golden eagles, that attracts visitors to our shores bringing much-needed tourist income to our communities."
Project manager Cat Barlow said: "Once we have the full funding package in place we can crack on in employing the team to take the work forward. Then the really exciting work begins as we see more golden eagles and the people of south Scotland rallying to promote this wonderful area for wildlife.
"One of our first jobs will be to appoint two local officers who can work in the community to build support in advance of the first eagles' arrival.
Cabinet Secretary for Environment, Climate Change and Land Reform Roseanna Cunningham said: "This will ensure golden eagles have a secure footing in the south of Scotland and will bring huge benefits to the local economy and communities through a variety of tourism and educational opportunities."
Register for free to continue reading
Registration is a free and easy way to support our truly independent journalism
By registering, you will also enjoy limited access to Premium articles, exclusive newsletters, commenting, and virtual events with our leading journalists
Already have an account? sign in
Register for free to continue reading
Registration is a free and easy way to support our truly independent journalism
By registering, you will also enjoy limited access to Premium articles, exclusive newsletters, commenting, and virtual events with our leading journalists
Already have an account? sign in
Join our new commenting forum
Join thought-provoking conversations, follow other Independent readers and see their replies