Government accused of 'bribing local councils' on controversial fracking projects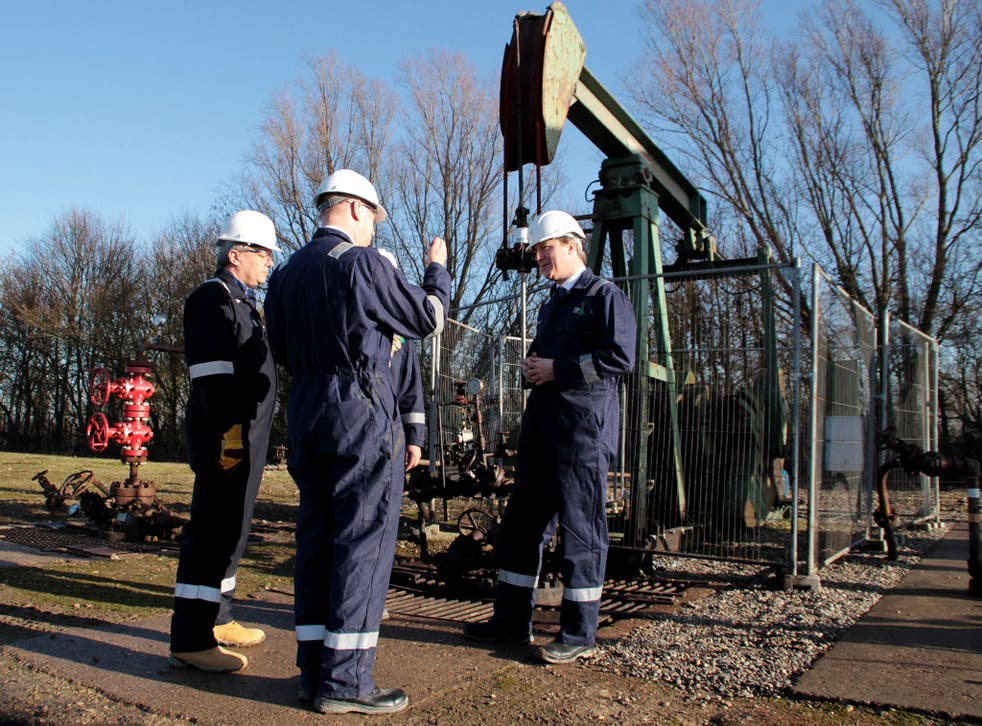 MPs accused the government of seeking to bribe local councils to grant planning permission for controversial fracking projects today, just as new figures showed Britain's shale gas regulator has only six staff dedicated to fracking full time.
They fear that the shale gas industry could be allowed to balloon without proper scrutiny and are especially concerned because, in only a fortnight, the regulator will be required to issue new fracking permits within two weeks, compared to the current 13-week wait.
David Cameron declared that his government is "going all out for shale" as he announced that councils will be allowed to keep all of the business rates raised from fracking sites in a deal that is expected to generate millions of pounds for local authorities. His announcement came as the French energy giant Total became the first of the world's major oil companies to buy into Britain's shale gas industry, acquiring a stake in a project in Lincolnshire.
Jane Thomas, of Friends of the Earth, said the payments "raised potentially serious concerns about conflicts of interest", if local councils are given a financial incentive to overlook the concerns of their residents by awarding planning permission for shale gas projects.
The change in business rates comes as Environment Agency – which regulates fracking as part of a much broader remit – prepares to cut about 15 per cent of its staff. An agency spokesman declined to comment on whether any of its fracking staff would be made redundant in the cuts.
In addition to the six staff working full-time at the Environment Agency's shale gas unit, the regulator can call in staff from other parts of the organisation such as technical specialists in groundwater, mining waste and radioactive substances when needed. As a result, the agency says about 46 of its staff are working on shale gas at any one time.
Natalie Bennett, the leader of the Green Party, said: "Those staff numbers seem very low – particularly when you consider that fracking is an entirely new industry to Britain and coming from the experience of the US where lax regulation has caused problems."
"It looks like the government is bribing local councils and it shows how desperate it is to get fracking accepted locally," Ms Bennett added.
Shale gas is released by pumping a mixture of sand, water and chemicals into the rock at high pressure.
Fracking is only just beginning in the UK, but is quite advanced in the US where it has been widely linked to water contamination and methane emissions – much of which has been blamed on weak regulations and shoddy workmanship.
Last year, the Prime Minister promised that fracking will only be allowed to proceed in the UK under strict regulations and close supervision, but opponents of the technique are growing increasingly fearful that the industry will escape the strict scrutiny he has promised.
"Rather than being rewarded for protecting the natural environment, councils are getting their bonuses for letting fracking take place," said Harry Huyton, the RSPB's head of energy policy.
"The Environment Agency is already dealing with severe budget cuts and increasing demands on its flood defence resources, raising concerns that they may not be able to properly manage the environmental impact of fracking," he added.
"This is a new industry and is going to cover much of the country and the Environment Agency are operating with tiny resources that are only going to shrink. I don't see how that is compatible with the promise of one of the most stringent regimes in the world," Mr Huyton said.
The agency is responsible for regulating the shale gas industry and for issuing fracking permits, where it considers issues such as its potential impact on nearby water supplies, disposing of the waste and how much of a strain the water-intensive activity might put on local resources. Local councils will tend to consider different criteria when granting planning permission, such as the impact on local wildlife, biodiversity and the landscape as well as disturbance to local communities.
A spokesman for the Environment Agency pointed out that the fracking industry is currently at the exploration stage – where companies seek to determine the presence of oil and gas before deciding whether to commence with full-scale production – and said that numbers would be kept under review as the industry develops.
Although meaningful shale gas production is not expected until the 2020s, campaigners argue that 2014 looks set to be the year when the industry really gets going. They say there is still a huge amount of work to do preparing regulations for a new industry and issuing fracking permits.
The government will make up to 40 per cent of Britain available to companies to explore for oil and gas in the summer when it puts oil and gas licences covering 100,000 square kilometres up for auction. This will add to the 19,000 square kilometres of licences that have already been issued.
The Energy Minister Michael Fallon said yesterday that up to 40 sites could be drilled in the next two years as companies look for oil and gas.
Businesses broadly welcomed the government's business-rate announcement yesterday. Nicola Walker, a CBI director, said: "This announcement is important for councils that want to make the most of shale gas investment and ensure the benefits are felt at local level. Shale gas has a vital role to play in diversifying our energy mix and the Government is right to make investment more attractive."
Video: Fracking 'dangerous'
Join our new commenting forum
Join thought-provoking conversations, follow other Independent readers and see their replies