Government 'greatly concerned' by palm oil production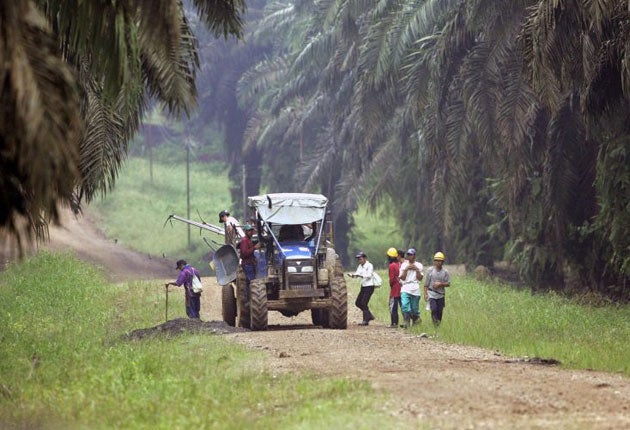 The Government has joined calls for Britain's best-selling household groceries to use sustainable palm oil.
The Environment Secretary Hilary Benn said the Government was "greatly concerned" by the impact of palm oil production in South-east Asia, where it causes extensive deforestation and threatens the survival of the orangutan and other rare animals.
Producers chop down forests in Sumatra and Borneo to plant high-yielding oil palms whose oil is poured into food, soaps and skin creams.
As the Independent disclosed earlier this month palm oil is in, or suspected to be in, 43 of the UK's 100 best-selling grocery brands, including Cadbury Dairy Milk, Mr Kipling cakes and Dove soap.
It is often labelled as "vegetable fat" or "vegetable oil," making it difficult for the public to exercise choice.
In his first intervention in the palm oil debate, Mr Benn told the Independent: "The UK Government is greatly concerned by the potential environmental impacts of unrestrained palm oil production, regardless of end use, and I want to see sustainability standards adopted to help halt damaging practices."
The Cabinet minister added: "I am pleased that some UK businesses have already made commitments to using only sustainably-sourced palm oil and would strongly encourage others to do the same."
His comments were welcomed by the World Wildlife Fund and will intensify pressure on food and household products firms to change their buying policies.
Last week WWF announced it would start scoring companies on whether they were matching their public commitments on sustainability with purchases of certified sustainable palm oil.
Almost four per cent of global palm oil production has been certified sustainable by the Roundtable on Sustainable Palm Oil (Rspo) on the grounds that they have not been sited on recent rainforest land, limit pesticide use and treat workers well.
However since the first Rspo-certified supplies arrived in Europe in November, businesses have bought only 1 per cent of the amount available, 15,000 out of the 1.3m tonnes available. Unilever, which set up the Rspo with WWF in 2002, and Sainsbury's are two companies which have bought the oil, which is about 15 per cent more expensive than normal supplies.
"This sluggish demand from palm oil buyers, such as supermarkets, food and cosmetic manufacturers, could undermine the success of sustainability efforts and threatens the remaining natural tropical forests of Southeast Asia as well as other forests where oil palm is set to expand, such as the Amazon," saidDavid McLaughlin, WWF vice president of agriculture.
Ginny Ng, WWF's senior program officer for Borneo and Sumatra, urged companies to act quickly. She warned: "The tropical forests of Borneo and Sumatra are being cleared at such a rapid pace that the carbon emissions from this deforestation are greater than the industrial emissions of some developed countries.
"The orangutans, elephants, tigers and rhinos on these islands don't stand a chance of survival if their forests aren't protected. Creating a demand for sustainably grown palm oil is essential to their survival."
WWF urged companies to make public commitments that they would use 100 per cent Rspo-certified palm oil by 2015.
Although most companies say they want to move to source palm oil sustainably, only a few have named a date when they will switch to an Rspo-only supply. Premier Foods says it will do so by 2011, United Biscuits by 2012, Sainsbury's by 2014, and Unilever, Northern Foods, Kraft and
Tesco all say they will do so by 2015.
Companies that have not set a date include Kellogg's, Cadbury, Heinz, Mars, Nestle, Procter & Gamble, Reckitt Benckiser, Morrisons, Co-operative Group, Marks & Spencer, and Waitrose.
The Food and Drink Federation, which represents food manufacturers, said its members were fully aware of the need for palm oil to be from more sustainable sources and its "leading members" were actively participating in the Rspo.
"We hope other companies will follow this lead," the FDF told the Independent.
"FDF fully supports the aims and the multi-stakeholder approach of the RSPO to bring more sustainable palm oil to the market. But the UK is only a small player in the complex global market for palm oil, importing approximately 1 per cent of the world's annual crop".
Join our commenting forum
Join thought-provoking conversations, follow other Independent readers and see their replies