Government plans to cut solar panel subsidies will cause 'irreparable damage' to community energy sector, experts warn
Ministers are planning to cut Feed-in Tariff subsidies by 87%
James Rush
Thursday 10 September 2015 19:19 Comments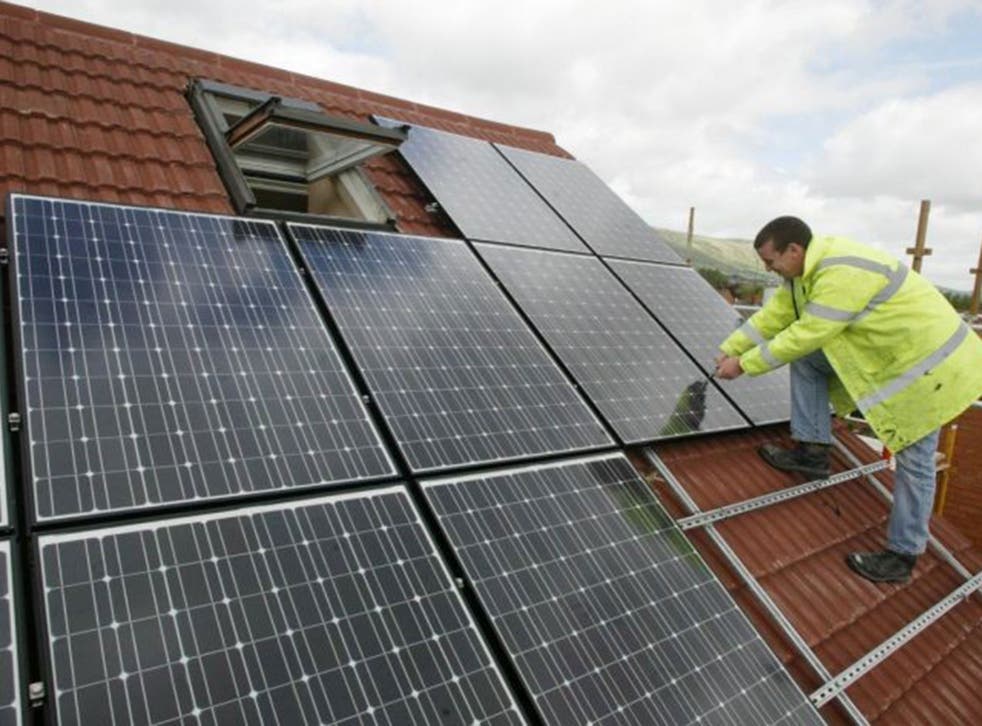 Government plans to cut subsidies for homes with solar panels will cause "irreparable damage" to Britain's community energy sector, sustainability experts have warned.
Proposals to reduce Feed-in Tariff subsidies by 87 per cent have been detailed in a Department of Energy and Climate Change consultation document, released last month.
Ministers are planning to reduce the tariff for small scale installations from 12.47p per kilowatt hour to 1.63p per kilowatt hour from January.
It has been reported that nearly one million schools, households and communities will no longer be able to install solar panels if the proposed changes go ahead.
The proposal is one of a series of reductions announced in August as the Government reduced support for a range of small-scale renewable energy technologies such as wind turbines and hydro power.
Sustainability organisations and businesses have now called for the government to provide a clear commitment to save the community energy sector in the UK, as a warning was issued about the impact of the cuts in FITs.
Solar panels around the world

Show all 11
Howard Johns, founder of the first community owned PV power station in the UK, said: "The Government's latest proposals to cut the Feed in Tariffs will as currently suggested do irreparable damage to Britain's rapidly expanding renewable energy industry.
"In particular, many groups of hard working people striving with their neighbours and friends to develop and build local renewable energy systems will be stopped in their tracks at the eleventh hour by these careless proposals."
The Feed-in Tariffs scheme was introduced in 2010 as part of a range of initiatives to encourage renewable energy across the UK.
The warning comes as 650 delegates from 72 countries attended the International Permaculture Conference in London this week.
Emma Bridge, CEO of Community Energy England, said: "If the Government's community energy strategy launched in January 2014 is to be worth the paper it is written on, then the Government must retain workable incentives that support the community energy sector."
Adrian Ramsay, CEO of The Centre for Alternative Technology, said: "We know that it is technically possible by 2030 for the UK to create a prosperous economy that generates zero carbon emissions by putting a major focus on energy efficiency measures and by using 100% renewable energy. It is paramount in this year of key climate negotiations that the UK government shows initiative and leadership to deliver this crucial objective."
A DECC spokesperson told The Independent: "We're taking urgent action to address the projected overspend on subsidies for renewables and protect bill payers.
"Government support has driven down the cost of renewable energy significantly. As costs continue to fall and we move towards sustainable electricity investment, it becomes easier for parts of the renewables industry to survive without subsidies. We do not consider it appropriate to enable projects to lock into tariffs which, on the evidence of the Feed-In Tariff Review, offer poor value for money paid for via our energy bills."
Register for free to continue reading
Registration is a free and easy way to support our truly independent journalism
By registering, you will also enjoy limited access to Premium articles, exclusive newsletters, commenting, and virtual events with our leading journalists
Already have an account? sign in
Join our new commenting forum
Join thought-provoking conversations, follow other Independent readers and see their replies