Grouse shooting estate owners handed 'at least £10m' of EU taxpayer money last year
'It makes no sense to direct public subsidies to estates that are systematically damaging the country's biggest carbon sink'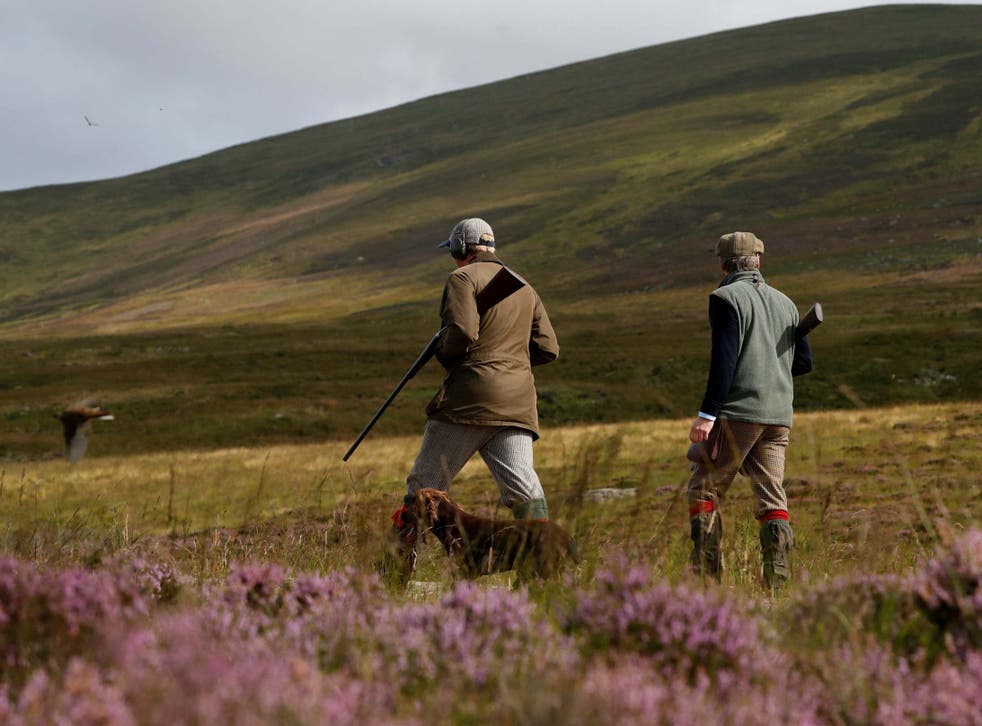 The owners of grouse-shooting estates were handed more than £10m of taxpayers' money last year, an investigation has found.
As the grouse shooting season opened, figures showed 61 estates in England, covering nearly 400,000 acres, received £10,983,718 in subsidies.
The payments – an average of more than £180,000 for each estate – raise questions for Theresa Villiers, the new environment secretary, on "why wealthy landowners should be handed so much public money to prop up an ecologically damaging bloodsport", according to the campaigner who uncovered the statistics.
Guy Shrubsole, of Friends of the Earth, said the landowners involved were aristocrats, City bankers and businessmen, and the full extent of their handouts was likely to have been even higher than the figures available suggested.
Grouse moor estates are increasingly drawing criticism for their effect on native wildlife and climate change, with many calling for shoots to be banned. Mr Shrubsole labelled estates "environmental disaster zones".
Spencer Murphy's portraits of birds of prey

Show all 6
Hen harriers, buzzards, peregrines, red kites and goshawks are all killed on grouse moors as gamekeepers try to eliminate birds of prey that might catch the grouse, leaving more for commercial shooting.
The hen harrier has been reduced to a handful of breeding pairs in England.
And the practice of burning moorland contributes to climate change because burning releases the greenhouse gases stored in the peat, scientists say.
An estimated 700,000 grouse are shot in the UK each year, and the League Against Cruel Sports describes it as a "massacre".
"With parliament declaring a climate emergency and the government signed up to a goal of net zero emissions, it makes no sense to be directing public subsidies to estates that are systematically damaging the country's biggest carbon sink," Mr Shrubsole wrote.
Labour has demanded an immediate review of grouse shooting, and has claimed alternatives such as simulated shooting and wildlife tourism could replace it.
Hundreds of people turned out for Hen Harrier Day on Sunday to campaign against the "persecution" of the bird.
Ms Villiers' predecessor, Michael Gove, had pledged to reform farm subsidies to give landowners incentives to do environmentally friendly work.
The estate payments, discovered in official government figures, came from the EU's Common Agricultural Policy combined with a database of grouse moors.
Shooting estate owners say their "environmental stewardship" of the land benefits all types of ground-nesting birds and conserves heather-rich moorland.
England has about 150 estates and Scotland many more, but mapping their boundaries, tracking down their owners, and linking them to subsidy data is difficult, so the full tally could well be more than the £10.9m calculated, said Mr Shrubsole.
"It's time to stop handing taxpayers' money to wealthy grouse moor owners, whose damaging estate practices are destroying the country's largest carbon store. The government must reform farm subsidies, ban moorland burning and end the Victorian sport of driven grouse shooting," he wrote.
A spokesperson for the Department for Environment, Food and Rural Affairs said: "Shooting activities bring many benefits to the rural economy and the environment, in particular for wildlife and habitat conservation.
"We know many people have strongly held views on grouse shooting.
"We continue to support shooting, recognising it is vital that wildlife and habitats are respected and protected and we ensure a sustainable, mutually beneficial relationship between shooting and conservation."
Support free-thinking journalism and attend Independent events
Register for free to continue reading
Registration is a free and easy way to support our truly independent journalism
By registering, you will also enjoy limited access to Premium articles, exclusive newsletters, commenting, and virtual events with our leading journalists
Already have an account? sign in
Register for free to continue reading
Registration is a free and easy way to support our truly independent journalism
By registering, you will also enjoy limited access to Premium articles, exclusive newsletters, commenting, and virtual events with our leading journalists
Already have an account? sign in
Join our new commenting forum
Join thought-provoking conversations, follow other Independent readers and see their replies