Heathrow expansion: Major blow for plans after court rules incoming government must make cutting air pollution top priority
The verdict could also lead to tight controls on diesel vehicles in Britain's largest cities
Tom Bawden
Wednesday 29 April 2015 21:25 Comments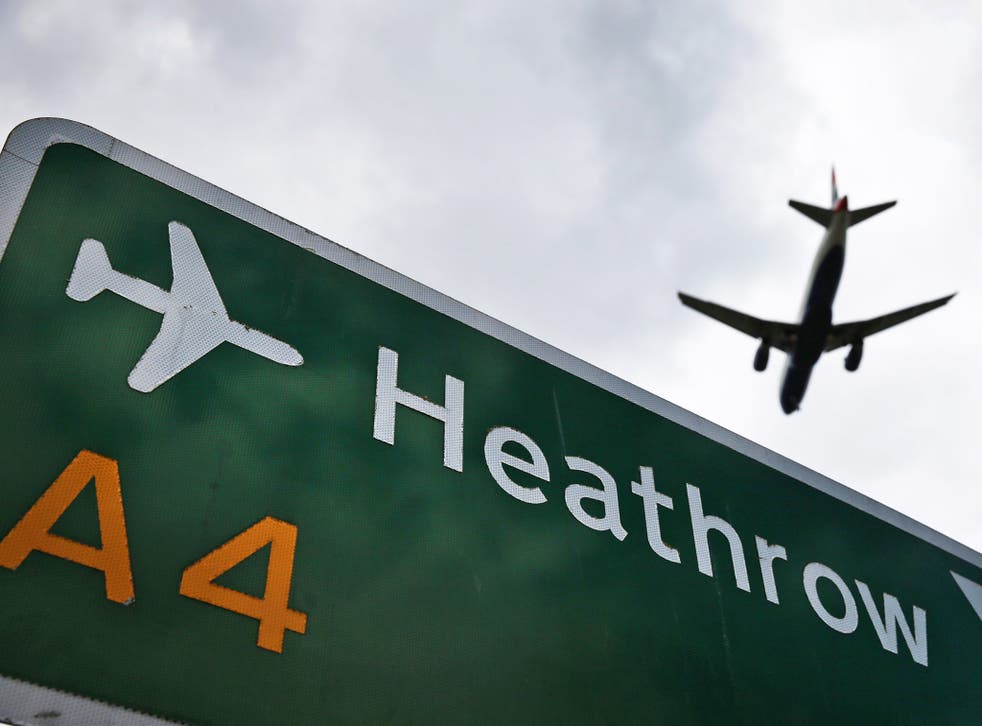 Heathrow Airport's expansion plans were dealt a significant blow after the UK's Supreme Court ruled that the new government must make cutting air pollution one of its top priorities.
In a verdict that could also lead to tight controls on diesel vehicles in Britain's largest cities, the court said the government must table a concrete plan to tackle unacceptably high levels of emissions by the end of the year.
Most of the air pollution comes from nitrogen dioxide, a byproduct of the diesel vehicles that make up about a third of the country's fleet, encouraged by low tax rates introduced in 2001 when they were thought to be more environmentally friendly than carbon-dioxide-emitting petrol cars. The fumes can cause breathing difficulties, in particular for people with asthma.
Richard Gane, a transport expert with the Vendigital consultancy, said the ruling "would add weight to the growing environmental lobby against diesel-engine vehicles and potentially could lead to them being phased out".
The UK has consistently breached EU pollution limits that came into force five years ago and, in a long-running case brought by the non-governmental organisation ClientEarth that ended yesterday, failed to satisfy the courts it was taking the matter seriously enough.
Campaigners warned that the ruling could put a stop to Heathrow's expansion bid, given that the airport is already breaching pollution limits as fumes from planes combine with pollution from traffic on the M4 and M25 motorways.
"It is difficult to see how any government will get away with backing a new runway at Heathrow when the plans it is now required to draw up urgently to present to the EU say it must come up with a coherent plan to cut air pollution," said John Stewart, chairman of the Hacan residents group, which campaigns against a new runway being built at Heathrow.
The Airports Commission is due to make its recommendation this summer on whether to build a third runway at Heathrow, a second runway at Gatwick, or whether to extend an existing runway at Heathrow.
"This may be a showstopper for Heathrow expansion," said Gatwick's chief executive Stewart Wingate. "Heathrow currently breaches legal air quality limits and [a new runway] will obviously make things worse.
"Gatwick has never breached air quality limits and has guaranteed that it never will," he added.
Building a third runway at Heathrow would increase the number of flights from 480,000 to 740,000.
A spokesman for Heathrow said: "The airport is a small but material contributor to air pollution levels in the area. By far the greatest contribution arises from non-airport traffic and background levels of air pollution."
All but two of the 11 continuous monitors at Heathrow Airport met EU limits, the spokesman said, while the airport reduced nitrogen dioxide emissions by 16 per cent between 2009 and 2013 and plans to cut them another 5 per cent by 2020.
The panel of five judges unanimously ordered that "the government must prepare and consult on new air quality plans for submission to the European Commission no later than 31 December 2015."
The government played down the ruling."Air quality has improved significantly in recent years and, as this judgement recognises, work is already underway on revised plans to meet EU targets," a spokesman said.
Register for free to continue reading
Registration is a free and easy way to support our truly independent journalism
By registering, you will also enjoy limited access to Premium articles, exclusive newsletters, commenting, and virtual events with our leading journalists
Already have an account? sign in
Join our new commenting forum
Join thought-provoking conversations, follow other Independent readers and see their replies