analysis
Are we prepared for 50C heat in Europe?
A Met Office scientist warns that parts of Europe could see 50C heat in the future. Daisy Dunne explores whether countries are prepared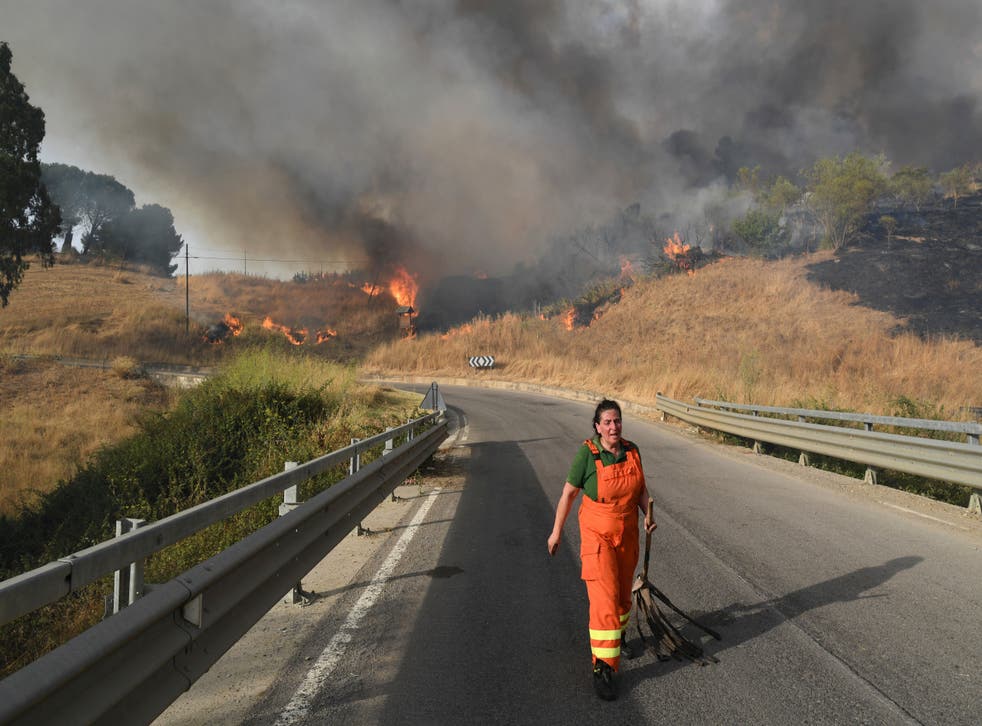 Europe may have just experienced its highest temperature on record. Regional authorities on the Italian island of Sicily recorded temperatures of 48.8C on Wednesday. If verified by the World Meteorological Organization (WMO), this would break the previous record of 48C set by Athens in 1977.
The potential record is the latest unprecedented event in a summer of extremes across the northern hemisphere. In the last few months, parts of North America, Europe and the Middle East have experienced record-smashing heat – fanning the flames of extreme wildfires, while countries including Germany, India and China have faced deadly floods.
It comes just days after a landmark UN climate report concluded that humans are the "main driver" of increasing episodes of extreme heat across the world and that such events will continue to become more likely and more intense.
Research by the Met Office has also found that the risk of 40C heat is rapidly increasing in the UK, which experienced its highest temperature on record – 38.7C – during an intense heatwave in 2019.
And on Thursday, Prof Peter Stott, one of the study authors and a leading expert in extreme weather at the Met Office, warned that parts of Europe should prepare for the possibility of 50C heat as the climate crisis worsens.
"We can't say exactly when it is likely to happen, but Europe will need to prepare for the eventuality of further records being broken with temperatures above 50C being possible in Europe in future, most likely close to the Mediterranean where the influence of hot air from North Africa is strongest," he said.
Despite repeated warnings from scientists, many European countries like Italy and the UK are not doing enough to prepare for rapidly rising heat extremes, says Prof Dann Mitchell, Met Office joint chair in climate hazards at the University of Bristol.
"With heatwaves, there are two timescales to prepare on," he tells The Independent.
"There's the forecast timescales to prepare on – where, if you forecast that a heatwave is occurring a week ahead of time, you can alert the hospitals and road services to let them know that they will see higher numbers.
"The other timescale is more long-term. For example, when we build new houses, we expect them to last at least for decades and so we can build them to be more resilient to heat."
The UK is succeeding in preparing for heat in the short term, says Prof Mitchell. The Met Office is responsible for the UK's heat alert system. Last month, it issued its first-ever extreme heat warning as parts of England faced temperatures of more than 30C.
However, the UK is falling behind when it comes to making preparations for the longer term, he says.
A recent assessment from the government's own climate advisers warned that the UK is less prepared for the climate crisis than it was five years ago as a result of inaction in the face of rising risks.
The report, from the UK's Climate Change Committee, said that, in the last five years, the country has built more than 570,000 new homes that are unequipped to deal with increasing extreme heat.
"In the UK, we are not building heat-resilient homes," says Prof Mitchell.
"It's very hard to adapt in these older cities in Italy and the UK because we don't have space to put new buildings in.
"We generally build upwards, for example, by building loft conversions. But, of course, heat rises in buildings and so we're building rooms that will be hotter than the ones downstairs."
To better prepare for increasing heat, the UK will need to "bite the bullet" when it comes to installing air conditioning, Prof Mitchell says.
"Air conditioning is now something we're going to need to plan for, especially in hospitals where there are very vulnerable patients – particularly the elderly," he says.
Other groups known to be particularly vulnerable to heat stress include prisoners and psychiatric patients, he adds. Though the science is not yet settled, emerging evidence suggests there could be a link between heatwaves and poor mental health.
Further strategies that could help urban populations deal with increasing heat include introducing more green spaces, such as green roofs, and painting buildings bright white – which helps to reflect away sunlight.
"I think we'll increasingly see these sorts of strategies in the UK," says Prof Mitchell. "There's enough empirical analysis out there and more theoretical studies which show that painting roofs white to make them more reflective can reduce heat a lot."
Join our new commenting forum
Join thought-provoking conversations, follow other Independent readers and see their replies