Hen harrier population crashes in UK as illegal killing takes its toll
Numbers of the bird of prey have fallen by more than a quarter in 12 years
Ian Johnston
Environment Correspondent
Wednesday 28 June 2017 00:16 Comments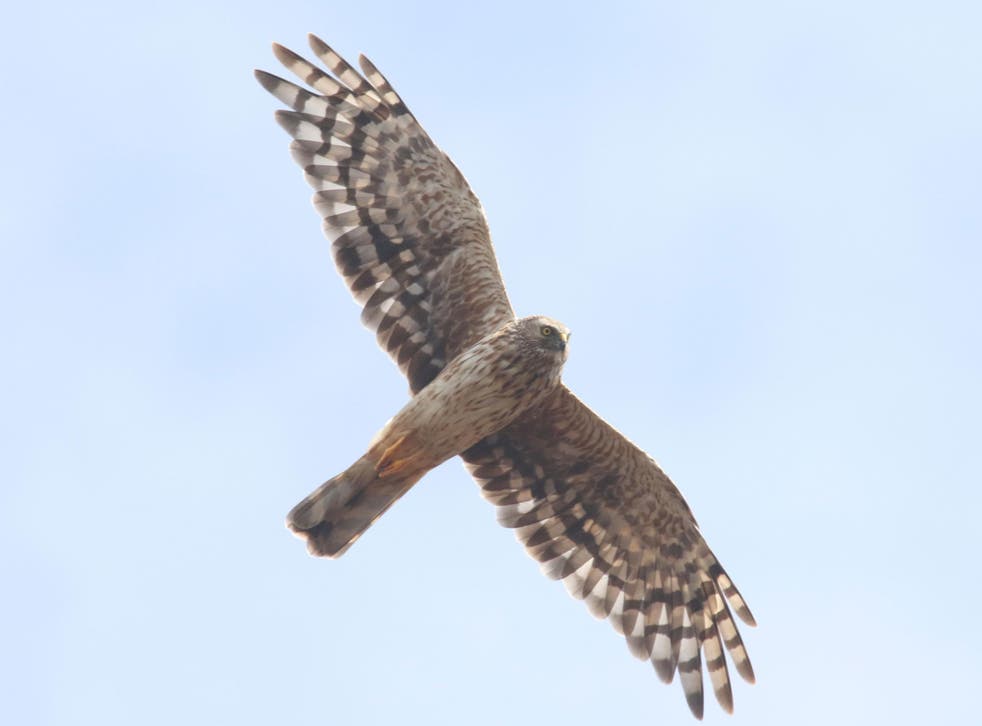 Illegal killing of hen harriers has helped cause the population of this "most wonderful" bird of prey to crash by more than a quarter in just 12 years, conservationists have warned.
A survey by the Royal Society for the Protection of Birds and other groups found the bird remained on the brink of extinction in England with just four known pairs last year, compared to 12 in 2010.
Scotland remained its main stronghold in the UK with 460 pairs, after a fall of 45 pairs over the previous six years.
In Wales, there were just 35 pairs – the lowest figure in a decade – while Northern Ireland had 46 pairs, compared to the 2010 population of 59.
Across the UK numbers have declined by nearly 14 per cent to 545 pairs since the last nationwide survey in 2010, where there were 633 pairs, and 27 per cent since 2004, when there were 749.
Martin Harper, the charity's conservation director, said: "The hen harrier is one of our most wonderful birds of prey.
"To see one soaring through the air before dramatically diving down during its thrilling skydancing display is an iconic sight and one that will always take your breath way.
"These are sights that we should all be able to enjoy. Unfortunately, we are being robbed of the chance to see these beautiful birds flourish throughout the UK countryside."
Animals in decline

Show all 8
The RSPB said previous research had shown the main reason why the hen harrier population was falling was illegal killing associated with grouse moors in northern England and parts of Scotland.
However it said other factors such as cold and wet weather over several breeding seasons, habitat changes and low numbers of their prey had also affected their numbers.
But Mr Harper stressed: "The illegal killing of this bird of prey is a significant factor behind the diminishing numbers and a large barrier stopping their recovery.
"Without purposeful action from all, including governments across the UK and the shooting industry, we may see hen harriers once again lost from more parts of the country."
The survey was funded by the RSPB, Scottish Natural Heritage and Natural Resource Wales with a number of other groups involved in the work, including Natural England.
Eileen Stuart, Scottish Natural Heritage's head of policy and advice, said: "While Scotland remains the stronghold for hen harriers in the UK, the continuing decline is a serious concern particularly the low numbers found in parts of the mainland."
Latest hen harrier survey reveals UK population in 2016 of 545 territorial pairs, a drop of 88 pairs since the last national survey in 2010.
Hen harriers were once widespread in Britain but became extinct from the mainland during the 19th century.
But populations that survived in Orkney and the Hebrides began to recolonize the area after World War II, helped by legislation protecting wildlife and "a reduction in game-keeping activity", according to the British Trust for Ornithology.
Register for free to continue reading
Registration is a free and easy way to support our truly independent journalism
By registering, you will also enjoy limited access to Premium articles, exclusive newsletters, commenting, and virtual events with our leading journalists
Already have an account? sign in
Join our new commenting forum
Join thought-provoking conversations, follow other Independent readers and see their replies