More than 150 countries reach 'monumental' deal to phase out powerful greenhouse gases
Campaigners say the new agreement is 'equal to stopping the entire world's fossil fuel CO2 emissions for more than two years'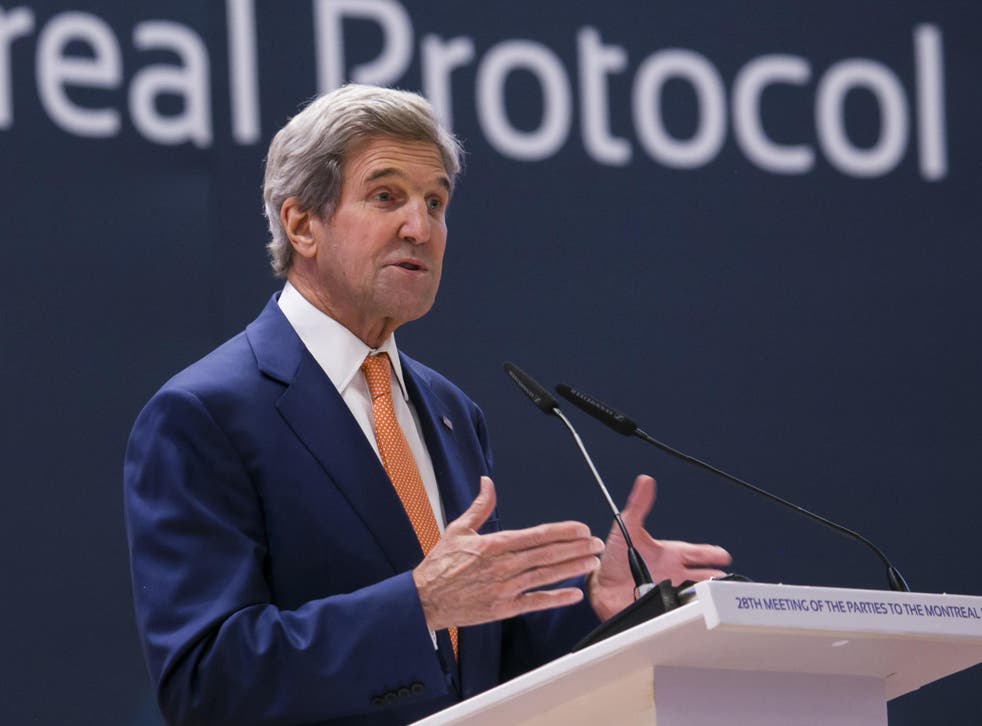 A deal has been reached by more than 150 countries to limit the use of harmful greenhouse gases in what the UN called the largest breakthrough since the Paris climate change agreement.
Delegates met in Rwanda for talks on hydrofluorocarbons, or HFCs – gases used in air conditioners and refrigerators that are far more potent than carbon dioxide.
The new agreement is "equal to stopping the entire world's fossil fuel CO2 emissions for more than two years", said David Doniger, a director at the Natural Resources Defence Council, an environmental advocacy group based in the United States.
The deal to cap and reduce the use of HFCs – described as the world's fastest-growing climate pollutant – was announced on Saturday morning following a night of negotiations.
A gradual process beginning in 2019 has been agreed with action by developed countries including the United States, the world's second worst carbon dioxide emitter after China.
John Kerry, US Secretary of State, who took part in meetings in the capital city Kigali, said the deal was a "monumental step forward."
More than 100 developing countries, including China, will start taking action by 2024.
A small group of countries including India, Pakistan and some Gulf states, pushed for and secured an even later start in 2028, saying their economies need more time to grow.
Environmental groups had hoped that the deal could reduce global warming by half a degree Celsius before the end of this century.
This agreement gets about 90 per cent of the way there, said Durwood Zaelke, president of the Institute for Governance and Sustainable Development.
Mr Zaelke's US based campaign group said this is the "largest temperature reduction ever achieved by a single agreement".
"History is made. Montreal Protocol countries agree to curb powerful greenhouse gases in largest climate breakthrough since Paris," tweeted the UN Environment Programme.
Unlike the 2015 Paris agreement, the Kigali deal, agreed by 197 countries, is legally binding, has very specific timetables and has an agreement by rich countries to help poor countries adapt their technology.
HFCs are less abundant than carbon dioxide, but Mr Kerry said last month that they currently emit as much pollution as 300 coal-fired power plants each year.
That amount will rise significantly over the coming decades as sales of air conditioner and refrigerator sales soar in emerging economies like China and India.
The deal amends the Montreal Protocol on Substances that Deplete the Ozone Layer, an international treaty agreed in 1987.
"Compromises had to be made, but 85 per cent of developing countries have committed to the early schedule starting 2024, which is a very significant achievement," said Clare Perry, UK climate campaign leader with the Environmental Investigation Agency.
HFCs, also found in inhalers and insulating foams, were introduced in the 1980s as a substitute for ozone-depleting gases.
They do not harm the ozone layer like chlorofluorocarbons and similar gases which were eliminated under the Montreal Protocol.
Mike Childs, head of policy at Friends of the Earth, said while he welcomed the deal, it was important to recognise that HFCs are a small problem compared to carbon dioxide emissions.
"This is a very welcome step forward, and another important sign that the international community is at last getting serious on climate change," he said.
Paris climate talks in pictures

Show all 12
"However HFCs are only a small part of the climate change problem. Carbon dioxide, particularly from burning fossil fuels, is a much bigger threat."
Mr Childs said governments including the UK should invest in renewable energy and limit damage to the environment caused by airport expansion and fracking.
"Ministers mustn't undermine the agreement to phase out HFCs by pushing new sources of climate-wrecking carbon pollution," he said.
Environment Secretary Andrea Leadsom said: "The UK has already pledged to phase down use of HFCs by 80 per cent by 2030 and today's historic agreement means the rest of the world will be following our lead, after UK negotiators worked through the night at UN talks in Rwanda to achieve the deal.
"The deal will avoid 0.5C of global warming by the end of this century. That makes it possibly the biggest single step the world will take to meet the goal of the Paris climate deal to limit temperature increases to well below 2C."
Join our new commenting forum
Join thought-provoking conversations, follow other Independent readers and see their replies