Hong Kong's carbon footprint second highest in world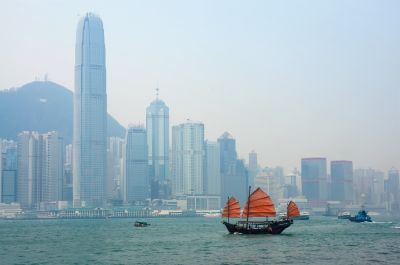 Hong Kong has the second highest carbon footprint per capita in the world, due to the city's high consumption patterns and large volume of imports, according to a survey released in Norway.
The study, conducted by a group of Norway-based scientists, compared the greenhouse emissions of 73 economies and found Hong Kong with a per capita footprint of 29 tonnes per year, second only to Luxembourg's 33 tonnes.
The results prompted calls for Hong Kong, a city of seven million, to strengthen measures to cut its greenhouse gas emissions.
Titled "Carbon Footprint of Nations: A Global, Trade-linked Analysis", the research paper was published in the Environmental Sciences and Technology Journal in June. But the results did not come to the public's attention until they were reported by the daily South China Morning Post on Monday.
Using global data from 2001, the study put Hong Kong's carbon footprint among the highest, larger than the United States' 28.6 tonnes, Singapore's 24.1 tonnes and United Kingdom's 15.4.
Most of the environmental impact comes from the manufacturing and transportation of imported goods, with only 17 per cent of emissions from domestic activities.
The figure is significantly higher than one released by the Hong Kong Environmental Protection Department - 6.7 tonnes per capita - which took into account local emissions, such as from transport and power generation, but excludes emissions from the production of imported goods.
A spokeswoman for the Environmental Protection Department declined to comment on the statistics but said the government abides by international guidelines on greenhouse gas emissions.
Bill Barron, a professor from the Hong Kong University of Science and Technology's Institute for the Environment, said the government needs to tackle the problem.
"Hong Kong is an economy that is extremely dependant on trade. Therefore the city is tied to the ecological footprints that these imports make," Barron said.
He added that the government is avoiding its responsibility to reduce greenhouse emissions.
Pollution has become an increasing health and economic problem for the financial hub in recent years.
Emissions from the southern Chinese factory belt over Hong Kong's northern border have combined with local emissions from power generators and transport to park a thick haze over the city for most of the year.
Join our commenting forum
Join thought-provoking conversations, follow other Independent readers and see their replies