Indonesian Forest Fires: Orangutan mother saves baby then is attacked by villagers until rescuers arrive
Forest fires are currently sweeping across Indonesia, threatening much of the Orangutan population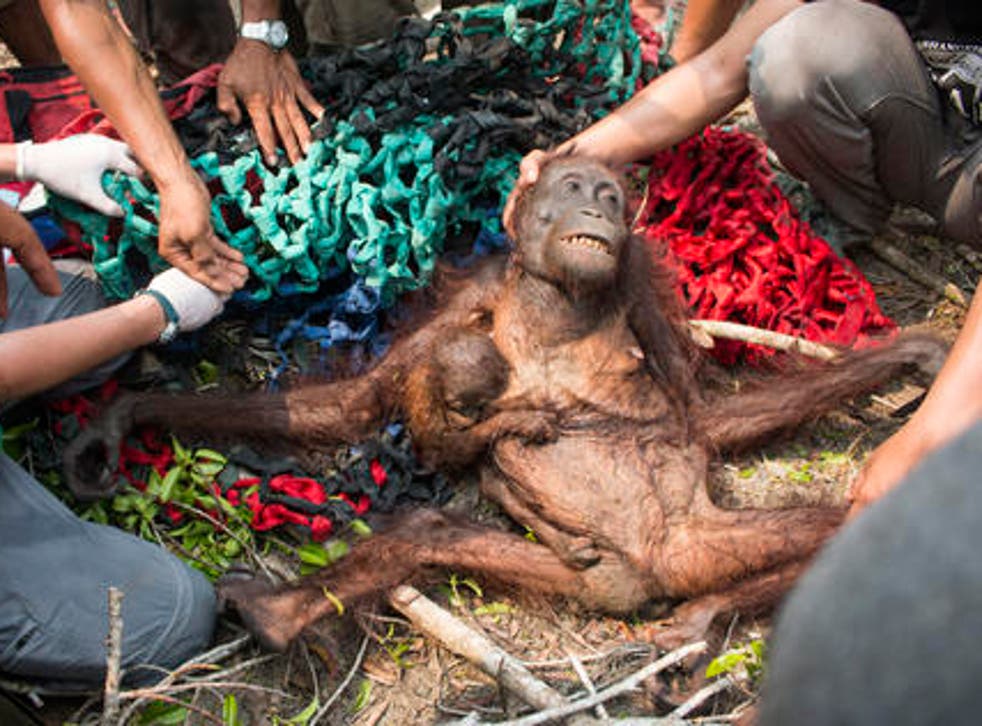 An orangutan and her baby have been rescued after they were reportedly attacked by villagers in Borneo.
The apes ended up in the village after the mother saved her baby from forest fires that are currently ravaging Indonesia.
Forest fires have swept across the country over the past two months. The deliberately started fires are normally used to clear land for agriculture, but have this year spread into the country's rainforests and national parks.
The mother and baby were reported by a local villager after escaping there when their rainforest in the Indonesian city of Ketapang, in Borneo, became engulfed in flames.
According to International Animal Rescue, who came to the aid of the orangutans, villagers had thrown things at the mother before attempting to tie her up.
The rescue team anaesthetised the particularly thin mother while her baby clung to her throughout the ordeal.
Villiagers surrounded the rescuers as they removed rope from the animal's wrist and treated her minor wounds. They reportedly told villagers, some of whom were frightened, to call the service should they encounter another orangutan in future.
Orangutans have increasingly been forced to enter populated areas of Borneo in search of food due to their shrinking habitat and are seen by some villagers as pests.
The pair were taken to a conservation area where they were monitored, before being released back into the wild.
It was recently revealed that a third of the world's wild orangutans are at risk from the Indonesian forest fires.
Kamele Llano Sanchez, the programme director for IAR Indonesia said: "Orangutans and other animals are being burnt alive, left without food and starving to death, or being pushed out of their habitat into plantations and villages where they are at risk of being killed."
"We don't know how many orangutans we have lost in this crisis but we know that this is going to be devastating for our orangutan populations in the wild and could mean that [they] will soon be closer to extinction."
The animals vs The people

Show all 8
"This is a global environmental crisis and it is already considered by experts as the worst man-made ecological disaster of the century which will affect the lives of people the world over. I fear that in terms of the orangutans, the worst is yet to come. And if serious action isn't taken soon to stop the fires, it will simply be too late."
Register for free to continue reading
Registration is a free and easy way to support our truly independent journalism
By registering, you will also enjoy limited access to Premium articles, exclusive newsletters, commenting, and virtual events with our leading journalists
Already have an account? sign in
Register for free to continue reading
Registration is a free and easy way to support our truly independent journalism
By registering, you will also enjoy limited access to Premium articles, exclusive newsletters, commenting, and virtual events with our leading journalists
Already have an account? sign in
Join our new commenting forum
Join thought-provoking conversations, follow other Independent readers and see their replies