Ingrid Newkirk: 'It's bizarre to kill animals for a sandwich'
Twenty years on, the founder of animal rights group Peta is still fighting. But about that racoon... Simon Usborne meets Ingrid Newkirk
Simon Usborne
Sunday 17 November 2013 01:00 Comments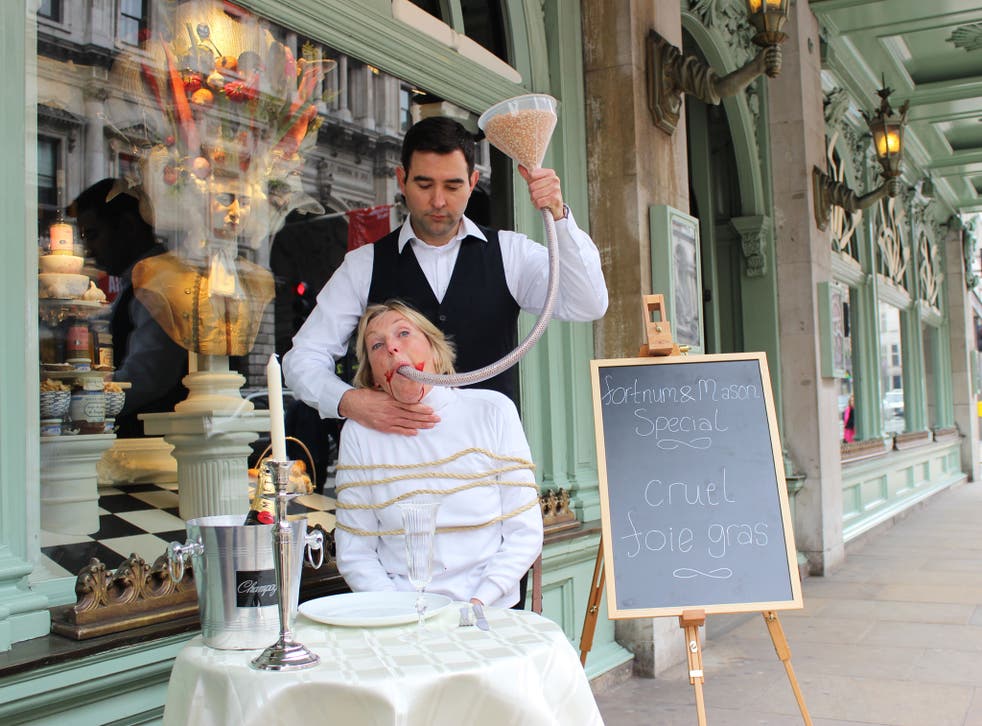 The last time Ingrid Newkirk was in London she posed naked while hanging from a meat hook between pig carcasses. She then sat at a dinner table outside the Fortnum & Mason food store with a foie gras feeding funnel rammed into her bloodied mouth. It was classic Peta, the stunt-loving animal rights group she founded 33 years ago, and whose 20th year in the UK she will celebrate tonight at a vegan bash in London.
"I rather liked the fact my flesh was the same colour as the pig's," a clothed Newkirk, 64, says at the People for the Ethical Treatment of Animals office near King's Cross. The magazine that commissioned the photo in March had asked her to pose naked on her desk. "I said, that makes no sense, I'll hang on a hook to make a point about how bizarre it is to kill animals for a sandwich. This is not a lark, it's deadly serious."
But Newkirk has a problem, and she's angry. People keep saying bad things about her, and, she says, missing her point. A copy of the pig-shoot magazine lies in her office as a five-page letter of complaint makes its way to the editor. It is among several recent articles that have catalogued negative claims about Peta and its tactics.
In summary, Peta is accused of: killing hundreds of animals at its US shelter (the only humane thing to do, Newkirk says); making light of the Holocaust and cancer with provocative adverts (all taken out of context or misunderstood); of being anti-feminist by using sexualised female nudity ("oh, puh-lease!"); and of cheapening its message and alienating would-be supporters with its stunts.
What did Newkirk hope to gain, for example, by dumping a dead raccoon on Vogue editor Anna Wintour's dinner plate? "I never even did that! I mean, I would be happy to do it, but it wasn't me. I took over her office and answered her phone. I said, 'We're closed today due to animal cruelty,' while she locked herself in one of the rooms. That's a more interesting – and true – story. But racoon? No!"
Last year, it was not a journalist but an employee who turned on her. On his last day after six years at the London office, a man accused Peta of being "bat-shit crazy" and "funnelling money into useless demonstrations", in an anonymous chat on the Reddit website. The man, a photographer called Matt Goldsmith, responds briefly by email: "Peta has more disgruntled former employees than Lehman Brothers."
Newkirk is jetlagged, having just returned from India, where she and her vets visited projects concerned with abused horses and bullocks. But by now she's wide awake – and cross. "It's funny that people latch on to things like this when there is so much good going on, so much effort and strategy and agonising and trying to get things right. Then some silly boy or journalist says something and that's it."
Later, Peta UK's media officer, Ben, emails a list of recent achievements: "Foie gras taken off the menu in the House of Lords after complaints from Peta; Andy Murray rules foie gras 'out' at his hotel after talking with Peta; Liam Gallagher's Pretty Green fashion label swears off fur after talks with Peta …" He adds later in one of several emails: "We do hope this is not just yet another failure to present Peta's large platform on the issues and victories that matter."
Why does Newkirk think she's fighting an animal rights war with one arm, and a PR war with the other? "Because people will always say, I don't want to think about what I'm doing, go away," she says. "I don't want to listen to what you're saying because it will inconvenience me. Well, people need to be inconvenienced when they're hurting others."
Newkirk, who was born in Surrey but has spent her adult life in the United States, says the alienation of potential supporters is worthwhile: "There are far more conservative groups behind us they can support, but if someone doesn't grab people's attention and prompt a discussion first, the issue's dead. It's always social activism that pushes an issue."
She rejects the suggestion Peta has lost relevance since its heyday in the 90s, when Naomi Campbell and Cindy Crawford stripped for the "we'd rather go naked than wear fur" campaign. Campbell later wore fur ("When I got the message she'd done it for the third time I said, just fire her," Newkirk recalls) but Peta still uses celebrities, or what Ben calls the supermodels of today - mostly reality TV stars.
Inside Peta's office kitchen (soya milk only) Meg Mathews is slicing up a melon as an afternoon snack. To her regret, she is still known only as Noel Gallagher's ex-wife, but she now also works part-time as Peta's celebrity liaison officer. "Many young girls still don't understand where a fur coat or foie gras comes from but they'll listen to people off The Only Way is Essex or whatever. The power of celebrity still works," she says
"Our reach is extraordinary," Newkirk, who still works with heavyweights including Paul McCartney and Jude Law, adds. "We have more kids than any other social cause group. Our work might not always be as obvious but it's so much bigger."
Newkirk says Peta has lead significant progress in the 20 years since she brought the group here from the US, where she founded it in 1980. As a young woman, she ate meat and wore fur. "How I wish there were activists then," she says. "I didn't have a clue. Nobody used to think about things like circus animals or fur or cosmetics testing. It takes effort for an idea to permeate culture and success is that it has."
Yet the British Fur Trade Association reports that the value of UK fur sales has more than doubled in the past five years. Last month, the fashion director of Harvey Nichols resigned when Peta protested after the store allowed fur back on to its rails. As Newkirk speaks, Ben interjects with news that plans for a beagle farm for dogs used in experiments have been rejected.
"We'll never have fully succeeded in the way you won't get world peace," Newkirk says. "Those campaigners must be mightily frustrated too."
As the Fortnum's stunt shows, the activist in Newkirk never tires. She still stops women on the street who are wearing fur (but says it's rare now) and walks out of the cinema when she sees animal exploitation in film. At 64 and after a life of campaigning, is she not exhausted?
"It's tiring to have to answer questions about things that lack substance," she says. "It's tiring to have criticism thrown at you constantly, to have hate mail and hatred. There is a lot going on that's tiring but it's not defeating, it's not exhausting. I'd gladly retire today if people stopped making rotten choices that result in real pain, fear and death. It doesn't need to happen."
Peta UK has made a video to make its 20th anniversary. Click HERE to view
Curriculum vitae
1949 Born in Surrey. Her mother is a charity worker, her father an engineer.
1956 Moves to India where she is educated at a convent school.
1967 Moves to America.
1968 Owns her first fur coat.
1972 Volunteers at an animal shelter.
1980 Founds Peta with Alex Pacheco.
1981 Peta's Silver Springs investigation results in first ever conviction of a scientist on animal cruelty charges
1994 Persuades Naomi Campbell and Christy Turlington to pose for the "We'd rather go naked than wear fur" campaign.
2001 Says foot and mouth disease in US "would be good for animals".
2003 Asks Yasser Arafat not to kill any animals in future attacks on Israel.
2006 Is arrested in Paris after dousing a fashion show with red paint.
2008 Is arrested in India for blindfolding a statue of Gandhi.
2011 Sues Seaworld, on behalf of four orca whales, for "enslavement".
Zoah Hedges-Stocks
Register for free to continue reading
Registration is a free and easy way to support our truly independent journalism
By registering, you will also enjoy limited access to Premium articles, exclusive newsletters, commenting, and virtual events with our leading journalists
Already have an account? sign in
Join our new commenting forum
Join thought-provoking conversations, follow other Independent readers and see their replies