Pesticides linked to 'large-scale population extinctions' of wild bees
Insects play a key role in pollination of crops but many species are believed to be in trouble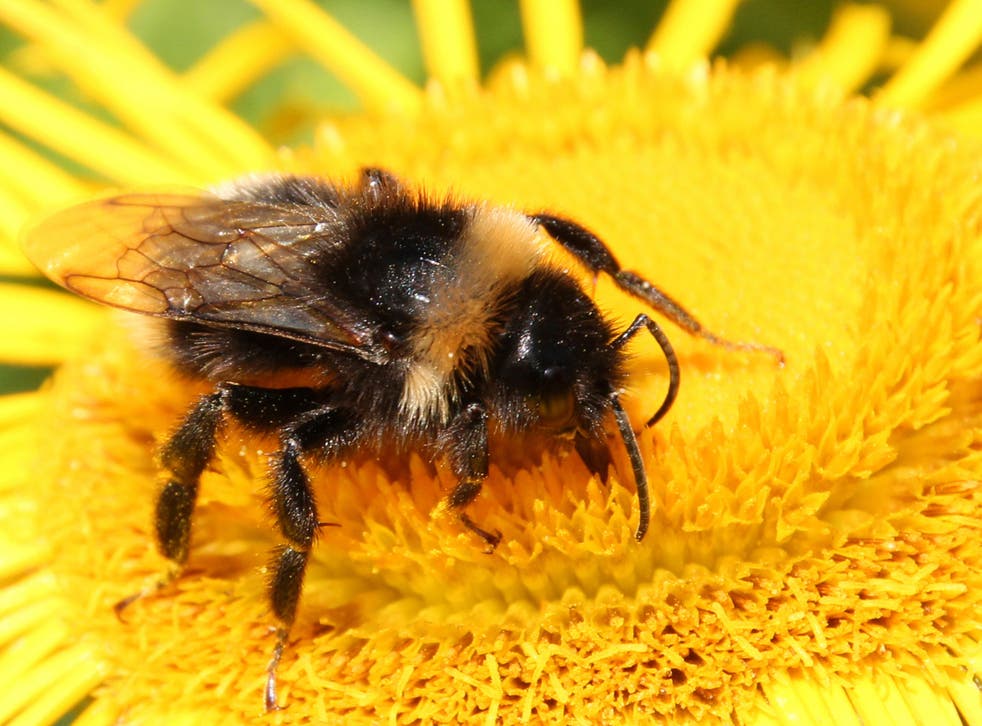 A major 18-year study has found evidence linking controversial "neonicotinoid" pesticides with "large-scale population extinctions" of wild bees for the first time.
The insecticides have been shown to have "sub-lethal" effects on bees, which are vital pollinators for many crops, in laboratory-style conditions and small-scale studies.
But their actual effect in the real world was not well understood – until now.
The use of neonicotinoids has been restricted by the European Union and banned in some places, such as the US state of Maryland, because of growing concern about their effects on bees.
Last month the UK Government refused an application to use the pesticide – by the National Farmers Union – for the second time this year, although it has previously approved its use. However campaigners fear the restrictions will be lifted after the UK leaves the EU.
The study looked at nearly 32,000 surveys of 62 wild bee species that were carried out across much of England between 1994 and 2011 inclusive.
The researchers examined the effect of the first widespread use of neonicotinoids as a treatment on oilseed rape seeds in 2002. This was mainly designed to protect the crop from another insect, the cabbage stem flea beetle.
But, writing in the journal Nature, the researchers concluded: "Our results provide the first evidence that sub-lethal impacts of neonicotinoid exposure can be linked to large-scale population extinctions of wild bee species, with these effects being strongest for species that are known to forage on oilseed rape crops."
The researchers divided the countryside into five-kilometre squares, which they classed as a "population" of bees, and looked at how they changed over time.
Wild bees have suffered a general decline in recent years, but the study found that this was three times worse for species that regularly feed on oilseed rape, such as the buff-tailed bumblebee, compared to those that forage on various different flowers.
For five species investigated, including the spined mason bee and the furrow bee, the study found neonicotinoid use was linked to at least 20 per cent of local population extinctions of wild bees.
The number of populations of the worst affected species, the sharp collared furrow bee, fell by 45 per cent between 1994 and 2011 with the researchers estimating 31 percentage points of the decline was linked to neonicotinoids and 14 points to other causes.
The researchers said the extinctions they referred to were local ones near to oilseed rape fields, rather than extinctions across England as a whole.
The lead author of the Nature Communications paper, Dr Ben Woodcock of the Centre for Ecology and Hydrology, said: "As a flowering crop, oilseed rape is beneficial for pollinating insects.
"This benefit however, appears to be more than nullified by the effect of neonicotinoid seed treatment on a range of wild bee species.
"Although we find evidence to show that neonicotinoid use is a contributory factor leading to wild bee species population decline, it is unlikely that they are acting in isolation of other environmental pressures.
"Wild bees have undergone global declines that have been linked to habitat loss and fragmentation, pathogens, climate change and other insecticides."
Animals in decline

Show all 8
Paul de Zylva, nature campaigner at Friends of the Earth, said the study "adds a huge new peak to the existing mountain of evidence showing the risk these chemicals pose to our bees".
"This is the strongest ever evidence of harm to bees from neonicotinoid pesticides in British fields," he said.
"If the government genuinely wants to safeguard Britain's bees, it must keep the ban on neonicotinoid pesticides regardless of what happens with Brexit – and tighten the way pesticides are tested and licensed for use."
However the NFU insisted farmers had to use neonicotinoids or something similar.
Dr Chris Hartfield, the NFU's "bee health specialist", said: "This study is another interesting piece to an unsolved puzzle about how neonicotinoid seed treatments affect bees.
"It does not show that neonicotinoids are causing widespread declines in pollinator populations and it certainly does not show that neonicotinoid use has caused any extinction of bees in England."
He added that without many "plant protection products" farmers' ability "to produce wholesome, affordable food for the nation will continue to stagnate".
"While this study claims to provide an important contribution to the evidence base underpinning the current EU moratorium on some uses of neonicotinoids, experts reviewing all the evidence have concluded that there are still major gaps in our knowledge and a limited evidence base to guide policymakers," Dr Hartfield said.
Neonicotinoids are a class of pesticides that are similar to nicotine.
And Nick Mole, of the Pesticide Action Network UK, said the current debate was similar to the situation in the 1950s when the tobacco industry attempted to deny that smoking harmed human health.
"How much more proof, more evidence, does the NFU need? Are they waiting until there are no more bees?" he said.
"This is just one more independent review that shows clearly the harm that neonicotinoids are doing."
Join our new commenting forum
Join thought-provoking conversations, follow other Independent readers and see their replies