Investment in green energy falls to four-year low
MPs will now try to force into the Energy Bill a target date for cleaning up the power sector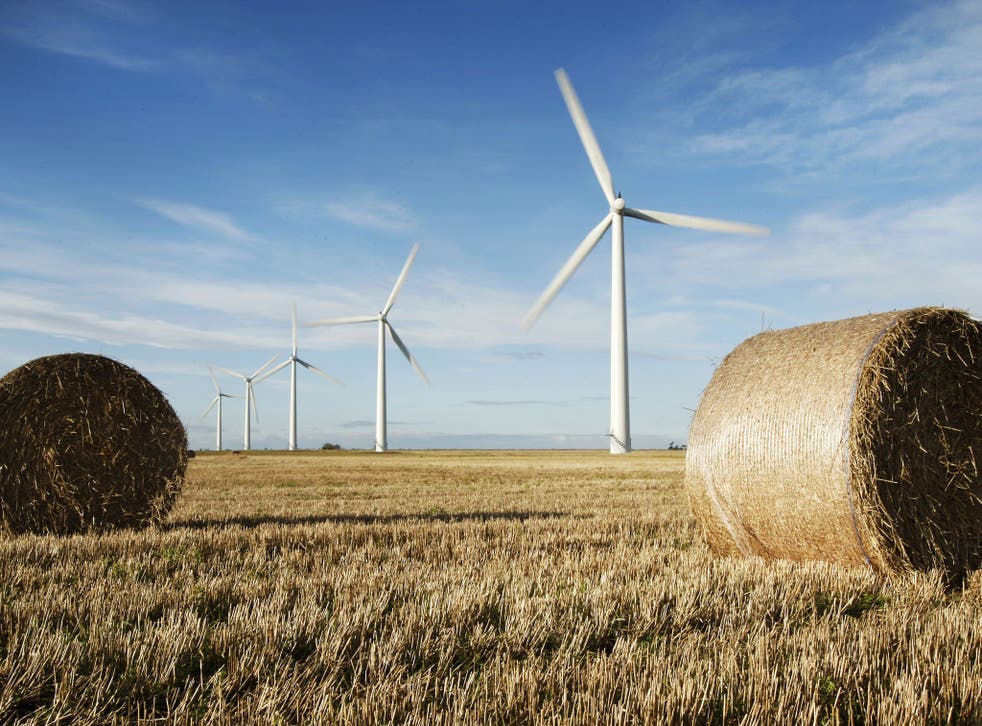 Investment in green energy in the UK has plummeted to its lowest level in four years, according to new figures from Bloomberg, with campaigners claiming that much of the blame can be pinned on the Government's failure to set a target date for cleaning up the power sector.
As the Government prepares to put its Energy Bill before MPs this week, an analysis by Bloomberg New Energy Finance (BNEF) shows that clean energy investment fell from £7.5bn in 2009 to £5.3bn last year.
But the total of loans made available to help buy equipment for large-scale green energy projects has fallen even more dramatically. Bloomberg's figures for asset finance in the sector, which exclude small-scale developments, energy investment has fallen from £7.2bn to under £3bn during the same period – and is heading below £1.9bn in 2013.
Critics claim the analysis fatally undermines the coalition's claim to be "the greenest government ever" and raises concerns over the UK's chances of slashing carbon emissions in line with international treaties.
The Government will come under intense pressure to demonstrate its green credentials tomorrow when a cross-party alliance of MPs will try to force into the Energy Bill a target date for "decarbonising" the power sector. The veteran Conservative Tim Yeo has co-authored an amendment calling for Britain's electricity sector to produce no more than 50g of carbon dioxide per kilowatt hour by 2030 – which is considered the equivalent of decarbonisation. The Energy Secretary, the Liberal Democrat Ed Davey, has opposed the move, claiming it should be delayed until after the next election.
But the Social Liberal Forum, an internal Lib Dem pressure group, will send a letter to the party's backbench MPs today urging them to "vote for the inclusion of a clear decarbonisation target". The shadow Energy Secretary, Caroline Flint, has also contacted all Liberal Democrat MPs urging them to defy their leadership and support the amendment. Writing in The Independent on Sunday today, she claimed: "We are the windiest country in Europe, and when it comes to marine energy Britain really can rule the waves. But businesses will only invest in the technology to convert the sun, the wind and the waves into energy if they know the Government is committed to decarbonisation."
Mr Yeo, a former environment minister, said Britain had been left in a "vulnerable position" by years of lacklustre investment in the green sector. He said: "There is a crisis now because of this fall in investment. We have the real risk that there will not be enough capacity before the end of this decade. We need more investment taking place and urgently need predictability and certainty in policy. Until we have this, investors will have to seek higher returns, which will risk higher electricity bills."
The Committee on Climate Change, an independent body set up to advise the Government on reducing greenhouse gas emissions, recommended in 2008 that the Government achieve a "substantial decarbonisation of the power sector" by 2030 in order to meet carbon targets specified in the Climate Change Act. Such a target would require even more efficient gas-fired power generation to be fitted with technology to capture and store carbon dioxide. At present, the Government's position is that no such target can be set until 2016. John Sauven, executive director of Greenpeace UK, said the delay in implementing the target was "irrational" and "illogical". A vocal group of business leaders has also criticised the delay.
Around 45 MPs have signed Mr Yeo's amendment so far, including five Tories and 11 Lib Dems, but tensions behind closed doors are growing. In a letter to his constituents earlier this year, the Lib Dem president, Tim Farron, said the issue was "too important to be used as some kind of political football". Last night, a source close to Mr Farron told The IoS that he was still "trying hard to convince the Government to accept the urgent need for the amendment", as he believed "our economy, environment and jobs need a culture shift".
But Mr Davey said yesterday: "We have already made clear that £7.6bn per year of support will be available by 2020 and have committed to setting a decarbonisation target. There is a logic to setting it in 2016 when we know what the fifth Carbon Budget will look like. This will ensure that it is set in the context of what has been achieved, and still has to be achieved across the rest of the economy."
The Department of Energy and Climate Change (DECC) insisted that more than a quarter of a million new jobs will be supported by the Energy Bill: up to 81,000 in nuclear energy, 200,000 in renewables and 8,000 in carbon capture and storage deployment by 2020. A DECC spokesman said: "Investment in renewable energy has seen an overall increase since 2009. It is true that investment fell slightly right across the world last year, but the drop was much less for the UK than in comparable countries."
Meanwhile, the consumer group Which? last night claimed that the Government's plans to simplify energy tariffs were still too complex for consumers to identify the cheapest deal. It published research showing that only three in 10 people got the right answer when asked to identify the cheapest deal from a range of tariffs using Ofgem's Tariff Comparison Rate (TCR) proposal.
Join our new commenting forum
Join thought-provoking conversations, follow other Independent readers and see their replies