Is this the end of migration?
Climate change is affecting bird behaviour at a staggering rate. Some 20 billion have already changed their flight plans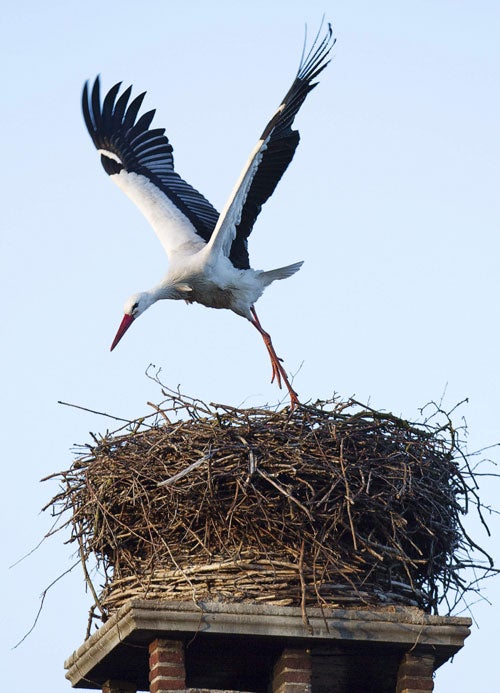 It's rained three times as much as usual this winter in Andalusia, and almost every day unemployed amateur ornithologist Javier Caracuel has walked past a disused mining tower in the decaying industrial town of Linares and looked up, expecting the pair of white storks that nest there to have migrated south.
Yet despite the surrounding high noise levels – the tower, some 10 metres high, is jammed between a school and a street clogged with traffic – and Andalusia's wettest winter in decades, the storks have stayed put. And they're not alone. "There have always been a couple of storks at the top of the church spire down by the railway station, but I've never seen so many across town," Mr Caracuel explains, "and there are dozens more in the villages."
The changes in storks' behaviour that Mr Caracuel has observed in one near-forgotten mining town in north-eastern Andalusia are far from uncommon. At a recent high-level congress attended by 200 migration experts, leading Spanish ornithologist Miguel Ferrer estimated that 20 billion birds have changed their migrating habits in the last few decades. The biggest single identifiable reason behind such a massive behavioural shift, involving 70 per cent of the world's migrating birds is – surprise, surprise – climate change.
"Long-distance migrators are travelling shorter distances, shorter-distance migrators are becoming sedentary," says Mr Ferrer, who works for Spain's Higher Council for Scientific Research (CSIC) in the Doñana National Park, one of the key European "stopovers" in bird migration routes. "That has a knock-on effect on almost everything they do, from breeding habits to feeding habits to their genetic diversity, which in turn affects other organisms in their food chain. It's a huge behavioural change, forced on them by rising temperatures."
"Climate change and environmental change are simultaneously forcing migratory birds to adapt extremely quickly," says Ian Newton, a Royal Society member and lifelong researcher into the subject. But if the adaption process is necessarily far faster than the last comparable geophysical phenomenon, the Ice Age, this time round it may not be anywhere near as successful.
"Fossil evidence suggests that in the Ice Age migration patterns changed, but now it's not such an easy option. The worldwide landscape is much more fragmented because of human activity. Put simply, it's not the same for a bird to try to adapt to the environment in Manhattan as it is in the Maldives."
Apart from migration changes, the birds' other option in the face of a fast-heating environment is fast-track evolution. This time there is evidence they are doing both. Reduction of wingspan sizes and changes in beak shapes have already been recorded. In another recent discovery, Francisco Pulido of the Complutense University in Madrid has ascertained that the recent shifts in migratory patterns are not necessarily temporary: rather for some birds, they're genetic.
"Pulido looked at migratory restlessness in blackcaps and warblers over a 13 year period," Professor Newton explains. "Studying a separate sample of birds each year, he found that their restlessness became progressively earlier each season. The only explanation for such a change is genetics."
Such changes are likely to become ever more common, as temperatures rise across the planet. "Average annual temperatures are moving northward at a rate of four kilometres a year," Mr Ferrer estimates, "so the normal summer temperature in your city 12 months ago is now normal four kilometres further north. It doesn't sound like a lot, but that's 20 times quicker than temperatures changed in the last Ice Age. At the same time, because birds are migrating less, one traditional path for genetic development – when they strayed from their migration paths by accident and had to adapt – is being closed off."
Scientists insist the consequences of rising temperatures have barely begun to scratch the surface of birds' behavioural patterns. But changes are becoming increasingly dramatic, with radical population shifts just one known effect. To use the example of white storks again, as long as six years ago recorded numbers in Spain had almost doubled to 32,000. Even in far-flung Tykocin, north-east Poland, they have risen by 20 per cent.
At the same time, wild geese in Doñana, once numbered in the hundreds of thousands, have plunged by 40 per cent. However, in Lake Gallocanta in Zaragoza, Spain, amateur ornithologist Javier Mañas reports that numbers of wintering cranes have increased six-fold in the past five years, from 3,000 to more than 18,000.
On the other side of the planet, there have been similar changes in migration patterns, according to a British specialist in Japanese wildlife and author, Mark Brazil. "We see considerable annual variation now in the presence and absence of wintering birds arriving into Japan." he says.
"Some people might say to heck with biodiversity," comments Peter Marra, a research scientist at the Smithsonian Migratory Bird Centre in the USA, "but they'd be wrong. Birds are the most sensitive thermometer of environmental change we have, and if up to 20 per cent are going to become extinct, it doesn't say to me we're living in a sustainable way."
Join our commenting forum
Join thought-provoking conversations, follow other Independent readers and see their replies